View Poll Results

: Round 2 - Top 25 fights to show a new MMA fan

Takanori Gomi vs. Nick Diaz
15
62.50%
Frankie Edgar vs. Tyson Griffin
8
33.33%
Mirko Cro Cop vs. Big Nog
11
45.83%
Diego Sanchez vs. Karo Parisyan
12
50.00%
Eddie Alvarez vs, Kawijiri
8
33.33%
Brock Lesnar vs. Randy Couture
1
4.17%
Cain Valesques vs. Cheick Kongo
1
4.17%
BJ Penn vs. Joe Stevenson
11
45.83%
Wanderlei Silva vs. Dan Henderson #2
5
20.83%
GSP vs. Serra #2
4
16.67%
Fedor vs. Hong Man Choi
8
33.33%
Michael Bisping vs. Dan Henderson
7
29.17%
Rampage Jackson vs. Wanderlei Silva #2
12
50.00%
Aleksander Emelianenko vs. Josh Barnett
3
12.50%
Jens Pulver vs. Sakurai
1
4.17%
Fedor vs. Gary Goodridge
2
8.33%
Multiple Choice Poll. Voters: 24. You may not vote on this poll
ROUND 2 - Top 25 fights to show a new MMA fan
---
Here is round two everyone. There are 3 more rounds coming.

Also, DON't FORGET,
Pick your top 5 fights!!
---
Takanori Gomi vs. Nick Diaz for pure Diaz bliss.
Crocop vs. Big Nog was just an epic fight. WAR NOG!
Alvarez vs. Kawijiri because it was a very fun war to watch.
Wandi vs. Hendo 2 JUST FOR THE KNOCKOUT!
Fedor vs. Hong Man Choi because he armbarred a 7 feet tall guy. That's just.. godly.
---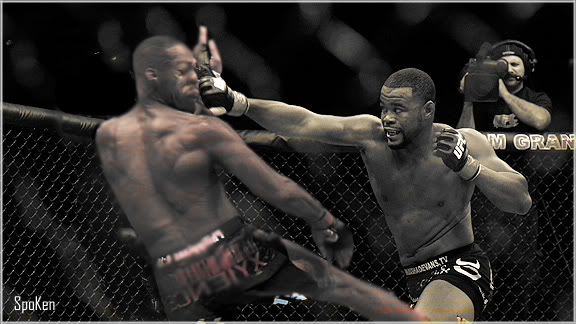 Sweet sig by Life B EZ
I feel like I get paid way to much money, but not enough -Nick Diaz
Bump...
---
Voted! This is fun!
---

Thanks to Toxic for the Awesome Sig!
Even if the whole world is against you, one thing will never let you down. That thing is beer.
Tyson/Edgar, Diego/Karo, Gomi/Diaz, Wandy/Rampage 2 and Kawajiri/Alvarez all get my vote
Thanks to everyone who voted... Lets keep it going strong
---
Yes it was, though it was definitely overshadowed by the crap decision by CSAC. CSAC is horrible IMO.
---
Don't let the fights you want fall by the wayside because you didn't vote.
---
Currently Active Users Viewing This Thread: 1

(0 members and 1 guests)
Posting Rules

You may post new threads

You may post replies

You may not post attachments

You may not edit your posts

---

HTML code is Off

---