Diaz will win. Zaromskis is just lucky he never gets taken down.
---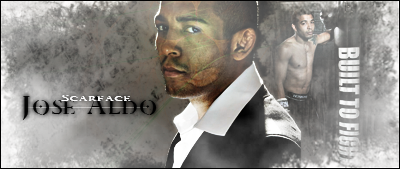 I like both these guys. Diaz has a clear advantage in this fight, but I want Zaromskis to do well and win this one. It's gonna be vile.
---
Rookie Hammer Squad 2015
Frankie Edgar - Dominick Cruz - Jorge Masvidal - Cat Zingano - Holly Holm
This'll be a real test for Marius.

I'd probably say that Diaz has the better technical ability (standing) but fighting Zaromskis is kinda like fighting an angry, nitros fueled robot ninja with 8 limbs.

I think at some point, it'll end up on the ground though and Diaz will finish it comfortably.

This has potential to be an epic and I'll be rooting for Zaromskis all the way.
I think this is another solid opponent that Nick will hold a victory over.
---
_RIVALS TOP 10

ANDERSON "THE SPIDER" SILVA
JAKE SHIELDS
NICK DIAZ
EDDIE ALVAREZ
JUNIOR "CIGANO" DOS SANTOS
GILBERT MELENDEZ
MAMED "THE CANNIBAL" KHALIDOV
HECTOR "SHANGO" LOMBARD
CAIN VELASQUEZ
GEGARD "THE DREAM CATCHER" MOUSASI

Big Zaromskis fan here. I hope he takes it via headkick, but this one looks like it could be a 3 round war that ends with a decision. I'll definitely put creds on Zaromskis.
---
Jack Johnson: Boxing's greatest Heavyweight champion.
Join Date: Jun 2009
Posts: 20,902
Quote:
Awesome match-up. Strikeforce are really going all out lately.
Agreed. SF is really impressing me lately. They have so many great match-ups and they are signing more and more good fighters now!
Quote:
zaromskis ko rd 2
Eh, I am gonna have to disagree with you on this one. Taking into account Diaz's good standup, size advantage, and excellent ground game, I think he can win this fight wherever it goes.
MMA Fanatic
Join Date: Jun 2007
Location: Germany
Posts: 72
thats why i like strikeforce ... they put together awesome fights ... none of them are boring ...

the only sad thing is, that we cant see top fighters like fedor or mousasi fight the top guys of the ufc.
Unification
---
Well Coker wanted to unify the DREAM and Strikeforce titles so this would be that first step!
---
The Emoticon Guy
Bantamweight
Join Date: Jan 2009
Posts: 963
this is such an awsome fight, ill be rooting for zaromskis and hes so fast and aggresive that i think he does have a chance of KO'ing diaz but i don't see it happening. I think diaz could pick him apart standing and submit him fairly easily on the ground
Zaromskis is a baller, no question about that. But diaz is gonna beat him.
---
If a law is unjust, a man is not only right to disobey it, he is obligated to do so. ~ Thomas Jefferson
Sig by D.P.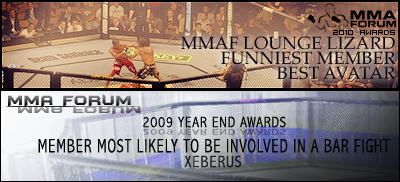 Currently Active Users Viewing This Thread: 1

(0 members and 1 guests)
Posting Rules

You may post new threads

You may post replies

You may not post attachments

You may not edit your posts

---

HTML code is Off

---