Curitiba Food and Liquor

Join Date: Dec 2006
Location: NY
Posts: 16,176
There hasn't been a Kalib Starnes joke yet? Really?

Of course, maybe that wasn't his gameplan, and it just happened.
---

Sig Credit to Toxic

Art Jimmerson/Royce Gracie, I dont know exactly what his gameplan was meant to be, but seeing as it involved the use of one boxing glove I have to go ahead and rank this as the all time dumbest strategy ever. All Art Jimmersonning aside, if I had to pick a more recent one it would be Liddell/Babaul 2. What the hell was Babalu thinking, running straight ahead and throwing wild punches at a man who made a hall of fame career out of being the most dangerous counterstriker on the planet?
Florian trying to outwrestle BJ. Hell, Florian and Sherk should have switched gameplans.
---
Damn how did I forget about Florian trying to out-wrestle BJ lol

Another one is Lyoto vs Shogun. He should have scored points with TDs and top control after seeing he couldnt get the edge standing up.
Lightweight
Join Date: Dec 2009
Location: Chicago in my heart, Mabank Texas under my feet.
Posts: 1,828
I guess Big Nog vs Mir should be here also.

What was Nog thinking facing Mir in the shape he was in???????

Not sure if that counts as a gameplan, but I get the feeling Nog was hoping Mir would do something incredibly stupid and then capitalize on that.
I'm going to go with Frank Shamrock versus Cung Le.

I was also kind of dumbfounded at Dustin Hazelett's plan against Daley. I would have thought that Daley needed to be taken to the ground as fast as humanly possible, but it looked like Dustin wanted to strike the whole time.
Tito vs. Chuck (1) - worst gameplan EVER for Tito
Houston vs. Kimbo - terrible
Rampage vs. Shogun
Serra vs. GSP 1 - but it worked, weird?
Amatuer
Join Date: Nov 2007
Location: Vancouver
Posts: 173
Quote:
Florian trying to outwrestle BJ. Hell, Florian and Sherk should have switched gameplans.
Ha ha, totally. Sherk and Florian are having a beer together right now somewhere and going "doh!".
I disagree about Nog vs. Mir though. Nog is a trooper and wanted the show to go on no matter what. He made a big mistake in not calling off the fight, but it's not as though he didn't make weight/get in shape/appreciate his opponent's skill level. Remember, that fight had a full season of TUF hype behind it (Nog's not like Rampage). He just went in there saying "I'll do the best I can in the condition I'm in" and got beat the **** up.
Demian Maia trying to show "new and improved" stand-up skills...

Against Nate Marquardt.

Not such a great idea.
---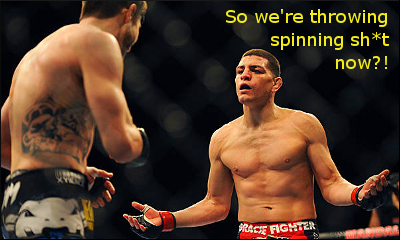 Lightweight
Join Date: Oct 2006
Location: long island NY
Posts: 1,572
Quote:
Sherk is actually a good boxer but with those T-Rex arms it makes things very difficult for him.
LMAO!
Currently Active Users Viewing This Thread: 1

(0 members and 1 guests)
Posting Rules

You may post new threads

You may post replies

You may not post attachments

You may not edit your posts

---

HTML code is Off

---