Welterweight
Join Date: Nov 2006
Location: Toronto, ON
Posts: 2,449
Mousasi Joins St. Pierre's Camp, Eyes 'King Mo' Next
---
Quote:
Gegard Mousasi will join Georges St. Pierre in Miami this week to assist the UFC welterweight champion for a part of his training camp in preparation for St. Pierre's title defense against Dan Hardy at UFC 111 on March 27 in Newark, N.J.

Currently in Glendale, Calif., preparing for an appearance on HDNet's "Inside MMA" which airs Friday, the Strikeforce light heavyweight champion said he will spend a few days with St. Pierre's team in Miami, where Mousasi will also attend Strikeforce's Saturday event at the BankAtlantic Center in Sunrise, Fla. Then, Mousasi will fly with the team to Las Vegas for an additional week of training.

The trip marks the first time the Iranian-born Armenian fighter will train stateside. Mousasi has traveled to Russia to work with the world's No. 1 heavyweight, Fedor Emelianenko, for brief spurts, but has kept the majority of his camps in Holland, where he resides.

"I am nervous being away from my family and friends for two weeks and I don't think of it like Georges is calling me for help," Mousasi told Sherdog.com via email. "I think he is a great athlete that wants to train with different fighters to improve himself."

The 24-year-old champion said he hopes to exchange vital training information with St. Pierre.

"To be honest, I'm curious about everything, curious how he does things and if I have to say something specific that would be how he puts everything together to be able to take down opponents with ease," wrote Mousasi.

Mousasi's travels kick off an already congested 2010 for the in-demand fighter. Including his New Year's Eve victory against Gary Goodridge at K-1 and Dream's co-promoted "Dynamite" event, Mousasi expects to fight six to eight times this year.

"I'm just trying to keep busy from New Year's until 2011 New Year's Eve," Mousasi told the Sherdog Radio Network on Saturday at the Los Angeles Fit Expo. "Every fight won't be top competition, so there will be some fighters that maybe are less fighters than others, but I want to stay busy and I'm going to fight a lot this year."

Mousasi's list of tentative bouts include two to three appearances in Dream's light heavyweight tournament beginning in May, a bout for K-1 when it hosts an event in Amsterdam this year, another New Year's Eve appearance for K-1 "Dynamite," as well as two Strikeforce fights.

Mousasi has been told that Strikeforce is considering Muhammed "King Mo" Lawal for his first title defense, most likely on the promotion's second CBS-televised event sometime in April. Strikeforce CEO Scott Coker confirmed to Sherdog.com that the promotion is considering the matchup.

Lawal, a 2003 Div. I All-American wrestler for Oklahoma State University and 2005 U.S. world team member, has finished five of his six career victories with strikes.

"He's undefeated. He's confident, obviously," said Mousasi of Lawal. "He has also proven himself in wrestling, from what I've heard. I think he does his homework. Style-wise he matches up very well for me and I think he feels the same way about my fight style against him."

Mousasi, who's lost only twice in his 31-bout career, believes he'd be the favorite over Lawal should they meet.

"Basically, if he wants to take me down, he has to set the takedown with punches. I don't see that happening," he said. "In the clinch, I'm much better with inside boxing, with knees, kicks. I've never seen him kick, so I see a lot of advantages. His only advantage, basically, is the wrestling and he has good ground-and-pound, but I feel I have the same ground-and-pound, so I don't see any advantage that he has over me."

In the interim, Mousasi's international studies will take centerstage.

"I always train for my fights in Holland. This is just a learning experience," said Mousasi on Saturday. "I don't have a fight right now, so I'm trying to learn how they fight, how they train, how they do stuff. I will take what I learn and try to do it in Holland, but I don't prepare for fights in other gyms. I always try to prepare for my fights in Holland."
http://www.sherdog.com/news/news/Mou...-Mo-Next-22253
Damn. I almost went to the Fitness Expo... That would've been crazy seeing Mousasi there.

Good stuff, him training with GSP...
---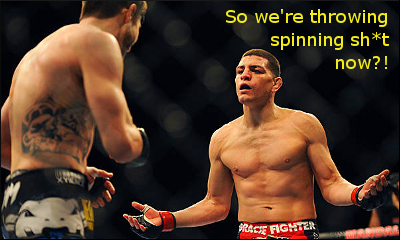 Amatuer
Join Date: Oct 2009
Posts: 185
There is only one thing to say about this...


RIP Dan Hardy, 1982-2010
He was a good man...
---
Fav Fighters

HW: Arlovski, CroCop, Mir
LHW: Wandy, Rampage, Liddell
MW: Marquardt, Silva, Franklin
WW: GSP, Hughes
LW: Penn

ALWAYS backin my boy Matt Hammill, BISPING IS A TOOL, WAR HAMMILL!
Gegard will do nothing but good for that camp. And him training with such world class athletes is going to only help him sharpen his already deadly MMA tools.
---
_RIVALS TOP 10

ANDERSON "THE SPIDER" SILVA
JAKE SHIELDS
NICK DIAZ
EDDIE ALVAREZ
JUNIOR "CIGANO" DOS SANTOS
GILBERT MELENDEZ
MAMED "THE CANNIBAL" KHALIDOV
HECTOR "SHANGO" LOMBARD
CAIN VELASQUEZ
GEGARD "THE DREAM CATCHER" MOUSASI

MMA Fanatic
Join Date: Jan 2010
Posts: 56
Dan Hardy = Overrated as hell.

About the story that's great he should move up to MW having friends or not, it's a sport not like their gonna kill each other.
Amatuer
Join Date: Dec 2009
Posts: 160
Sweet, I'd like to see Mousasi work on his TDD more and what better way to do that then train with GSP.
Gegard Mousasi: I will probably fight in April against King Mo (Video)
---
Man Imagine GSP and Mousasi moved to MW permanently in the same promotion. That would be INSANE.
---
Sjung för gamla Djurgår'n
Lock the gates, make them watch...
Lightweight
Join Date: Oct 2006
Location: long island NY
Posts: 1,572
Just like i thought, another strikeforce missmatch. Who did Mo just beat? whats that guys name? Was it whitehead? And now hes gonna fight Mousasi lol. Mousasi needs to get to the UFC asap to establish a real legacy for himself.
Banned
Join Date: Oct 2009
Posts: 7,811
Quote:
Just like i thought, another strikeforce missmatch. Who did Mo just beat? whats that guys name? Was it whitehead? And now hes gonna fight Mousasi lol. Mousasi needs to get to the UFC asap to establish a real legacy for himself.
Mousasi will probably fight 8 cans this year... what a waste!
Currently Active Users Viewing This Thread: 1

(0 members and 1 guests)
Posting Rules

You may post new threads

You may post replies

You may not post attachments

You may not edit your posts

---

HTML code is Off

---