Quote:
i dont hate overreem.

he doesnt really fight MMA. the sport i follow. he dabbles in it and is moderately successful.

thats a fact.

a win over Buentello to get a belt is way less legit then how Lesnar got his belt, yet you hate Lesnar??

Kind of weird...perhaps you are racist??

ridiculous?? well... the only mexican i ever talk about excessively is Cain Velasquez.

Not Gilbert Melendez.
Not Tito Ortiz
Not Huerta
Not Cruz
Not Eddie Alveraz
Not Frankie Edgar
Not Danny Castillo
Not Ricardo Lamas
Not Leonard Garcia
Not Miguel Torres
Not Damacio Page
Not Chad Mendes

nope... only Cain Velasquez...

but a guy like you... that seems intelligent.... cant figure out... "hey, maybe this guy just really likes Cain Velasquez and doesnt just cheer for fighters based on race"

nah... that was a tough puzzle to solve Khov. Im disappointed in you bringing this up, not once, twice now in this thread.

thought we past that.

fact is, Overeem has no really impressive MMA wins besides Belfort who has his own problems back then too. If you are gonna credit K1 wins then you midaswell Credit James Toneys resume coming in too.

Overeem has proven to be a mid level HW. Nothing more, nothing less.

Same level as say Roy Nelson, Rothwell,Kongo, Pat Barry.

EDIT. Let me add that Overeem and Mousasi should get the actively inactive award. Despite both having what, 30 fights?? both have only faced a handful of credible MMA opponents.

Its somewhat incredible to get that many fights, be considered that elite and yet never fight anybody?? i have to give respect to their managers and promotion team. getting top fighter cred without beating top fighters is something special.
I dont know how to say this but all the guys above are American lmao , alot of them are from New Mexico USA hahahah and some from Cali so he should brush up on that.
---
Bisping Fan extraordinaire
Velasquez will be back
okay fine there are a ton of great mmma athletes that are hispanic xD
---
If a law is unjust, a man is not only right to disobey it, he is obligated to do so. ~ Thomas Jefferson
Sig by D.P.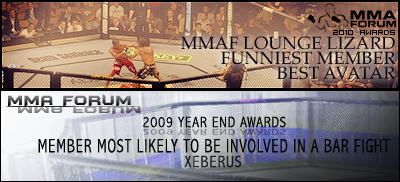 Currently Active Users Viewing This Thread: 1

(0 members and 1 guests)
Posting Rules

You may post new threads

You may post replies

You may not post attachments

You may not edit your posts

---

HTML code is Off

---