Quote:
Originally Posted by Steeda3
Ok Moldy...You know it all...Chuck got tired in his fight against Rampage....At the end he was crying like a little bitch...He was so tired he didn't do anything but lay on the ground and take punishment
What about the horn fight that was 4 rounds of him punching horn in the face. The quinton fight was i=13 minutes in when he supposdly gased. I'd say his cardio isn't amazing but i wouldn't knock it.
Amatuer
Join Date: Jun 2006
Posts: 112
Quote:
Originally Posted by moldy
What about the horn fight that was 4 rounds of him punching horn in the face. The quinton fight was i=13 minutes in when he supposdly gased. I'd say his cardio isn't amazing but i wouldn't knock it.
Dude Horn was a BUM and he had no reason at all to be in the ring with Chuck.....See that's why i said his opponents are being handpicked by Dana White...The only reason Chuck was fighting Horn was because Horn had beaten him very early in his career...Dana and Chuck both knew Horn wasn't the same fighter.......Horn hadn't done anything to deserve a title shot.
If you watch that fight you will see how much of a bore it was to watch them fight...Chuck wanted no part of the ground game and he only done enough to keep a timid Horn at bay.....Chuck only threw a few punches and circled the ring....He was gased the whole fight. Liddell days are numbered..
---
Last edited by Steeda3; 07-05-2006 at

01:01 AM

.
Quote:
Tyson would hit that guy with one punch and that would be it....Chucks way overrated. If Tito ever gets his rematch that would be the end of the Chuck Saga.
Dude....he wouldn't get hit Just like Moris Smith was taken down without touching anyone you cant win a fight with no Ju Jitsu or wrestling and i dont mean just chuck in general any top UFC fighter would crush him with eeeeezzzz
Like remember when Ali got his ass kicked by that shoot fighter(Forgot how to spell his name it's Japanese)It wasn't even fight rules as soon as it started Ali was on his back but they had to restart.But hey i hope your just talking about Mike Tyson and not boxers.
---
Last edited by Eminem; 07-05-2006 at

08:45 AM

.
Tito's garbage. If you really think that a rematch with Chuck will give him the title than you forgot the last time. Tito isn't strong enough to take down Chuck and his hands are way too slow to compete with him standing up.

As for Tyson, this is mixed martial arts, not boxing. I'm a huge Iron Mike fan, but Tyson isn't a grappler and would get destroyed in the clinch and on the ground against any good MMA fighter.
---
Sig by Toxic

Barnett - Toquinho -Werdum - "Nurmie"
Z. Gurgel - Morango - Rocha - Tiequan
Megaweight

Join Date: Apr 2006
Location: Everett, MA
Posts: 5,961
first off i wanna say im not a boxing fan at all, and im not talkin about all boxers having a chance against all fighters, im talkin about a 22 yr old tyson against chuck..i just fell chuck has too much pride in his striking to ever just concede the other fighter has better stand up..he would not shoot and try to take tyson down..he might have done that once in his entire career...he would try to knock tyson out, and we all hafta agree that if thats the way chuck chose to fight him , he would get caught and ko'd....im saying this and im a huge fan of chuck
---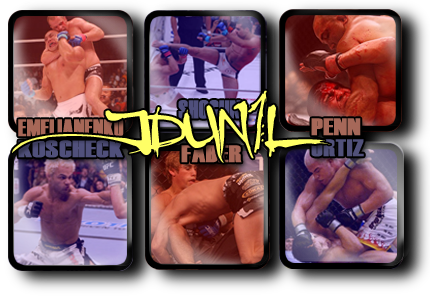 Mancrushes
1.Shogun
2.BJ
3.Fedor
4.Kos
5.GSP
Im in Porno's
Yes J your right chuck would go out and try to trade punches with Mike Tyson.....
Well where is this fight taking place ? The ring ? Cage ? streeets ?

Boxing ring = Tyson

Octagon = Chuck Liddell

Streets = Hard to say , id put my $$$ down on The IceMan
I say Wand would destroy them both
<----- Look you can even see in my Av... the black dude is Tyson , the guy on the ground gunnna get stomped is Chuck
Your not serious right? That was a metaphor right cause neither is chuck or tyson. The white guy isn't white it's minowa and the black guy is rampage.
MMA Fanatic
Join Date: Jun 2006
Posts: 60
Quote:
Originally Posted by The Don
that I can totally agree with.. even today he could probably out fight most people with his hands.. Hmm I wonder if he could train for MMA how He really would do against Chuck... I am sure if he was challenged he'd be dumb enough to accept. he was dumb enough to follow Don King
That's not stupidity, that's greed layered on top of greed. When Cus died, Mike was like a lost little boy, and King is a ****in SNAKE. He's corrupted many great fighters with his empty dollar sign promises and pots of fake gold.
As for this thread, it's a little naive to think Chuck Liddell would stand much more than a vague chance against Tyson in his prime. Chuck would have to pull off his best fight X 10 to get out of there without serious or deadly physical harm. To win, he'd most likely have to submit Mike in some way; choke him out, or break his arm or leg to win, because Liddell wouldn't have the punching power to floor Tyson with his fists... certainly not while Tyson is also punching back! Iron Mike used to be one of the most allusive fighters in boxing history (save for perhaps Mohammed Alli), so there's no guarantee Chuck would even be able to land a shot with his hands. Tyson's jaw was/is probably better than any MMA fighter in action today, and he's been hit by some big guys... some weighing damn near 90lbs. more than Chuck Liddell.
Currently Active Users Viewing This Thread: 1

(0 members and 1 guests)
Posting Rules

You may post new threads

You may post replies

You may not post attachments

You may not edit your posts

---

HTML code is Off

---