Megaweight

Join Date: Apr 2006
Location: Everett, MA
Posts: 5,961
Why Doesnt Cung Le From K1 Start Fighting In Mma Events?
---
Ive Seen Him In K1 And He Has All The Tools Is There A Reason Why He Doesnt Fight For Pride Or Ufc?
---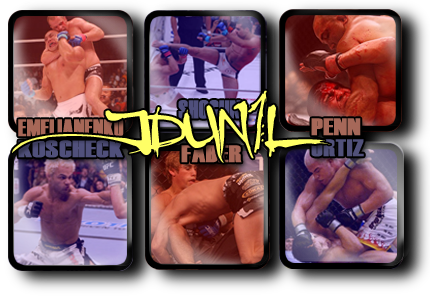 Mancrushes
1.Shogun
2.BJ
3.Fedor
4.Kos
5.GSP
Im in Porno's
He has he's beaten Brian Warren and Mike Altman. They were both this year. He is pretty amazing only person i've ever seen pull off flying cissor's
MMA Fanatic
Join Date: Jul 2006
Posts: 24
cung le is awesome. and he routinely pulls off flying scissors. he would do well in ufc.
Flyweight
Join Date: Jun 2006
Posts: 302
How can he have all the "tools" if you've only seen him kick box or do sanshou? I've seen his fight with Altman, and while he does a lot of nice flashy moves, I'd have to say that stuff isn't going to work against a good opponent. And I'd like to see him against a decent ground fighter to see how well he does there.
Doesn't chung le fight mma for strike force now?
---
Q: He(Wanderlei Silva) said he's really looking forward to fight you in the finals.

A: (Mirko CroCop) Thats his problem.
Cung Le
---
I've only seen one of his fights in Sanshou. He fought a hopeless opponent. I imagine that K-1 might be a stepping stone for now. He will need to learn what to do once the fight goes to the ground because both K-1 and Sanshou stop the fight once the fighter goes down. Those scissor kicks look sweet but I don't think they do any damage. However, in UFC or Pride he would be able to follow up with maybe some heel kicks to the midsection or even head. I think that the risk of getting caught in a kneebar would be too much to try the move in MMA. I hope that we do get to see him in true MMA though. He is hella fast.
---
THEBOZ
"DULCE ET DECORUM EST PRO PATRIA MORI"
Outta My Head
Join Date: May 2006
Location: Paramount, CA
Posts: 1,220
Cung Le does fight in Frank Shamrock's Strikeforce organization.

Actually, I've seen fights where Cung Le has knocked people out with his scissor's leg takedown by dropping them on the back of their heads. He can easily use that to transition to a leg lock, like Ryo Chounan's submission on Anderson Silva (leg scissors to reverse heel hook).

He does need to get in there with better fighters to get his ground work tested. He's won quite a few Sabaki challenge matches with submission.
---
It doesn't matter if you agree or disagree
... As long as I don't bore you and I spark a moment of thought,
my goal is achieved
.
Queng leon queng tigre ecu tacacut, queca pa? - Pampangan Mandarigma Motto

Thanks for the info. Makes me want to see him against quality opponents even more.
---
THEBOZ
"DULCE ET DECORUM EST PRO PATRIA MORI"
Currently Active Users Viewing This Thread: 1

(0 members and 1 guests)
Posting Rules

You may post new threads

You may post replies

You may not post attachments

You may not edit your posts

---

HTML code is Off

---