Boston.com is delusional about John Cena
---
Quote:
This is the most ironic thing you'll read this week. "Professional" wrestler John Cena had this to say about the UFC:

"It's just not something that particularly interests me. UFC is where boxing was years ago, and I was never really into boxing, either. Cena said he prefers professional wrestling because it's "regulated entertainment that's safe for anyone to enjoy.'' And UFC? "It is what it is,'' he said. "It can be pretty over the top, and it's not something I'd want my children to watch.''

Is this guy for real? Would he let his kids watch the filth that is pro wrestling? They degrade women and basically all of humanity with their speech and stupidity in the ring. Pro wrestling is so great because "it's regulated" that you can find a list of over 40 wrestlers that died by the age of 40.

The people that wrote the article that quoted Cena are apparently uneducated about the sport of MMA. They wrote: "It's safe to say that World Wrestling Entertainment star John Cena could hold his own with any UFC strongmen, including Mauricio Rua, Randy Couture, or Chuck Liddell." Nice job looking up the names of some UFC fighters. You should have continued to read about the sport. John Cena would last about all of 2 minutes with any of those 3 guys. But it also seems that Cena may already have a head injury.
Hahaha.... wow.
http://www.sportsuntapped.com/john-c...he-top-113401/
http://www.boston.com/ae/celebrity/a...f_controversy/
---
Everybody good, plenty of slaves for my robot colony?
On a Rampage

Join Date: May 2007
Posts: 1,845
Definitely family entertainment
http://popularopinions.wordpress.com.../26/wrestling/
The WWF has a lot of highbrow stuff like midgets, girls running around half naked, and gay jokes. Definitely rather have your kid watch that.
Oh and Jose Aldo would kick the crap out of John cena.
Well the truth is that the WWE of today IS way more regulated than it was 10 years ago... It's rated PG and is generaly a more family-oriented product...

The wrestlers who die at relative young ages are usually the ones who are fired or retired and can't cope with a "normal" life after living on the road for years... And yes, steroids have been a big part of the company and may still be it - they do have a more strict testing-routine than ever though...

The fact that Cena would hold his own with any fighter from the UFC is utterly ridicilous - A "fake" fighter and former bodybuilder stands no chance in crossing over, period...

I don't know, I'm sick and tired so I may just be rambling :P
---
Flyweight
Join Date: May 2010
Location: Spring Lake, NC
Posts: 243
I lol'ed when they said he could hang with Shogun.
---
6'0 254 lbs 1-0 Amatuer
BW: Masakazu Imanari FW: Hastu Hioki LW:Eddie Alveraz WW: Mauris Zaromskis MW: Hector Lombard LHW: Christian M'Pumbu HW: Sergei Kharintonov
MMA Fanatic
Join Date: Aug 2010
Posts: 15
UFC 126
Cena V Couture
WWE V UFC
Join Date: Jun 2009
Posts: 20,857
That iis ridiculous. A flyweight would tool Cena in a fight. He has no skill whatsoever. He doesn't have a good wrestling base like Lesnar or Lashley had. He can't strike like MMA fighters and he would be clueless as to how to grapple.
---
Shogun against Cena??? WOW that would be even more one sided than Randy vs Toney...if that's even possible.
Well of course Cena would lose against UFC's top guys in an MMA match.

BUT you bring it over to the WWE I'm sure it'd be a different story.

Winner John Cena via Attitude Adjustment inside 30 seconds. (Attitude Adjustment is the name of his finishing move...lol)
---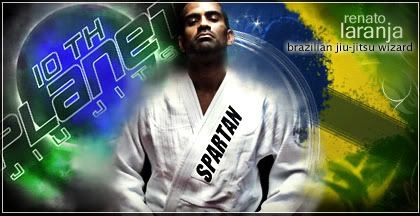 "You have a big word for a guy who don't have a gi right now." - Renato Laranja
Bantamweight
Join Date: Apr 2010
Posts: 703
The WWE is very family friendly, so that argument isn't relevent if you've watched wrestling for the last 5 years or so.
Cena's old gimmick certainly wasn't very family friendly though..
That was when wrestling was good though...
But yeah, that was a jab moreso than anything. I doubt they actually believe that, just some guy taking the piss out of the sport.
John Cena isn't even skilled in his profession, let alone other ones.
---
Last edited by TLC; 09-01-2010 at

10:50 PM

.
Currently Active Users Viewing This Thread: 1

(0 members and 1 guests)
Posting Rules

You may post new threads

You may post replies

You may not post attachments

You may not edit your posts

---

HTML code is Off

---