Flyweight
Join Date: May 2010
Location: Spring Lake, NC
Posts: 243
DREAM.16 vs UFC 119
---
Which card are you most exicited to see?
---
6'0 254 lbs 1-0 Amatuer
BW: Masakazu Imanari FW: Hastu Hioki LW:Eddie Alveraz WW: Mauris Zaromskis MW: Hector Lombard LHW: Christian M'Pumbu HW: Sergei Kharintonov
UFC 119.
I've lost touch with Japanese MMA for a while.
Have no posibilities watching their events.
---
.
BELIEVE!
ufc 119, great fights, will be interesting to watch, plus im a big cro cop fan!

But im looking forward to watching dream 16 too!
---
"Everybody's got a game plan, until they get hit!" - Mirko "Cro Cop" Filipovic/Mike Tyson
I'm always more excited for DREAM than for any other event to be honest. I don't even know why. Maybe it's their production because I've grown tired of the same thing over and over again which is used in almost every UFC, Strikeforce or any other broadcast of an American promotion. DREAM always has a special theme and awesome video packages and it never feels old.
---
Rookie Hammer Squad 2015
Frankie Edgar - Dominick Cruz - Jorge Masvidal - Cat Zingano - Holly Holm
Banned
Join Date: Oct 2009
Posts: 7,811
attention whore
Join Date: Oct 2006
Location: Branson, Missouri
Posts: 14,445
Quote:
UFC 119.
I've lost touch with Japanese MMA for a while.
Have no posibilities watching their events.
You should get back into it, as the japanese FW scene is amazing right now.
Hell, FW, in general, is amazing. Best weight class in MMA right now.
I'm more excited for DREAM, as I get to see Miyata, Aoki, MINOWAMAN, Lion, Hansen, Tokoro, TAKAYA, Mousasi and others.
---
tough choice for me. i think ill take ufc119, but ill watch both.
---
If a law is unjust, a man is not only right to disobey it, he is obligated to do so. ~ Thomas Jefferson
Sig by D.P.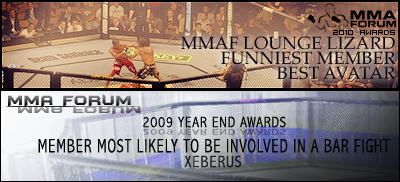 I'm hoping to watch UFC 119 cause I don't have too many other options. I don't have HDNet so I can't watch the DREAM card. If I can't watch UFC 119 then once again I can't watch anything!
---
The Emoticon Guy
Well we did see Mousasi get back on his winning game with DREAM. Also saw Aoki get another win. Then lastly we saw Hansen get back into the win collumn in his new weight!
---
The Emoticon Guy
Currently Active Users Viewing This Thread: 1

(0 members and 1 guests)
Posting Rules

You may post new threads

You may post replies

You may not post attachments

You may not edit your posts

---

HTML code is Off

---