Flyweight
Join Date: Aug 2008
Location: Minnesota
Posts: 214
Thanks for the vid link.

I think the parts to take out were the effortless throws that Fedor was showing to start, as well as the mention of not liking the traditional single/double leg takedowns, saying that it makes your legs and back tired. I think thats somewhat true, I've seen a lot of fights recently where I thought the guys gassed after getting takedowns or trying for them. Sherk vs Dunham, recent TUF fight with Cody vs Nam, Brock vs Cain etc etc, so I do think its a valid point. (Not to say there arent good single/double legs... GSP has proven that there are)

I also liked the ground and pound bit, you could see a lot of the guys struggled with trying to twist their torso/turn their hips into the punches rather than just using shoulder punches. I think that really shows what differences Fedor has in his GnP technique than a lot of guys, especially since you rarely see guys hit as hard as he does from inside the guard. I can tell you from owning one of his training books, he ALWAYS refers to turning his hips into every punch or kick, and it definitely shows in terms of resulting power in his strikes.

Anyway, again cool vid, thanks for posting, wouldnt have likely seen it otherwise.
very cool! id love to train with fedor. i do however.. as little a person as i am to fedor disagree. single/double legs are the shit for take downs.
---
If a law is unjust, a man is not only right to disobey it, he is obligated to do so. ~ Thomas Jefferson
Sig by D.P.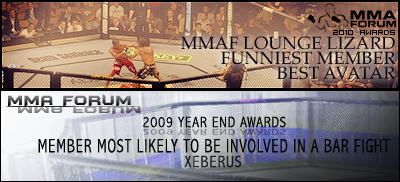 Flyweight
Join Date: Aug 2008
Location: Minnesota
Posts: 214
Quote:
very cool! id love to train with fedor. i do however.. as little a person as i am to fedor disagree. single/double legs are the shit for take downs.
I dont think Fedor is saying they're bad, I just think he doesnt prefer them over his trips and throws.
In his training manual he speaks about how his double leg takedown is also different, especially in comparison to the AKA guys (Cain, Koscheck, Fitch) where as they "turn the corner" when securing both legs, Fedor prefers to drive the shoulder and scoop the legs up to keep him up while the opponent falls and he's then able to pass guard easily (because he doesnt fall into it with the takedown), or throw down heavier ground and pound because he can fall into his strikes (as we've seen him do many times).
Personally I'm a fan of the double leg *IF* used away from the cage and in non clinch situations. GSP is the best "open area" double leg takedown specialist. Where I think you get very tired using the double and single legs is when the guy is against the cage and can use the cage as a wall to prop himself against and make the takedown more difficult, which is what tires guys out.
Way too many guys these days gas themselves trying too hard for those single and double leg takedowns against the cage in clinch situations, best recent example is Mir vs Cro Cop.
Anyway, not trying to argue or anything, just trying to offer a bit more info on what I'm sure Fedor thinks about it (again most of this is pretty much coming directly from his own training manual).
Featherweight
Join Date: Aug 2010
Location: Sydney
Posts: 1,099
Man, I would love to see Fedor grapple with Jacare in training.

Seen Jacare manhandle Werdum though I imagine Fedor would pose a different problem with the strength of Couture.
Currently Active Users Viewing This Thread: 1

(0 members and 1 guests)
Posting Rules

You may post new threads

You may post replies

You may not post attachments

You may not edit your posts

---

HTML code is Off

---