Lightweight
Join Date: Dec 2008
Posts: 1,651
EddiE Bravo on pulling guard (video)
---
http://www.mixedmartialarts.com/mma....ail&gid=279438
pretty cool video of eddi bravo talking about pulling guard, didnt see any1 post it, sorry if its been posted or if its old but i never saw it before, if some1 could emb...i dont know how to do that...that would be cool
Lightweight
Join Date: Nov 2006
Posts: 1,911
Interesting vid but I disagree with Eddie that stand up, take down or pull guard are the only 3 options for a fighter. I'd also add "pin against the cage" as a 4th possibility. We saw GSP use it as a strategy against Penn, Couture against Vera, Mckenzie against Nam Phan just last night.
Great video. The production was fun. Repped for the find.

Obviously Eddie is wrong about the three options. Couture caught guys up against the cage for years. Imanari, Aoki and the flying submission is a different option.

I agree with what he says about guys who are confident on their back, though. Pretty much nobody knows confidence in the guard game like Eddie, from the standpoint of a coach and commentator. There are a few guys (Cyborg Abreu, for one) who might be better, but Eddie is up there.

The same thing he says about Galvao is true for Jeff Monson. If you watch Monson shoot, he'll shoot the single and then roll to his back like he's going for a deep half guard, and if he can, he'll roll back out and use that half guard to cinch up the grip in the single, stand back up and get the takedown, or he'll go to the back or get the sweep from the half guard. Monson's transition from the single to the half guard is absolutely awesome.

The "amen" style recall from Matt Horwich in the background is a good ratification. It's something that great grapplers in MMA know, and Horwich is one of those guys who has the ground game to make that work.

Eddie is absolutely right with what he says about the importance of pulling guard. I'm not sure it will ever be a popular option, but it is definitely effective when used by guys with sick guard games.
---
Sig by Toxic

Barnett - Toquinho -Werdum - "Nurmie"
Z. Gurgel - Morango - Rocha - Tiequan
bullshit xD
i dont wanna be on bottom ever... unless its under a very hot woman... or my wife
and if i cant take the guy down and hes a better striker than me.. well then maybe i should bow out to the better fighter or... try to time him with that one big shot.
---
If a law is unjust, a man is not only right to disobey it, he is obligated to do so. ~ Thomas Jefferson
Sig by D.P.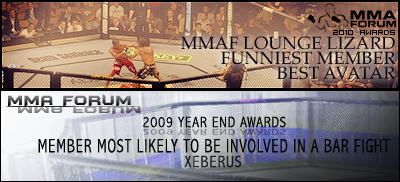 Lightweight
Join Date: Dec 2008
Posts: 1,651
it seems so simple yet almost no fighter does this, i guess its because it seems like the p**sy thing to do, or maybe judges dont see it as fighting and just count it as a TD for the other guy
but i think more fighters should use it as a option, i mean why try and be better than a guy who has wrestled for 20 years at his own game? you're not GSP....
if you're going to face a wrestler like GSP, the best option is not to out wrestle him, but to be dangerous off your back, let him take you down...you know you can sub him...
elite BJJ + striking is more effective than elite wrestling + striking....sure many fighters have sub defense but that doesnt matter....im pretty sure almost every fighter knows how to escape a triangle or an armbar...but you can still get caught, if the guy is fast enough you get caught
look at fedor
Currently Active Users Viewing This Thread: 1

(0 members and 1 guests)
Posting Rules

You may post new threads

You may post replies

You may not post attachments

You may not edit your posts

---

HTML code is Off

---