Strikeforce Pick 'em: Henderson vs Babalu
---
This is a signup thread for anybody that wants to compete against their fellow MMAF members at picking fights on this big Strikeforce card. This Strikeforce event takes place in two weeks, Saturday Dec. 4th at appr. 7:00 PM EST. The main event is a LHW showdown between Dan Henderson and Renato 'Babalu' Sobral from the Scottrade Center in St. Louis, Missouri.
Anybody who likes Strikeforce can sign up. Details on how to pick are below, same format used for UFC events in CPL.
The scheduled fights include:
Quote:
MAIN CARD

Dan Henderson vs. Renato "Babalu" Sobral
Paul Daley vs. Scott Smith
Robbie Lawler vs. Matt Lindland
Antonio Silva vs. Mike Kyle
Benji Radach vs Ovince St. Preux

PRELIMINARY CARD

Wayne Phillips vs. Fernando Bettega
Justin Lawrence vs. Max Martynuk
Terrell Brown vs. Pat Dummins
Lucas Lopes vs. Cortez Coleman
Lee Brousseau vs. Mike Glenn
Tom Aaron vs. Matt Ricehouse
Booker DeRousse vs. Coltin Cole
Josh Epps vs. J.W. Wright
You can send picks whenever confident with the fights. The picks should only be pm'd once unless they add, drop or change a fight on the card. The offcial card can be seen
HERE.
If people sign up and send picks this thing will continue, and a record will be kept of players' wins, losses and scores. If someone signs up and fails to send their picks, they get an automatic loss in the results and won't be cleared to fight at the next event. The deadline is when the preliminary fights begin live, approximately 6:00 PM EST in the US, or 11:00 PM GMT.
On how to pick fights:
Quote:
Select the correct fighter: 10 points
Select the correct method of win: 5 points
Method includes Submission, KO/TKO and Decision.
Select the correct round of win: 3 points
If you select the fight to end by decision then you must choose either unanimous, split or majority instead of a round.

In addition you can earn bonus points for EACH fight by putting the fights in order from your most confident pick to your least confident when you PM them. If there are 10 fights on the card then your most confident pick could earn you an extra 10 points if you get it correct.
Main Event
Results pg. 13
Machida Karate (0-0) vs Ruckus (0-0)
Main Card
BobbyCooper (0-0) vs 420atalon (0-0)
SpoKen (0-0) vs pipe (0-0)
Rauno (0-0) vs xeberus (0-0)
guam68 (0-0) vs Bknmax (0-0)
hixxy (0-0) vs HitOrGetHit (0-0)
Undercard
Couchwarrior (0-0) vs kantowrestler (0-0)
dudeabides (0-0) vs attention (0-0)
Syxx Paq (0-0) vs limba (0-0)
sillywillybubba (0-0) vs MagiK11 (0-0)
Intermission (0-0) vs KryOnicle (0-0)
Members signed up:

pipe
KryOnicle
Intermission
MagiK11
sillywillybubba
limba
Syxx Paq
Couchwarrior
420atalon
kantowrestler
BobbyCooper
Ruckus
SpoKen
guam68
Machida Karate
HitOrGetHit
Rauno
attention
hixxy
xeberus
Bknmax
dudeabides

Thanks for signing up everybody, picks due
Dec. 4th by 7:00 PM Eastern.
Any questions, just ask!
---
bish-awn-tays goin down!
---
If a law is unjust, a man is not only right to disobey it, he is obligated to do so. ~ Thomas Jefferson
Sig by D.P.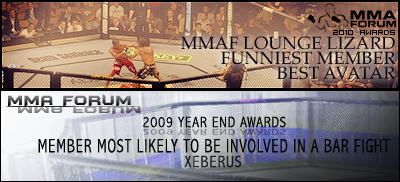 Lightweight

Join Date: Oct 2006
Location: Vancouver BC
Posts: 1,981
Yep, and if they stay in business and people keep signing up it'll go on and on and onnn.
---
Join Date: Jun 2009
Posts: 20,770
PSHH!! Sign this NIg Up! Ill be the first to unify the SF and UFC Belts!
SO TAKE A CLOSE LOOK! BECAUSE I RULE BABY!!!
---
Sig credit to my Homie! limba!
Uncrowned P4P Kingpin
Jon "Bones" Jones
WAR ANTHONY PETTIS! WAR HENDERSON!
Count me in too
---
Non-Paid Fantasy Fight League


Jose Aldo
Hector Lombard
Tyron Woodley
Lyoto Machida
Jake Shields
Currently Active Users Viewing This Thread: 1

(0 members and 1 guests)
Posting Rules

You may post new threads

You may post replies

You may not post attachments

You may not edit your posts

---

HTML code is Off

---