yes it goes a way due to both a cumulative affect and the age of the fighter. case in point ken shamrock. In his first fight with tito he took huge amounts of damage without going out now you tap him on the jaw and he is rocked.
---
"The fat man flies at midnight"
Quote:
What? when did Jake Shields join boxing?
haha no pillows on their hands, not "pillow hands" xD
but +rep xD
---
If a law is unjust, a man is not only right to disobey it, he is obligated to do so. ~ Thomas Jefferson
Sig by D.P.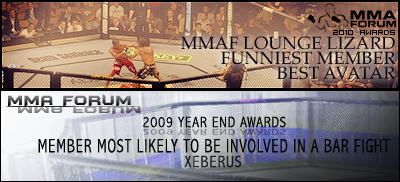 Quote:
What? when did Jake Shields join boxing?
Haha! Jake Shields + MMA gloves = Pillow hands
Jake Shields + Boxing gloves = Amazing human massage machine!
"mmm Jake yeah, hit a little to the left... Ohh yeah thats great! Keep hitting Jake! Yeah, that feels great!!"
No it doesnt. What happens is that guys reflexes get slower and they get tagged in the chin more often. This is what creates the illusion of a "weaker" chin.

Join Date: Apr 2010
Location: Gods country
Posts: 4,524
I read an article I believe on here that said that once a fighter has been knocked out a few times that the body develops a defense mechanism in the form of turning out the lights. The body knows that once it is knocked out that it quits absorbing damage(ref intervenes) instead of continuing to fight. Not sure if there is any truth to that but it's an interesting idea.
Bantamweight
Join Date: Feb 2010
Posts: 915
Quote:
simple question.

no references to excessive punishment, progressive concussion etc.

besides if we look at ali for instance, he took a lot of punishment without going out towards the end of his career.
I'm pretty sure that the cerebral fluid that surrounds and cushions the brain loses elasticity with age and makes an older fighter more susceptible to KO.
Featherweight
Join Date: Aug 2009
Posts: 1,297
I think your chin does loseit's reziliance, there are exceptions. At the elite level you're going to find guys with ridiculous genetics for the most part.
It's all to do with concussions. Loads of studies (which i cant find and source atm - one was done on Pittsburg stealers though i think) have shown that once you have recieved a concussion you become more susceptible to having others and the force with which you can cope with lessens.

Chin's do get weaker but it isn't an actual age thingy - it just happens to older fighters because over the course of 15 years of sparring they have recieved more concussions.
---
Yes, punch resistance does lessen as you get older. Has a lot to do with how hard you've been hit in the past and how many times you've been KO'd.
---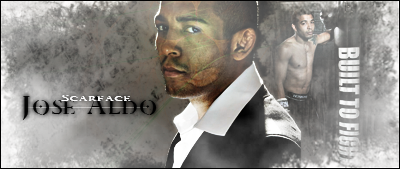 Yeah, one example of that is Chuck Liddell. He used to have a solid chin and now look at him. His loss to Rampage was the beginning of the end!
---
The Emoticon Guy
Currently Active Users Viewing This Thread: 1

(0 members and 1 guests)
Posting Rules

You may post new threads

You may post replies

You may not post attachments

You may not edit your posts

---

HTML code is Off

---