vBookie Event

: MMA KO of the Year (World MMA Awards)
This event is over.
MMA KO of the Year
---
World MMA Awards
Shogun Rua vs Lyoto Machida
Cain Velasquez vs Antonio Rodrigo Nogueira
Mike Russow vs Todd Duffee
Anthony Njokuani vs Chris Horodecki
Rich Franklin vs Chuck Liddell
---
im between russow and rua x.X
---
If a law is unjust, a man is not only right to disobey it, he is obligated to do so. ~ Thomas Jefferson
Sig by D.P.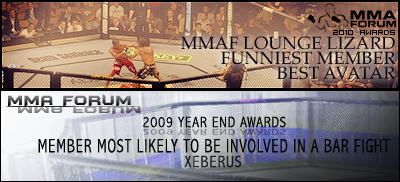 def going with rua
---
mad props: Toxic
Flyweight
Join Date: Oct 2010
Posts: 352
cain. it was in retrospect like the passing of a torch.
Seems rude not to bet a little on Franklin at those odds.

Have to say tho for awards that are supposed to reflect MMA as a hole and not just the UFC, the nominations are soi biased towards the UFC and there new leg the WEC its kind of a joke really.

KJ Noons vs Jorge Gurgel certainly deserved to be a nominee for KO of the years, and Feijao vs King Mo deserved to be a nominee for Fight of the Year, the only SF fight given any credit is Fedor vs Werdum as submission of the year almost as if the UFC wanted to remind the world that one of its ex fighters subbed Fedor.

Then some irrelevant categories like Overeem in international fighter of the year which to be fair he dont deserve to win cos he only had one MMA fight, Soti achieved more, but then they have Brock in the big one been "Fighter of the Year", ffs Overeem with his one fight had a better year than Brock, so did Cain.

Brock took 2 beating last year, a lucky 1st round survival against Carwin then lost his title to Cain, Overeem defended his title in dominant fashion and make the K-1 final 8 again in dominant fashion, if thats counts for anything, am not saying Overeem deserves to be a nominee still, if anyone from SF does its Nick Diaz, but he deserves it more than Brock who is a Nominee.
---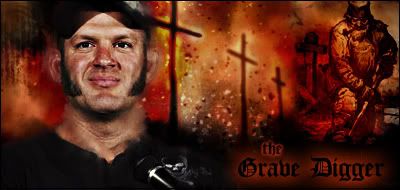 Shame i hva no cash to bet on these.. Im going with Rua on this one, LHW title fight, Machida undefeated..
How about the Roop Vs. Korean Zombie head kick KO?

That was such a brutal KO. Considering KZ came off a 'loss' to Garcia, wanted to grind out Roop then POW... Right in the kisser!
Quote:
Shame i hva no cash to bet on these.. Im going with Rua on this one, LHW title fight, Machida undefeated..
Sorry about double post.
You can loan money dude to bet on stuff... Not the wisest of options though lol.
You guys got it, Shogun ko'ing Machida was knockout of the year.
---
Currently Active Users Viewing This Thread: 1

(0 members and 1 guests)
Posting Rules

You may post new threads

You may post replies

You may not post attachments

You may not edit your posts

---

HTML code is Off

---