What age is to old?
---
Probably a stupid question, but i was wondering in your opinion at what age is it to late to start training MMA.
I've loved MMA for many years, and was a fan of boxing before i discovered MMA, so i'm no stranger too it, and have always wanted to get into it myself but never really known how to go about it. Been from england, there does not seem to be a lot of options here.
Anyway, i am currently 21 years old (maybe its even to old to start huh
) 5'11 and 148lbs.
So my question is, am i to old to start? After experience i'd of course like to do some competetion, as i believe i have some natural athletesism etc.
Were is best to start aswell, there isn't alot were i'm from, theres a tae kwon do school, muay thai, and that it. The only MMA here is something called 'crazy monkey' which ive never heard of before? Sucks that here there is nothing wrestling orientated because i'd love to do that.
Sorry for all the questions, i just feel like everyone here seems to know what they are talking about and can hopefully help me out!
Thanks it advance!
i would say 21 is not too old at all. you could put in a good solid 5 years training and still have a long career.

I started when i was 26 and i would say i am now too old (28). not that i ever intended to compete but i still could at an amatuer level.

at only 21 i'd say you have it all infront of you if you really wanted it.
Hey man, thanks for the reply.
I'd never expect to compete at a professional level anyway, but i'd definatley love to do some amature competetion eventually. Definatley going to look into what dicipline would be the best to start with out of the small choice in this city
.
which city you in?
EDIT: as for disciplines to train in, find a Muay Thai gym for your striking
Carlisle (cumbria).
Theres a muay thai gym here, so i am going to aquire
.
there are a few decent MMA gyms in carlisle.


search for MMA factory on google and then go on their forums. Its a UK based MMA forum (not a patch on this place) but they do list all UK gyms somewhere...
id say around 65ish. i think your body is going to take a lot more damage than help from mma that late in the game.
---
If a law is unjust, a man is not only right to disobey it, he is obligated to do so. ~ Thomas Jefferson
Sig by D.P.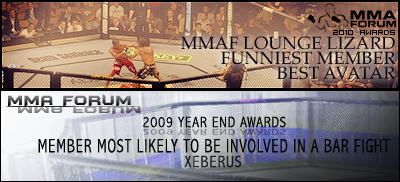 Quote:
id say around 65ish. i think your body is going to take a lot more damage than help from mma that late in the game.
Lol, yea i can't see that been a great idea :P.
There are? I googled etc but couldn't find much, i'll have a better look.
Thanks for all the help!
Currently Active Users Viewing This Thread: 1

(0 members and 1 guests)
Posting Rules

You may post new threads

You may post replies

You may not post attachments

You may not edit your posts

---

HTML code is Off

---