Strikeforce Dallas: Overeem vs Werdum Event Thread
---
Strikeforce: Overeem vs. Werdum
Date: Jun 18, 2011
Location: Dallas, Texas
Venue: American Airlines Center
Broadcast: Showtime
Quote:
MAIN CARD

* Alistair Overeem vs. Fabricio Werdum (heavyweight grand-prix opening round)
* Josh Barnett vs. Brett Rogers (heavyweight grand-prix opening round)
* Gina Carano vs. Sarah D'Alelio
* Daniel Cormier vs. Jeff Monson
* Chad Griggs vs. Valentijn Overeem

PRELIMINARY CARD

* Jorge Masvidal vs. K.J. Noons
* Julie Kedzie vs. Amanda Nunes
* Gesias Cavalcante vs. Justin Wilcox
* Magno Almeida vs. Conor Heun
* Mike Bronzoulis vs. Todd Moore
Quote:
The king of San Jose promised to deliver a rematch between reigning heavyweight champion Alistair Overeem and Brazilian Jiu-Jitsu deity Fabricio Werdum, who first met under the PRIDE banner way back in 2006.

The bout saw "Vai Cavalo" crank his way to a submission victory over "Demolition Man" with a second round Kimura.

Now, the resurgent and seemingly unstoppable "Reem" will get his long-awaited chance to avenge that defeat when he meets the Brazilian in the second round of the promotion's heavyweight tournament later this year, according to a report from MMA Fighting.

Overeem (34-11) tossed his way to a first round technical knockout victory over the hard-hitting Brett Rogers at last May's "Heavy Artillery" event to notch his first win as a Strikeforce employee since he creamed Paul Buentello to capture the division title over three years ago.

In addition to the stoppage over "The HEadhunter," the deadly Dutchman has gone ten straight fights without a defeat, making a mockery of Todd Duffee's best intentions at FieLDS Dynamite!! just last week.

And in his spare time, he plowed through the competition to capture K-1's 2010 World Grand Prix in Japan.

But does any of that matter against the grappling prowess of Werdum?



Once labeled as a UFC castaway, the Abu Dhabi Combat Club (ADCC) champion put together back-to-back wins after an August 2009 Strikeforce debut.

After disposing of Mike Kyle and Antonio Silva, Werdum was rewarded with a main event against Fedor Emelianenko, shocking the Russian (and the rest of the world) with a first round upset win via triangle choke.

His win over "The Last Emperor" made an Overeem rematch all but a foregone conclusion.

Of course, winning the belt from "The Reem" may also land him in a rematch with Emelianenko, who must first get past "Bigfoot" Silva in a tournament bout of his own in February.

No date or venue has been determined for Overeem vs. Werdum, but keep it locked in to MMAmania.com for all the gory details as they become available.
source.....
http://www.mmamania.com/2011/1/4/191...m-for-upcoming
Edit:
Quote:
In addition to previously announced matchups of Fedor Emelianenko vs. Antonio Silva and Andrei Arlovski vs. Sergei Kharitonov, a third bracket featuring Strikeforce champ Alistair Overeem (34-11 MMA, 3-0 SF) vs. Fabricio Werdum (14-4-1 MMA, 3-0 SF) is on tap, and a fourth targets Josh Barnett (26-5 MMA, 0-0 SF) vs. Brett Rogers (11-2 MMA, 2-2 SF). It is unknown whether the quarterfinal will put Overeem's belt on the line.
Source.......
http://mmajunkie.com/news/21972/stri...-vs-rogers.mma
Wow, sounds great
---
Favorite fighters:
1. Badr Hari
2. Remy Bonjasky
3. Mauricio Rua
4. Anderson Silva
5. Alistair Overeem
When Reem beats Werdum people are just gonna say the Werdum is not top ten and that Overeem is a can crusher.
---
"Corazon de un Leon"
To whomever keeps deleting my sig, the size is 408x220 the rules state it must be smaller than 420x220, thus i am not breaking the rules.
Awesome. Should be another quick KO, whenever someone gets close to Reem nowadays he either knocks them out or shrugs them off like a light breeze, he's too big, too powerful, and he knows it.

Not sure what Werdum can do here.
---
Quote:
When Reem beats Werdum people are just gonna say the Werdum is not top ten and that Overeem is a can crusher.
Anyone that says that is a moron. Werdum isn't Top 5 for me, even with that win over Fedor, but he's clearly Top 10 and clearly poses The Reem a much stiffer test than any of his previous competition at HW.
As for the tournament, liking the way it's shaping up. They've gone with the matches I wanted to see, and posted last night, it's just a matter of getting the contracts signed, working out the format and rules of The Reem's match with Werdum and then we're off. Be interesting to see how it's worked out round and title wise. Strikeforce will probably make Alistair vs Werdum a title fight, and then the winner has another title fight in the semi's, with the winner of that defending in the final. That's one option, the other is to completely ignore the title, and run this as a PRIDE-esque GP with the winner being the GP Champion, exactly like PRIDE. Be interesting to see what they do.
---
Proudly Supporting
Dan Hardy
Conor McGregor
Michael Bisping
Donald Cerrone
Demetrious Johnson
Joe Lauzon
Nick Diaz

This tournament just gets sweeter by the minute, this has the potential to give us loads of great fights.
---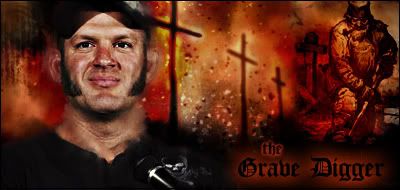 Colossal-weight
Join Date: Jan 2010
Posts: 9,844
Quote:
When Reem beats Werdum people are just gonna say the Werdum is not top ten and that Overeem is a can crusher.
No they won't. Werdum actually has a career. Duffee, not so much yet. And Rogers has 1 good win, vs. a guy on a 3 fight skid.
Don't get so defensive. Werdum is by far the best fighter Overeem will have faced at HW recently. If Overeem wins, he will get congratulated.
The hate ive has for Strikeforces inability to put on the best fights is now 100 percent gone. This is gonna be awesome. Overeem/Werdum is gonna look a lot like JDS/Werdum. I dont think there is anyway in hell Werdum can get the Reem to the ground and there is no way in hell Reem will be dumb enough to jump into his guard. Quick first rd KO for The Reem.
Dana:*must discount anyone overeem beats*
Dana: (when reem beats werdum) werdum sucks, couldnt make it in the ufc.
Dana: (when reem beats fedor) fedor sucks, beat 5 ex-ufc champs, they were bums, 30 fight win streak, luck.
Dana: comes to ufc.. clearly the best in the world.
---
If a law is unjust, a man is not only right to disobey it, he is obligated to do so. ~ Thomas Jefferson
Sig by D.P.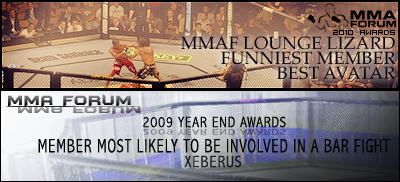 Currently Active Users Viewing This Thread: 1

(0 members and 1 guests)
Posting Rules

You may post new threads

You may post replies

You may not post attachments

You may not edit your posts

---

HTML code is Off

---