Roger Gracie vs. Trevor Prangley: Some Thoughts
---
I haven't posted that many articles lately, since I was having trouble accessing the forum while I was in the U.K. Now that I'm back in Fresno, I'd like to get back on track:
Quote:
Roger Gracie: X10 BJJ World Champion, X2 ADCC Champion
South African freestyle wrestler
Trevor Prangley (23-6-1 MMA, 2-2 UFC)
, a long time staple of second tier MMA organizations, is coming off a huge, relatively high-profile win over former UFC staple
Keith Jardine (16-9 MMA, 6-7 UFC)
in Shark Fights, and has returned to Strikeforce to face perhaps the greatest pure grappler (certainly the greatest BJJ practitioner) of all time. For Prangley, this is an opportunity to stifle the MMA ambitions, as minute as they may be at this moment, of a talented prospect in the sport and establish himself as a potential competitor in one of Strikeforceís more competitive divisions.
For
Roger Gracie (3-0 MMA)
, there is still a large open question. His desire to compete in MMA, generally, has not always been present, and despite a solid performance in his debut both in the Strikeforce organization and in the lightheavyweight class, defeating former UFC heavyweight champion
Kevin Randleman (17-15 MMA, 4-3 UFC)
with a considerable display both on the ground and on the feet, there is still doubt about whether Gracie should be discussed as a potential title contender, given his limited experience and commitment to competition in Brazilian Jiu-Jitsu and submission grappling. As many of Rogerís fans wonder if heíll even compete in ADCC in 2011, (he skipped the 2009 tournament, which was won by friend and Gracie Barra teammate Braulio Estima) Roger sets up to return for his fourth appearance in the cage in his almost five year MMA career.
Click here for the full article.
Honestly, this is the fight on the card that I'm most excited about. The main event will be a really fun fight, but I love to watch jiu-jitsu legends fight, because (win or lose) I feel like I learn a lot about the way that jiu-jitsu fits in to the MMA fighter's game.
As far as Roger Gracie goes, he's far from my favorite BJJ competitor, but there is no doubt that he's the best BJJ competitor to ever step on the tatame. Apart from the record 10 Mundial wins, his performance at the 2009 world champions is, in my humble opinion, the greatest single tournament performance by any grappling competitor.
---
Sig by Toxic

Barnett - Toquinho -Werdum - "Nurmie"
Z. Gurgel - Morango - Rocha - Tiequan
If Roger gets his attitude right and dosent blow this fight off he will dominate this kid. Roger has had troubles in that deparment for awile. As far as the best bjj practiner? No way. Robson Moura will wipe the floor with this kid.
---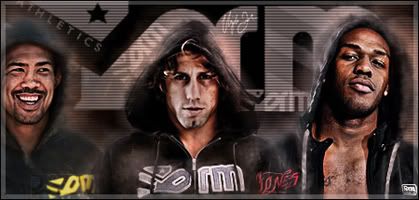 "Im probably better off down there on my knees anyway" -Dick Diaz
Currently Active Users Viewing This Thread: 1

(0 members and 1 guests)
Posting Rules

You may post new threads

You may post replies

You may not post attachments

You may not edit your posts

---

HTML code is Off

---