I used to take boxing and when sparring with people who threw wild looping punches it was easy you just side stepped avoided there shot and landed a hook. I used to hate sparring with people who did that because they would typically get mad and just keep doing it over and over and I could just keep landing the same hook over and over which really didn't accomplish anything.
---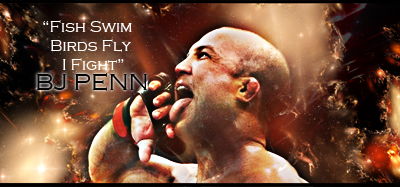 "If you get hit and it hurts hit him back you not knocked out yet."-Joe Doerksen
The Toxic Terrors (FFL)
Demetrious Johnson*Eduardo Dantas*Emanuel Newton*Will Brooks*Michael Page
counter with straight punches, he'll change or get hurt shortly after. swinging wildly would be a lot more awesome if you didn't leave an opening the size of my... well you know.. for your face to get hit.
---
If a law is unjust, a man is not only right to disobey it, he is obligated to do so. ~ Thomas Jefferson
Sig by D.P.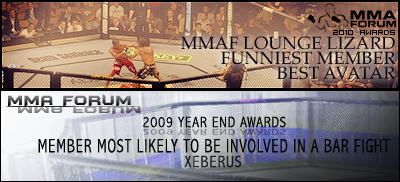 MMA Fanatic
Join Date: Feb 2011
Location: Canada
Posts: 22
just let him punch you in the face like rocky and then when hes tired start throwing haymakers lol jk
There are a few things you can do, actually lots of things. You can side step it and throw leg kicks and hooks as Toxic suggested. Or I'm sure someone else suggested this and this is usually what I do because it fits my particular style.

I like to bounce back and forth when I know they're swinging wild haymakers. You want to stay away from their power, and leap in with a 2 or a stiff 1 (power hand straight or lead hand jab). Timing on it is key. You want to get them to miss or land before the get a punch off, but never inbetween. If they're swinging wildly while your leaping in you can get tagged on the side of your head pretty easily, but if you can get the timing down. Leaping in and out with straight punches right down the center is effective.

Or you can leap in with a straight and clinch right after, go for your hooks and get a nice trip takedown. Just remember to keep your chin tucked the whole time. Fighting someone with a style like that is usually not very fun.

If you like kicking though, throw hard leg kicks from the outside and let him know you'll do it more than once. I like when my opponents are afraid of my power when they're throwing big power of their own.

For clinching, once you get double underhooks you can usually take them down with ease unless there is a wall around. Try to land in half guard and wiggle your leg free to get side control, or mount if the opportunity arises. Just make sure that when your in his half guard you threaten an arm with a submission or threaten with a choke to get your leg free while maintaining your base. You want to avoid him from sneaking a butterfly in or transitioning to full guard.

Some good kick combos: 1 2 leg kick. You want to kick on the same side as your 2. If your feelings Machida-ish you can skip to the 2 leg kick and push them with your other hand. Hard to describe typing but hopefully you get the idea. I've gotten many takedowns with that myself.

Some good punching combos I like: 1 to the face, 2 to face, 3 to the body is classic for me. After the 2 you'll already be winded up and ready for a hard shot to the kidney. If that lands and you have time for more strikes, you can add a 2 3 3 leg kick right after.

If you feel he's open for an uppercut. Lead in with a 3 to 6 or 4 to 5 and go for the plum.
---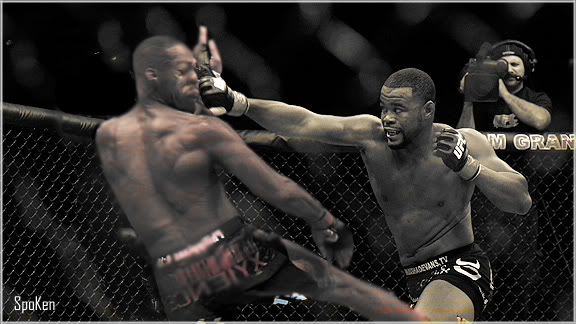 Sweet sig by Life B EZ
I feel like I get paid way to much money, but not enough -Nick Diaz
Currently Active Users Viewing This Thread: 1

(0 members and 1 guests)
Posting Rules

You may post new threads

You may post replies

You may not post attachments

You may not edit your posts

---

HTML code is Off

---