Hes took too many beatings recently. He looks to me like he could actually be a lightweight, he is so skinny!
---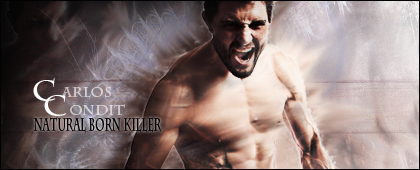 2012 FFL WINNER
CPL RECORDS
UFC 56-32-3 Strikeforce 10-4
He needs to fight a few pillow handed cans and he'd be right as rain. Its not like hes getting knocked out by guys who dont hit really really hard.

This being said its very sad to see him keep getting KTFO'd all the time. Nearly as bad as watching Lindland get blitzed.
---
Member of the Anti-Fitching Society. Stop Fitching and Fitchery in MMA now!
-------FREE CHARLIE Z-------
FFL
'Roudy' Ronda Rousey, Fabricio Werdum, Vyacheslav Vasilevsky, Eric Koch, Alexander Sarnovsky
I hope he does retire, or at least fight some elsser competition for a few fights. He's one of my favourite fighters, and along with Chuck one of the fist Mixed Martial Artist I ever saw fight, and have been a fan ever since. So watching him go out like this is hard, he's a fantastic fighter than can't seem to repair a few small technical mistakes, and he can't take the heavy shots anymore. I'll miss him competing, but I hope he retires, he has nothing to prove at all.
---

"There are three things all wise men fear: the sea in storm, a night with no moon, and the anger of a gentle man."
about 2 years too late. dude was over several years ago. If the wind blows, this guy goes to sleep.
He needs to hang em up no doubt.
---
_RIVALS TOP 10

ANDERSON "THE SPIDER" SILVA
JAKE SHIELDS
NICK DIAZ
EDDIE ALVAREZ
JUNIOR "CIGANO" DOS SANTOS
GILBERT MELENDEZ
MAMED "THE CANNIBAL" KHALIDOV
HECTOR "SHANGO" LOMBARD
CAIN VELASQUEZ
GEGARD "THE DREAM CATCHER" MOUSASI

Flyweight
Join Date: Sep 2009
Posts: 365
He's like Chuck. Still has some skills, but his chin has been shattered.

He's done.
Lightweight
Join Date: May 2010
Location: Philippines
Posts: 1,669
He's in a similar position as Mirko, Chuck, and Jens Pulver. Even Wand was there, but was able to break out of it by going back to his old trainer.

A lot of it is mental.
MMA is no sport for strikers with a weak chin.

He's been KOd too many times already, enough is enough I don't want to see him getting put out flat anymore.
Currently Active Users Viewing This Thread: 1

(0 members and 1 guests)
Posting Rules

You may post new threads

You may post replies

You may not post attachments

You may not edit your posts

---

HTML code is Off

---