Well Pipe also serves as an alternate if it comes to that. Anyways, this should still all be an exciting fight card. Way to work!
---
The Emoticon Guy
Yeah, that's the way we do it. If someone doesn't send picks and he does he can take their spot on fight night. If more than one doesn't (yeah that's happened) he takes the highest one up the event card. But I hope somebody else wants to pick.
---
Yeah, being an alternate is a great oppurtunity. It gives him a chance to prove himself. Oppurtunity is what comes to us!
---
The Emoticon Guy
Lol.

Picking 2 undercard foghts is a good idea, they are largely filled with unknowns on SF
---
Member of the Anti-Fitching Society. Stop Fitching and Fitchery in MMA now!
-------FREE CHARLIE Z-------
FFL
'Roudy' Ronda Rousey, Fabricio Werdum, Vyacheslav Vasilevsky, Eric Koch, Alexander Sarnovsky
Bloody hell, i got so attached last week to UFC127 i forgot this was on this week.. Better get a quick training camp in!
---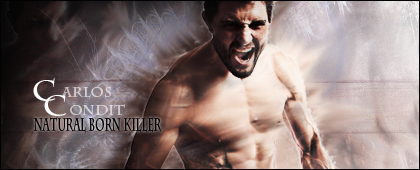 2012 FFL WINNER
CPL RECORDS
UFC 56-32-3 Strikeforce 10-4
I'm in!
---
.
BELIEVE!
Right on!
it's pipe vs limba boys and girls, get those picks by Saturday night!
---
Speaking of boys and girls have there been any intergender matches yet? Not that it matters in this forum. It's entertaining just the same!
---
The Emoticon Guy
One gender doesn't seem to be as in to it as the other, but they have played the UFC version in the past and wish they'd come back to either pick 'em game.

I got a pm from Big_Charm saying he's in btw, next person who signs up would be against him.
---
There seem to be alot of people signing up for this card. Now we have a solid heirarchy.
---
The Emoticon Guy
Currently Active Users Viewing This Thread: 1

(0 members and 1 guests)
Posting Rules

You may post new threads

You may post replies

You may not post attachments

You may not edit your posts

---

HTML code is Off

---