View Poll Results

: Which one do you want the most?

Kicks and knees to the head allowed on downed opponents by NSAC
9
40.91%
A 145 lbs. division in either Pride or the UFC.
4
18.18%
Geki Sudo coming out of retirement
1
4.55%
The Wanderlei Silva vs. Chuck Liddell match
8
36.36%
Voters: 22. You may not vote on this poll
What do you want to see the most?
---
Which of these things would you most like to see happen?
---

Self-proclaimed leader of the Bao Quach bandwagon
On the Handsome bandwagon
It's Hellga time!

Megaweight
Join Date: Nov 2006
Location: Kansas City, Missouri
Posts: 5,148
as much as i'd like to see the wandy vs. chuck fight, and as much as i want a 145 lb division, adding kicks and knees to a downed opponent would make every ufc fight better. wandy and chuck would be a good draw, but it would be a one time deal. a 145 division would make more fights and quality fights as well, but changing towards a pride rule set would help every fight, every division.
---
Megaweight

Join Date: Apr 2006
Location: Everett, MA
Posts: 5,961
Very tough decision. But Chuck vs wandy would be BANANAS!!
---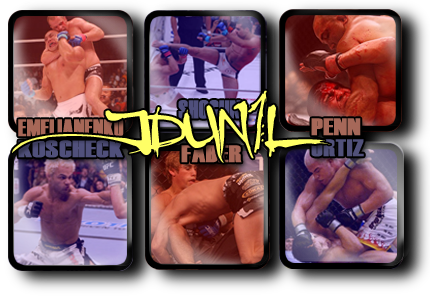 Mancrushes
1.Shogun
2.BJ
3.Fedor
4.Kos
5.GSP
Im in Porno's
Flyweight
Join Date: Feb 2007
Location: NWO
Posts: 327
Quote:
Originally Posted by jdun11
Very tough decision. But Chuck vs wandy would be BANANAS!!
There are lots of things that I would love to see happen. Chuck and wanderlia.. and chuck and rampage. I would also really like to see diego and GSP go at it.BUT MY MOST FAVOURITE FIGHT would be watching cro cop kick the fcuk out of tim sylvia
---
KDG
Kicks and knees by a looong shot, it could make some fights so much more exciting, we would no longer have people just laying on the ground hoping for the other person to drop into their guard, kicks and knees to a downed opponent would punish such behavior. another good thing about this is ankle picks could now be defended, right now you just had to avoid them, or try to power away from it. Coming in a distant second is Chuck vs Wandy
---
"When I lose, I get my butt kicked. When I win, I be doin' the butt kickin..." - Quinton Jackson
Chuck and Wandy, they have been talking about the fight for so long and it never happened yet.
145 kthnx
---
GSP Dan Henderson Sean Sherk Tyson Griffin Mark Hunt
Prospects Draft: Dong Hyun Kim & Roger Hollett
saku vs rickson
bennett vs sudo
chuck vs wandy
joe rogan vs wesley snipes

strikes to downed opponents, less ref interference on the ground and premature stoppage, 10 min first round, naked ring card girls(with camera on them between rounds). would like to see organizations all agree to let the best fighters each other.
whoa i kinda made my own list.... oh well i like my list!!!
Currently Active Users Viewing This Thread: 1

(0 members and 1 guests)
Posting Rules

You may post new threads

You may post replies

You may not post attachments

You may not edit your posts

---

HTML code is Off

---