vBookie Event

: Alistair Overem vs Fabricio Werdum (Strikeforce: Dallas)
This event is over.
1 million on Overeem.
---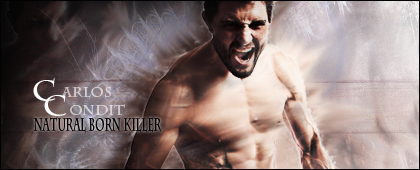 2012 FFL WINNER
CPL RECORDS
UFC 56-32-3 Strikeforce 10-4
600,000 on overeem
---
If a law is unjust, a man is not only right to disobey it, he is obligated to do so. ~ Thomas Jefferson
Sig by D.P.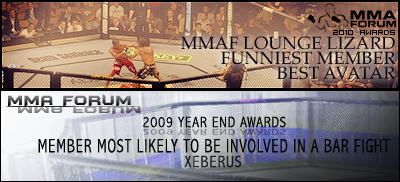 7 milions on The Reem!
---
.
BELIEVE!
Overeem wins the decision...
Quote:
Round 1 - Leon Roberts calls the second quarterfinal heavyweight grand prix bout of the night. Both fighters change levels. Werdum leads with a high kick, but it's shrugged off by Overeem, who closes the distance. Werdum tags Overeem coming in, and then lands to the body. Werdum shoots from the open with a takedown and gets nothing. He follows with a kick and gets tripped. Another takedown attempt fails miserably. Then another. Werdum butt-scooting to the great dismay of the audience. Werdum with an inside leg kick. Then another shot fails. Werdum asks Overeem to come and get him, Overeem says no way. Overeem lands to the body then follows with a knee. Werdum chases after him with swinging punches getting nothing. Werdum closes then pulls guard, but Overeem stands out of it. Werdum chases with punches and gets nothing. Another charge and guard-pull, and another nothing for Werdum. But he is throwing off Overeem's rhythm. Werdum clinches and throws a knee, and Overeem trips him to the mat, standing overhead with his arms outstretched. A body shot from Overeem drops Werdum, but Werdum waves no-no. Werdum is now begging Overeem to follow him to the mat after a failed shot. Predictably, Overeem is saying no. Overeem lands a huge knee to the advancing Werdum and peels off. Werdum again charges and manages to lock in his first guard position of the night, but time is up. MMAjunkie.com scores the round 10-9 for Overeem.

Round 2 - Werdum punches into a clinch and throes a knee. But the knee Overeem throws actually hurts. You know what happens from here. But on the next exchange, Werdum catches a Overeem knee and nearly lands on top. Overeem rights himself and gets swarmed by punches. Overeem lands a big hook to the body and head. Every time Overeem catches Werdum with a big shot, a takedown attempt ensues, and it's met by a standup. Overeem is tagging Werdum with big shots, nearly dropping him. This time, he lands in Werdum's guard, and the audience boos. Both fighters just hanging out here. Werdum hiking his legs up. Overeem postures then stands up. Werdum gets up with great difficulty. He still throws, but Overeem lands the better shots and prompts another takedown attempt. Another Overeem knee crumples Werdum, and they're stalled in guard. Werdum's legs getting busy now. Not much ground and pound coming from Overeem. Bell rings with boos and a happy couple in guard. MMAjunkie.com scores the round 10-9 for Overeem for two in the bag.

Round 3 - Both fighters look considerably less fresh. Werdum leads with a flurry of strikes and dives for a takedown against the cage. Overeem muscles out of it and lands a knee to the dome before the two spill to the mat. Overeem lands at Werdum's back but merely stands out of the position. Again, another sloppy flurry from a swollen-faced Werdum, and another fall. Werdum holding on to Overeem from the guard. Overeem falls out of guard. Werdum doesn't follow. He's happy where he is. Overeem outstretches his arms. Werdum charges in and lands punches and a knee. Overeem returns fire with a knee of his own, and they tumble to the mat with Overeem on top. Audience chants for fight to be stood up. Werdum works for wrist control. Overeem retorts with a punch and hangs out in guard. Texans are not fans of the ground game, apparently. Overeem stands out of the position, and meets Werdum with a knee. Werdum charges and lands some great punches. They spill to the canvas and Werdum appears to lock up a leg lightning fast. But Overeem is not grimacing, and the Brazilian doesn't have the time to adjust. Round and fight ends.
Alistair Overeem def. Fabricio Werdum via unanimous decision (29-28, 30-27, 30-27).
http://mmajunkie.com/news/24035/stri...ve-results.mma
---
Currently Active Users Viewing This Thread: 1

(0 members and 1 guests)
Posting Rules

You may post new threads

You may post replies

You may not post attachments

You may not edit your posts

---

HTML code is Off

---