vBookie Event

: Justin Wilcox vs JZ Cavalcante (Strikeforce: Dallas)
This event was abandoned. Stakes have been returned.
Strikeforce: Justin Wilcox vs JZ Cavalcante
---
---
50K on Wilcox.
---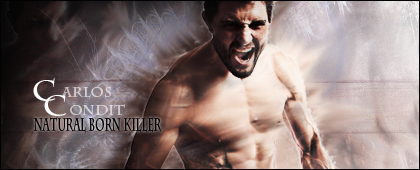 2012 FFL WINNER
CPL RECORDS
UFC 56-32-3 Strikeforce 10-4
Excellent odds on Wilcox. At Bodog he is a -140 favorite.
---
Sig credit: MC
~ Lifetime Membership sponsored by RustyRenegade ~
Bummer, fight ruled no contest:
Quote:
Round 1 - Don Turnage calls what looks to be the final preliminary card bout of the evening. Wilcox leads with punches and a high kick, but Cavalcante hands tough. Wilcox leaps with a knee and lands a glancing shot, but "JZ" resets. Wilcox with a couple of nice leg kicks. WIlcox sneaks in a right hand in a combination. He catches a return kick from Vavalcante and gets a takedown, then lands a nice nice knee to Cavalcante's head when they get up. Cavalcante now hints at a takedown. Wilcox with a nice combination upstairs. He's the more accurate striker in exchanges. A right land lands for him, and he changes levels, but Cavalcante is ready. The right hand is landing for Wilcox on a consistent basis. Cavalcante with a nice counter left as Wilcox advances. Another right hand for Wilcox. Then a front kick. Cavalcante is looking for that counter, but he has yet to get it. Round ends with the two squared off. MMAjunkie.com scores the round 10-9 for Wilcox for the dominant striking.

Round 2 - Cavalcante charges with a punch and a kick this time, anxious to regain some momentum. But Wilcox hangs in there and returns fire. Wilcox suddenly gets poked in the eye during an exchange and drops to the canvas in pain. The doctor is checking on him. Replays show Cavalcante's outstretched fingers as the culprit. After a short deliberation, the doctor calls the fight off to the great dismay of the audience. A no contest is in store. Ring announcer Jimmy Lennon Jr. calls it a no decision. Justin Wilcox vs. Gesias "JZ" Cavalcante results in a "no decision" due to unintentional eyepoke.
http://mmajunkie.com/news/24035/stri...ve-results.mma
---
Currently Active Users Viewing This Thread: 1

(0 members and 1 guests)
Posting Rules

You may post new threads

You may post replies

You may not post attachments

You may not edit your posts

---

HTML code is Off

---