vBookie Event

: Daniel Cormier vs Jeff Monson (Strikeforce: Dallas)
This event is over.
Strikeforce: Daniel Cormier vs Jeff Monson
---
---
Monson is how old now? This is not a hard pick for me.
He's been 40 almost all year, but on a nice winning streak including one against that guy with over 200 wins, heh.
---
Cormier is going to destroy Monson. Just watch.
---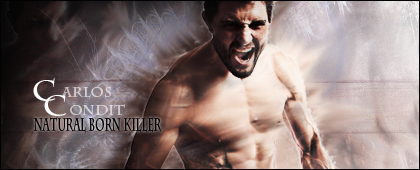 2012 FFL WINNER
CPL RECORDS
UFC 56-32-3 Strikeforce 10-4
Cormier wins a UD
Quote:
Round 1 - Leon Roberts calls this one. Cormier with a straight right and high kick to start. Monson blocks, and takes a hard leg kick. Cormier pawing forward. Monson returns fire and is chased off. They lock up at the cage and Cormier lands a nice elbow. He thinks better of a clinch war and breaks off. Cormier connects with a nice combo off a sloppy jab. Cormier goes to the body and they clash heads briefly before locking up. Cormier working knees against the cage. Audience not thrilled. Monson attempts to work under with a punch, but they break off instead. Cormier connects with an uppercut in the next exchange, then a front kick. The decorated amateur wrestler looks far more relaxed. Cormier goes one-two body then to the head. He follows with a nice kick to the body. Right hand lands. In comparison, Monson fires back and is blocked. Jab lands for Monson, which prompts Cormier to charge forward. They lock up briefly before they start swinging, and Monson takes more vicious shots. One of these bombs is going to end his night if he doesn't change things up quick. Round ends in staring contest. MMAjunkie.com definitively scores the round 10-9 for Cormier.

Round 2 - Cormier with a couple of leg kicks and a high kick in quick succession. He follows with a flurry of punches that again tag Monson, who flings a right hand and falls on his face. Cormier lets him up. Monson gets inside with a right hand, but it doesn't faze Cormier. Monson bullies Cormier to the cage. Cormier misses with a combination, but Monson's head is just out there completely exposed for him to tag in the next exchanges. They pause in the pummel position before Cormier lands a big overhand right. Jabs land for Cormier. He's pretty much having his way given the lack of defense he's encountering. They lock up against the cage, and Cormier works knees. Both fire off a few rabbit punches, and Cormier breaks off with a flurry to the body. Follow up body kick lands flush. Monson gets flashed with a right hand. He's taken several of them, and it's pretty amazing he hasn't expired yet. Cormier tosses him to the mat after a clinch, but wants no part of the ground game. Round ends again with both men squared off. Another solid 10-9 in the books for Cormier.

Round 3 - Cormier with a few high kicks that are blocked. Monson goes big with a right hand but gets nothing. They lock up after a clash, but Cormier doesn't take things down despite having his back. A Cormier combination rocks Monson. Another one lands, but Monson fires back and hurts Cormier. That does nothing but piss him off, and he lands a Superman punch that slams Monson. They tie up, and the action stalls. Cormier again breaks the stalemate with a flurry, and absolutely plasters Monson with punches. Monson is so overwhelmed he dives for a takedown, but is clearly in no position to muscle anyone. Cormier retreats, and Monson stands with great difficulty. They lock up against the cage and pause for rest. Cormier wrestles Monson backward and then tosses him to the cage. This is a beatdown. High kick slaps Monson's face. A punching exchange ends the fight. Not even in question a 10-9 round for Cormier, and not even in question that he pitched a shutout with 30-27 scores. Daniel Cormier def. Jeff Monson via unanimous decision (30-27, 30-27, 30-27).
http://mmajunkie.com/news/24035/stri...ve-results.mma
---
Currently Active Users Viewing This Thread: 1

(0 members and 1 guests)
Posting Rules

You may post new threads

You may post replies

You may not post attachments

You may not edit your posts

---

HTML code is Off

---