Banned
Join Date: Oct 2009
Posts: 7,811
lol
this is not the bottom we are talking about.
No order.

Fedor (Viscious in his day)
Mark Coleman (Obvious reasons)
Tito Ortiz (ultilized it perfectly during early days)
Jon Jones (Crazy ass elbows)
Cain Velasquez (Throws about 1000 fists per second)

Honourable mentions...

GSP, Randy Couture, Kevin Randleman, Brock Lesnar, Mark Kerr, Anderson Silva.

Not even a whisper for Wanderlei? Has some brutal TKOs from top position.
---
Watch The Trews! True news! Subscribe here!!


https://m.youtube.com/user/russellbrand
1. Jon Jones
2. Brock Lesnar
3. Mark Munoz
4. Cain Velasquez
5. Diego Sanchez
---
Top 10 Favorite Active Fighters
Anderson Silva
Jon Jones
Anthony Pettis
Pat Barry
Matt Mitrione
Gunnar Nelson
Mark Hunt
Carlos Condit
Chris Weidman
Rory MacDonald
1. Jon Jones
2. Brock Lesnar
3. Karlos Vemola
4. Christian Morecraft
5. James Te Huna
1. Tito ortiz
2. Fedor
3. Mark coleman
4. Dan severen
5. JBJ
---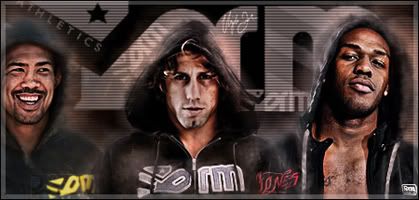 "Im probably better off down there on my knees anyway" -Dick Diaz
Heavyweight

Join Date: Sep 2007
Posts: 3,705
Quote:
And Dan Hardy didn't even look like he'd been in a fight after being underneath GSP for 5 rounds. That doesn't mean GSP's GnP is poor, does it?

Chael beat the ever living shit out of Silva. Yes, he got choked out but it was Anderson going to the hospital after the fight. He's a nasty GnP'er.
I didn't see GSP doing any GnP that fight so that's a bad comparision. He basically made that a JJ fight and probably got away from his game plan.
Anderson went to the hospital because of a rib injury, something which Sonnen's GnP had nothing to do with. Sonnen throws very weak punches and you can tell by just how little damage his opponents take off their back. He never tries to pass, he is content with throwing weak punches from the guard, that is far from a dominant GnP.
Sonnen may be a top grappler, but top GnP? not in my book.
MMA Fanatic
Join Date: Apr 2010
Posts: 35
1) Shogun- Most the time when he uses gnp it ends up a ko
2) Coleman - He pretty much invented it
3) Tito - Always used it too good effect
4) Fedor - look at the herring fight
5) Jones - Those elbows just look nasty

Kongo has decent gnp when ever he can mange it too the ground
P4P:

1.)Brock Lesnar
2.)Jon Jones
3.)Hector Lombard
4.)Mark Munoz
5.)Karlos Vemola
5. Randy Couture
4. Cain Velasquez
5. Jon Jones
2. Fedor Emelianenko
1. Sergei Kharitonov- Did you guys see what he did to Semmy Schilt!
---
You forget that this isn't just some brutal sport where everyones out to kill each other. Its much more like a game of physical chess.-looney liam
No paricular order -

1) Sonnen
2) Tito
3) Fedor
4) Hughes
5) GSP
Currently Active Users Viewing This Thread: 1

(0 members and 1 guests)
Posting Rules

You may post new threads

You may post replies

You may not post attachments

You may not edit your posts

---

HTML code is Off

---