Journalist takes Overeem down
---

Join Date: Mar 2010
Location: NC.
Posts: 9,815
kinda makes you wonder what cain would do.
---
Wtf lol that all happened so suddently. What a weird journo lmao
---
Thanks to limba for this AWESOME sig

Join Date: Apr 2010
Location: Gods country
Posts: 4,524
Like to see Overeem for Lesnars comeback fight after watching that.
I take this with a grain of salt.


I think we've all had times when we're not taking our 10 year old nephew seriously when he jumps on your back and makes you fall over.


I usually overact to the point that they think I fell down on purpose, but that's just because I can't live with them thinking they have a win over me.
---
Thanks to
D.P.
For the Sig!
Favorite Fighters:
Donatello
Leonardo
Raphael
Michelangelo
Video is now private. Anyone have another link or anything?
---
WAR CIGANO
sig credit to
Limba
lobster train.
Quote:
Video is now private. Anyone have another link or anything?
Here is mate
lol i like it. Overeem is the man. Ckearky it was a somewhat improvised thing so to think it has any implication at all on a fight is silly.
---
mad props: Toxic
This was kind of a fun play around thing. Imagine I'm in the gym, im rolling with a white belt, he's been training four months. He comes in for a take down I flying knee his ass and follow with brutal shots until he's out cold... Or I let him take me down and work on positions off my back.
Overeem showed a lot of restraint here
---
If a law is unjust, a man is not only right to disobey it, he is obligated to do so. ~ Thomas Jefferson
Sig by D.P.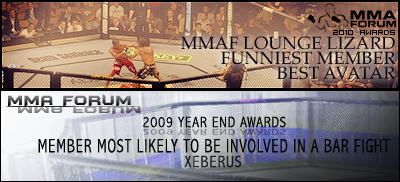 I would flying knee him for that way a white belt knows his role. Where's that vid of Wandy slapping that kid funny that had the nerve to get gully
Currently Active Users Viewing This Thread: 1

(0 members and 1 guests)
Posting Rules

You may post new threads

You may post replies

You may not post attachments

You may not edit your posts

---

HTML code is Off

---