Can't see shit either...
Thou shalt not uploadeth pictureth of Fedoreth and Henderson...
Have edited the first post with a direct link for anyone who cant see it.
---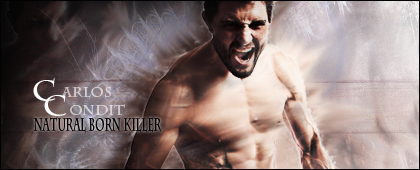 2012 FFL WINNER
CPL RECORDS
UFC 56-32-3 Strikeforce 10-4
Bantamweight
Join Date: Feb 2010
Posts: 915
Quote:
Henderson tweeted this about an hour ago. Great mutual respect.
http://twitpic.com/5w80p0
Cool pic. Photos can be deceiving, but Fedor looks like the bigger man. The last guys he's fought (and his losses) have all been to bigger men - he's been looking up at the staredown. I think he'll beat Hendo.
Flyweight
Join Date: Jan 2008
Posts: 298
Before the dawn of the new breed of monster heavyweights, Fedor once said that the fighters that give him the most trouble are the smaller ones.

Join Date: Oct 2006
Location: Wa
Posts: 2,550
I think both these guys are tough as nails, but I can see Fedor catching Hendo in a sub of some kind. Dan doesn't have the size/power to sit on Fedor like Silva did, so he'll have to scrap for everything he gets. This is the defnition of a war.
---
_________________________________________________
_________________________________________________
Both these guys look like they are in good shape. I'm not at all nervous about Fedor losing. He may be on the decline and he may lose, I guess we'll find out soon enough.

I'm just going to enjoy watching Fedor fight next few fights (perhaps last). I've enjoyed his fights throughout his career and no longer have expectations of him being Mr. Invincible anymore. I would love to see him fight the top guys at LHW to see where he stacks up there. He obviously could make the weight with a decent nutritionist on his side, its only a few pounds.
---
Check out the new MMA Forum app for the Android
Featherweight
Join Date: Aug 2010
Location: Sydney
Posts: 1,099
Fedor is definately the bigger guy.

I think Henderson is in trouble. Fedor is going to be quicker and more powerful than he thinks.

Join Date: Apr 2010
Location: Gods country
Posts: 4,521
They're supposedly only an inch apart in height. Dan must have been flip flopping.
Love it when there is little-no animosity between fighters, and they show the upmost respect towards one another. Well, what do you expect with 2 veterans of the sport, can't wait for this one!

Someone's getting KTFO.
---
Thanks to limba for this AWESOME sig
Thing is, whoever wins, Hendo will be called a MW fighter.

This is what the haters will say:
Fedor won against a MW, meh.
Fedor lost to a MW, LMAO.
Currently Active Users Viewing This Thread: 1

(0 members and 1 guests)
Posting Rules

You may post new threads

You may post replies

You may not post attachments

You may not edit your posts

---

HTML code is Off

---