View Poll Results

: Who takes the fight?

Kendall 'Da Spyda' Grove
3
50.00%
Joe 'Diesel' Riggs
3
50.00%
Voters: 6. You may not vote on this poll
Very intrigued to see BJ's brother throw down.

Also Mark Ellis figures to be a beast.
---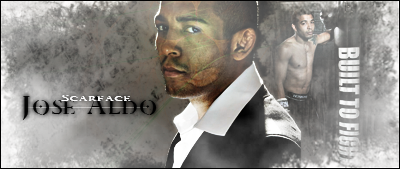 Yeah, I watched Mark Ellis actually take the NCAA championship the year he won it. It will definately be interesting to see Regan fight cause he keeps saying he's been training with BJ for a long time. Either he will be similar to BJ or horrible.
---
The Emoticon Guy
Still haven't found odds for this show, would have put up a vbookie or two. Gonna watch it though!
---
I think Grove will easily handle Riggs. Riggs is way past his prime and his prime wasnt particularly impressive to begin with. I dont know much about the guy AA is fighting. The Mcfeidries/Kala Hose fight should be pretty entertaining for the half of a round it lasts.
Yeah, Grove has been steadily improving overtime. I think Riggs prime was probably when he got that title shot against Matt Hughes and then couldn't make weight. That was probably his prime.
---
The Emoticon Guy
Shame about the McFedries-Hose fight, i was really looking forward to that. Anyone know why Hose pulled out?

Arlovski has been given an easy fight to get him back into the W column.
I expect Grove to win a comfortable decision or TKO.
As like everyone alse, i'm excited to see Penn and Ellis.

Half decent card, couple of prospects, couple of UFC vets, should be ok.
---
FORMER UFC CPL CHAMPION
CPL RECORD
:
5-3
Events Attended: UFC 120, CWFC 45, CWFC 52
---

"There are three things all wise men fear: the sea in storm, a night with no moon, and the anger of a gentle man."
I watched it last night directly from Sherdog. And I have to say that the whole fight card was about new beginnings. Drew McFedries got into the win collum again, Sara McMann had her first big stage win, Reagan Penn won his MMA debut as did Mark Ellis, Arlovski got back into the win collum and so did Kendall Grove.
---
The Emoticon Guy
Banned
Join Date: Nov 2010
Location: The Grim North of England
Posts: 0
Good for those guys, glad to see them back to winning ways.
Yeah, now these guys will all all either prosper or just make ProElite their own. As for ProElite they are headed into a good direction. This is nothing like what EliteXC was.
---
The Emoticon Guy
Currently Active Users Viewing This Thread: 1

(0 members and 1 guests)
Posting Rules

You may post new threads

You may post replies

You may not post attachments

You may not edit your posts

---

HTML code is Off

---