Join Date: Oct 2009
Location: Ohio
Posts: 2,719
I don't pretend to be a master of business practices on any level. But I do know that I have never once in my life bought any product because I saw a fighter wear it. I spent a week researching various shorts designs and brands before buying mine.

The UFC's business practices are not what I expected them to be. I think 100K or you can't touch a Zuffa fighter is a little steep. MMA fighters aren't football players, if someone like Ochocinco wears Nike its a massive impact, but if Frankie Edgar wears it, who outside of MMA gives a shit? Seems a little over priced IMO.

As for the not paying promoters instead of fighters, that I completely agree with. The fighter has a contract with the UFC/Strikeforce not their camp. It'd be like paying Jones or Condit through Jackson's MMA. It just doesn't make sense. The fighter pays their camp/manager not the other way around. There are no exceptions for any reason.

As for all the rest of the rhetoric that GG is talking about (state-side promos, etc) is pretty dumb in my opinion. They can make a good quantity of money promoting their own shows in Europe, perhaps getting a TV deal with HDNet or something. But there's no way in hell they could hope to compete with the UFC.

Also: "business as usual," what a joke.
---
Sig courtesy of that photo-matic magician limba
Quote:
I went out the way that I fight. I went out on my shield. Thatís it. Done. --Chuck Liddell
Quote:
My goal is to end my opponent --Carlos Condit
I love Dana white and zuffa. They are the reason mma is what is today and so far improved where it was over a decade ago. I won't forget what they've done for fighters and mma. That being said my loyalty is to fighters first, then to organizations. I know it's a business, and I know what all that entails. But when you talk about how fighters are paid, how they want to be paid and about their best interests and in the same breath tell sponsors they can't sponsor a fighter unless they first sponsor the UFC one hundred thousand dollars... I'd love to believe you. If you weren't so full of shit.
---
If a law is unjust, a man is not only right to disobey it, he is obligated to do so. ~ Thomas Jefferson
Sig by D.P.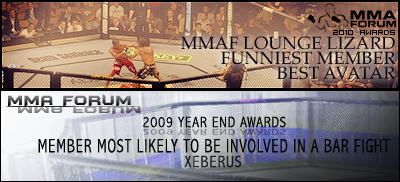 Featherweight
Join Date: Apr 2010
Posts: 1,191
I think some people need to realise that very harsh business ethic and model are what brought MMA to where it is and similar characters are behind the worlds most successful industries also. It's a cruel world that of business, it's just in MMA we get to hear about the behind the scenes alot more than other industries would let us in on.
And here it goes.

My post in the "Dana helps fans at ufc 133" is coming to fruition.
---
Quote:
And here it goes.

My post in the "Dana helps fans at ufc 133" is coming to fruition.
That's because people aren't all white or all black.
Take the pope. On one hand he's one of the loudest voices for world peace and helping people in need and on the other hand he's full of shit because he's against condoms.
The color's grey.
---
Rookie Hammer Squad 2015
Frankie Edgar - Dominick Cruz - Jorge Masvidal - Cat Zingano - Holly Holm
This subject has so many "X" in it.

I believe the best way to end this shit is for Overeem to inally sign with ZUFFA!!!!!!!!

WTF are they waiting?!?!?!
---
.
BELIEVE!
Currently Active Users Viewing This Thread: 1

(0 members and 1 guests)
Posting Rules

You may post new threads

You may post replies

You may not post attachments

You may not edit your posts

---

HTML code is Off

---