MMA Fanatic
Join Date: Aug 2011
Posts: 6
Some Noob Questions
---
Hello,

Although Iím practicing Karate for some years I never took mucho notice of the sports-side of (mixed) martial arts. But now I changed my mind and therefore would like to ask some rather simple noob questions in order to understand whatís going on in mixed martial arts with all the different promoters, events and styles.
1) What is the most professional promoter in the sense that the fights are clean and that there arenít any Don King like characters deciding behind the scene whoís gonna win and whoís gonna lose? I it UFC which seems at least the most known and commercially successful? I need to know where to start and there are different promoter (DREAM, Strikeforce, K-1; UFC,Ö).
2) Where one sees the most interesting fight? I liked what I saw of K-1 since its more Kickboxing and the fighters actually kick and box which I find more interesting than what Iíve seen so far from UFC where seems to be going on more floor action with grabbling and in submission-locking. So to me ďinterestingĒ is when there are some rules and I donít personally consider it very interesting seeing two guys clinching on the floor for entire rounds.
3) Where can one learn more about the sport and its techniques? Iím looking for reviews of fights which explain tactics and techniques where one actually can learn something. Any advice anybody?


Thanx
1. UFC hands down is the largest promoter and the most scrutinized mixed martial arts company. There are no fixed fights in the UFC or strikeforce or bellator. (not saying there never have been, speaking about currently)

2. Entirely depends on personal preference.

3. There are many mma gyms in which you would go to train and learn.
---
If a law is unjust, a man is not only right to disobey it, he is obligated to do so. ~ Thomas Jefferson
Sig by D.P.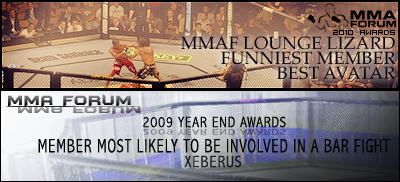 Flyweight
Join Date: Nov 2006
Posts: 372
2. I didnt like the floor game many years ago, looked like 2 guys humping, but once you watch 20 fights with Joe Rogan explaining its actually a really tense and enjoyable part of the game. The small movements that make a big difference you end up spotting and actually calling out a sub before Rogan does.

3. Again just watching fights, Joe Rogan (UFC commentator) is extremely experienced in MMA and talks about the stance/moves/subs constantly. Very educational
MMA Fanatic
Join Date: Aug 2011
Posts: 6
Thanx!


Well actualy Im not looking for mma classes where they teach me the techniques, I would like to have a page or blog whre somebody how knows explains por example the techniqes used in a match or the general tactics of fighters. Like the tactical analysis of a American Football match.

@thanx for the advise on Joe Rogan, will check his work out. Where can I find fight commentaded by him?
---
FORMER UFC CPL CHAMPION
CPL RECORD
:
5-3
Events Attended: UFC 120, CWFC 45, CWFC 52
MMA Fanatic
Join Date: Aug 2011
Posts: 6
Thanx for the answers. Iīve found the
"Gracie Breackdown Channel"
whcih I find very good for explanation of fights and techniques applied.
Currently Active Users Viewing This Thread: 1

(0 members and 1 guests)
Posting Rules

You may post new threads

You may post replies

You may not post attachments

You may not edit your posts

---

HTML code is Off

---