Sergei Kharitinov "AleksEmelianenko is a drunk."
---
---
Fedor Emelianenko!!!!
This is hilarious. I love the comments that come out of that Ruski about Aleks. They should settle in the cage.
Drunk, coked out, smells like urine and feces, kills babies and small kittens - I don't care what he is/does, the guy has a Grim Reaper tat on his back and I love him.
yep looks like nothing but a drunk to me
sergi i think you're right bud. i can see just how drugged out and drunk he is as he stoops over your unconscious body and the ref saves your life.
:P
---
If a law is unjust, a man is not only right to disobey it, he is obligated to do so. ~ Thomas Jefferson
Sig by D.P.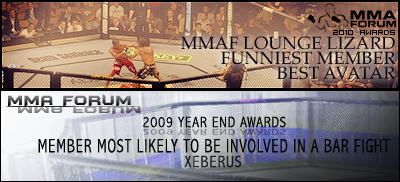 It would be a good fight. Aleks has great boxing and sambo.

Fedor vs Kharitonov soon I hope. Or Aleks vs Sergei.
---
Fedor Emelianenko!!!!
Aleks, what a waste of great talent. I dont know exactly why his career never took off more then it did. I heard things about not being able to get work visa's, never really looked into much more then that. The dude is/was seriously talented and huge. Always fun to watch.
Yeah, he is definately talented fighter. Unfortunately, I think he's always been overshadowed by his older brother. I think if he could go back into major fight promotions like M-1 he might get back into it.
---
The Emoticon Guy
Currently Active Users Viewing This Thread: 1

(0 members and 1 guests)
Posting Rules

You may post new threads

You may post replies

You may not post attachments

You may not edit your posts

---

HTML code is Off

---