Flyweight
Join Date: Feb 2007
Location: NWO
Posts: 327
Henderson with Two belts... Is it good or bad for pride
---
he cant fight twice in a ppv so which belt will he devote most of his training to?
---
KDG
I think it's a good thing. It should bring some notoriety. He should defend the WW belt first.
---

Self-proclaimed leader of the Bao Quach bandwagon
On the Handsome bandwagon
It's Hellga time!

Megaweight

Join Date: Apr 2006
Location: Everett, MA
Posts: 5,961
I think its good cuz its never happened before. It should make for some new fights.
---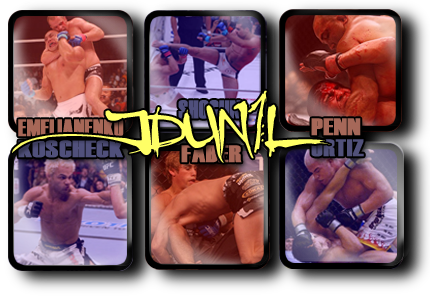 Mancrushes
1.Shogun
2.BJ
3.Fedor
4.Kos
5.GSP
Im in Porno's
Megaweight
Join Date: Nov 2006
Location: Kansas City, Missouri
Posts: 5,148
I think its a great thing. Its historic and helps bring more attention to PRIDE. The only draw back is with gaining and losing weight, he'll only be able to defend each belt one time a year, maybe twice with one belt and once with the other. But its gonna be interesting how PRIDE manages him and his title defenses.
---
Also if beating Wandy hasnt done enough for his rep. If he can defend his belts against the likes of Shogun and Filho, it would pretty much put him up their with the likes of Fedor.
---
Its good because it has never been done before. Its bad because it could tie up either the MW or WW division when it comes to Championship fights.
---
You forget that this isn't just some brutal sport where everyones out to kill each other. Its much more like a game of physical chess.-looney liam
Quote:
Originally Posted by One_Love
im pretty sure Shogun will take the title away from him
yep hendo isnt going to hav middleweight belt for long its shoguns time.
I think it is cool, but sort of stupid at the same time. He is going to have to defend one of the belts or I think it will hurt him to lose an then gain weight. Also remember though at the end of the fight, he said he might even go for a third belt... Will it happen I don't know, but I don't see him being able to hold two belts for to long.
Ya shogan will win it. Then wand will fight a couple fights then go after fedor. Maybe try a couple at heavywieght to get used to fighting at that wieght. Or maybe with shogan having the eblt maybe pride and ufc will finally let him fight in the ufc. Dana will see his 2 loses as weakness and i wouldnt be surprised if he trys and ruin prides credability by trying to set up a tito or chuck fight.
This is SPARTA!
Join Date: Apr 2006
Location: Houston, Texas
Posts: 5,495
He should defend the WW title first. I don't know if it's good or bad for Pride but does make Hendo look damm good with two belts.
---

Currently Active Users Viewing This Thread: 1

(0 members and 1 guests)
Posting Rules

You may post new threads

You may post replies

You may not post attachments

You may not edit your posts

---

HTML code is Off

---