'Strikeforce: Melendez vs. Masvidal' official for Dec. 17 in San Diego
---
Strikeforce: Melendez vs. Masvidal
Date: Dec 17, 2011
Location: San Diego, California
Venue: Valley View Casino Center
Broadcast: Showtime
Quote:
MAIN CARD (Showtime)

Champ Gilbert Melendez vs. Jorge Masvidal (for lightweight title)
Champ Cristiane "Cyborg" Santos vs. Hiroko Yamanaka (for women's featherweight title)
Gegard Mousasi vs. Ovince St. Preux
Billy Evangelista vs. K.J. Noons

PRELIMINARY CARD

Roger Bowling vs. Jerron Peoples
Caros Fodor vs. Justin Wilcox
Devin Cole vs. Gabriel Salinas-Jones
Fernando Gonzalez vs. Eddie Mendez
If Strikeforce lightweight champion Gilbert Melendez (19-2 MMA, 9-1 SF) is moving to the UFC, it won't be before a Dec. 17 title fight with top contender Jorge Masvidal (22-6 MMA, 4-0 SF) .

UFC president Dana White, whose company acquired Strikeforce earlier this year, recently said he wants Melendez in the UFC as soon as possible.

But first, he'll headline an event that officials today announced: "Strikeforce" Melendez vs. Masvidal."

MMAjunkie.com first reported the title fight back in August, and though White hinted at Melendez's likely move to the UFC just this past weekend, sources reiterated that the Strikeforce bout was still a go for Dec. 17.

The event takes place at Valley View Casino Center in San Diego. The main card, including the Melendez title fight, airs on Showtime.

Fans are invited to a kickoff press conference for the show. The fan and media event takes place Thursday at the Players Lounge inside Valley View Casino Center, and it begins at 4 p.m. ET (1 p.m. PT local time). Doors open an hour prior.

Tickets for the show go on sale next week.

In addition to Melendez and Masvidal, Strikeforce CEO Scott Coker, women's featherweight champion Cristiane "Cyborg" Santos and recent title challenger K.J. Noons also will be at the press event. Santos (10-1 MMA, 4-0 SF) meets Japanese product Hiroko Yamanaka (12-1 MMA, 0-0 SF) on the card, and Noons also is expected to compete.

Melendez looks to make the third defense of his Strikeforce title while Masvidal get his shot after impressive back-to-back victories.

In his most recent appearance, Melendez earned a second victory over Japanese standout Tatsuya Kawajiri with a first-round TKO stoppage at "Strikeforce: Diaz vs. Daley." He's now won five straight fights and six of his past seven.

For Masvidal, it's the opportunity of a lifetime, and a win could also prompt his own move to the UFC. Recently, the American Top Team product outpointed the durable Noons, and prior to that, he outpointed homegrown Strikeforce star Billy Evangelista. He's now 3-1 over his past four fights; the lone defeat came via decision to Paul Daley.
http://mmajunkie.com/news/25634/stri...-san-diego.mma
---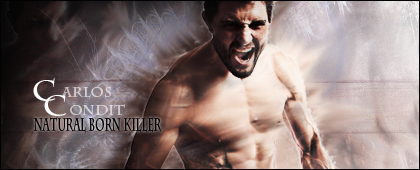 2012 FFL WINNER
CPL RECORDS
UFC 56-32-3 Strikeforce 10-4

Join Date: Apr 2010
Location: Following The Path To Jesus Set By His Disciple Vitor Belfort
Posts: 5,111
Good, i didn't want to see Masvidal get screwed outta a title shot.

Also i have to say that this has got to be the greatest last few months of fights in MMA ever.
---
---
Last edited by Guy Incognito; 10-12-2011 at

06:32 AM

.
Well this should be a good fight card. Question is can Noons build himself back up to UFC worthy. But fighting at lightweight gives him a chance.
---
The Emoticon Guy
Jardine on the prelims?
---
2013 VIP FFL Champion
THE DRAGON RIDES AGAIN - 12/20/14
Machida - Alves - Cruz - JDS - Weidman - Condit - Pettis - Edgar - Cowboy - Dodson - Okami
...Awesome fight card. Masvidal is tough, well-rounded but is he on Gilbert's level? I'm sure this will be Gilbert's toughest test. Jorge is aggressive and not afraid to mix it up. He is solid on the ground as well. Melendez needs to win a huge way. He has a lot to prove that he out ranks [I](in my opinion-the best LW -period)-- Frankie " The Answer" Edgar.[/I] If Melendez is the #1 ranked LW in the world, he's gotta shut Masvidal down impressively. No questions. It won't be that easy. We have to see how far more progressed Gilbert is than Jorge.

...Always a treat watching the the lady machine-Cyborg. Cris has done nothing short of handing out serious ass-beatings and is clearly the best female fighter we have now. Cyborg should put a beating on Yamanaka the way Wandy did to the Japanese fighters in Pride.
...Mousasi & OSP is interesting. OSP has a strong wrestling base and excellent top control. Gegard needs to keep it standing, landing his technical strikes. If not, like against King Mo, Mousasi will be on his back getting wore down.
...Noons should get back on track against Evangelista. Billy is a good fighter but K.J. should use that huge boxing advantage that once got him to the top.

...Gotta give a hands up for ol' Jardine. Whoever he fights I hope he gets the W. He's been on the opposite end of some of the best UFC highlight knockout reels. If Keith gets brutally beatdown, his health isn't worth the risk anymore. We've all witnessed Keith get separated from his senses---way too much. Should be a great night of fights...
---
Last edited by BrutalKO; 11-25-2011 at

11:06 PM

.
Yeah, I wonder if this will finally get Melendez into the UFC. Maybe it depends on the negotiations between Showtime and Zuffa. But this fight should be good just the same regardless.
---
The Emoticon Guy
This should be a great card. Can't wait to see Melendez/Masvidal. I'm a big fan of Yamanaka and really want her to win this, but don't see her overcoming Cyborg, but hopefully I'll be pleasantly surprised. Also glad to see Gegard back in action in SF.
---
This is a great lineup..

Can only hope it produces..
---
_RIVALS TOP 10

ANDERSON "THE SPIDER" SILVA
JAKE SHIELDS
NICK DIAZ
EDDIE ALVAREZ
JUNIOR "CIGANO" DOS SANTOS
GILBERT MELENDEZ
MAMED "THE CANNIBAL" KHALIDOV
HECTOR "SHANGO" LOMBARD
CAIN VELASQUEZ
GEGARD "THE DREAM CATCHER" MOUSASI

MMA Fanatic
Join Date: Dec 2011
Location: leeds
Posts: 8
Great card!!.Ive always been a massive fan of strikeforce, They put on great shows.I love the showtime format and the commentary from mauro ranallo. It definatly as a different feel to the shows than ufc. Really hope that the Ufc dont drown out strikeforce too much
Yeah, this is definately a great fight card. Hopefully it'll garner good ratings. It does have a different format then UFC.
---
The Emoticon Guy
Currently Active Users Viewing This Thread: 1

(0 members and 1 guests)
Posting Rules

You may post new threads

You may post replies

You may not post attachments

You may not edit your posts

---

HTML code is Off

---