Try right clicking after the selection is made and invert the selection? I'm sure there's a setting to do with selections somewhere that could fix this. I'll look around in PS when I'm able to load it up.
edit - Just saw your edit
yay
---

"There are three things all wise men fear: the sea in storm, a night with no moon, and the anger of a gentle man."

Join Date: Mar 2010
Location: NC.
Posts: 9,815
Anyone have any tips for doing this stuff (sigs) in linux?
They say gimp can do anything photo shop does but you can see the extent of my knowledge by looking at my av and tutorials for stuff like this are hard to find.
Also can anyone tell me how to reduce the size of gif files. I see some great ones on here. I have this self learnt reinvent the wheel way of making them but they always turn out to big to upload. I have one from a 2 second mpeg and it's still too big. I see them on here twice that long.
Any tips are appreciated or.. flame away at the dummy using linux
---
Unfortunately dude, to resize a gif down to the size this forum accepts (for premiums, not mods/admins) it's near impossible. 125kb is just not enough. Resizing the dimensions/quality enough will make it tiny and look pathetic.

I've tried many times with loads of gifs. Until the size allowed is greatly upped, only a select few will have gif avs.
---

"There are three things all wise men fear: the sea in storm, a night with no moon, and the anger of a gentle man."
I have read tutorials like crazy, PS forums, tried for weeks and I cannot figure this out. Is there a way to get a moving .gif image into a signature using photoshop? I have seen them around in some places but I can't get it to work for me.
Alright I will try my best to help. As for the Gif image not a gif you got off the net because you won't have the animation frames unless you download a program that will give your them then you could use them. If you have the video though you can go File>import>video frames to layers. select the section you want of the video by holding select and clicking to select a segment of the video. From there different layers will show the different frames. Place your sig over the video and then go to window>animations and build your gif by having the different frames reveal different animated layers in sequence. Its extremely time consuming to use them in sigs.
---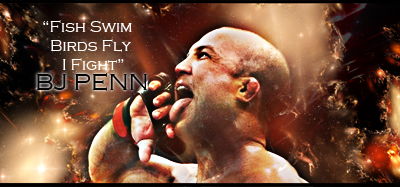 "If you get hit and it hurts hit him back you not knocked out yet."-Joe Doerksen
The Toxic Terrors (FFL)
Demetrious Johnson*Eduardo Dantas*Emanuel Newton*Will Brooks*Michael Page
Join Date: Oct 2009
Location: UK... Where the sun never shines.
Posts: 11,557
yeah, pretty much what Toxic said.
you can open Gifs into Photoshop (CS2, 3, 4) and they will come in as seperate frames if you go to window>animation. that will bring up the gif animation control panel (which used to be adobe imageready before they incorporated into photoshop). You can then create a still sig and add in the frames to create your .gif animation.
I'm gonna go have a go at this in a minute.
EDIT: UPDATE
ok, i wasn't expecting that.
You literally cannot do it by doing what i just said. Upon further research into it, it appears that some Gifs dont save the layer information so when opened into PS they just come in as a single layer.
I'm busy installing Adobe CS and image ready to see if i can do it that way.
EDIT 2: BOOSH!
Ok so i opened the gif into imageready and it opened as all individual layers. Im gonna post up a step by step guide once i get it done
FYI the gif i'm using is the one you are using for your Avy Hit.
Join Date: Oct 2009
Location: UK... Where the sun never shines.
Posts: 11,557
Right, here we go:
• Open the gif in Image ready to get all of the frames. Select all of the frames in the animation bar and make sure that they are all set to the desired time speed (0.7 seconds in this instance).
if the animation bar is not visible go to WINDOW> Animation
• Go to Image> Image Size> and make the gif the size you want.
• In photoshop cut a hole in the sig for the gif then save the sig as a PSD file. Open that into Image ready. you should now have 2 windows open. 1 with the gif and 1 with the sig.
• Select all the 'frames' (not layers) in the Gif file by clicking on the little arrow in the top right hand corner of the animation bar and then going down to 'select all frames'. after that go back into the same arrow and click on 'copy frames'
• now go into your sig window and click on thew animation bar. (there will be only 1 frame of your sig here). click on the arrow in the top right hand corner of the animation bar and select 'paste frames'. you will get another window open and from that window select 'paste after current frame'.
All of the gif frames should have pasted into the sig animation bar.
• select all frames again as you did earlier and then select all layers as well (very important that you do both or the changes will only effect the current layer and frame). DO NOT select the layer with the Sig in.
Drag your animation and position it where the hole for it is.
• deslect all layers and frames. Now re-select all frames again and then Select the Sig layer and drag it above all of the other layers.
• with all of the frames still selcted and they sig layer selected, click on the 'eye with a padlock over it' icon, just above the layers. (if you hover over it, it is called 'unify layer visibility'. click it.
that should have made the sig layer visible in all frames.
• select all frames again and in the bottom left hand corner of the animation bar change 'once' to 'forever'. this will continuously loop the animation when it is exported.
• now go to FILE> Save optimised as...
save it as a .Gif with 'images only'
and there you have it.
I can provide screenshots for each step if you need them.
hope that helps buddy.
Awesome thanks for the advice guys! I will give it a try when I get home and let you know if I could get it right!
Currently Active Users Viewing This Thread: 1

(0 members and 1 guests)
Posting Rules

You may post new threads

You may post replies

You may not post attachments

You may not edit your posts

---

HTML code is Off

---