Sig of the Moment 4 - Sign Ups-
---
I want at LEAST 6 people to enter, I will not move ahead unless that number is met. Therefore, sign ups will remain open until we have enough with a due date posted afterwards.
Entries will be PM'd to me due to this, I don't want someones entry being posted say, a week earlier than someone elses.
RULES
Theme : Freestyle. Anything goes as long as it's within the forums rules (I.E no porn or boobs)

Size : MAX 450X250

Due Date : 22/1/2011

Please PM the entries to me, rather than posting them in this thread. Thanks.


Prizes
First place - 200,000 + SOTM 4 userbar (made after the winner has been decided)
Second place - 100,000
Third place - 50,000
Registration -

1) D.P
2) Intermission
3) limba
4) Relavate
5) HitOrGetHit
6) M.C
7) Killstarz
8) CutterKick



---

"There are three things all wise men fear: the sea in storm, a night with no moon, and the anger of a gentle man."
I'm in ... pls!
---
.
BELIEVE!
im in.
---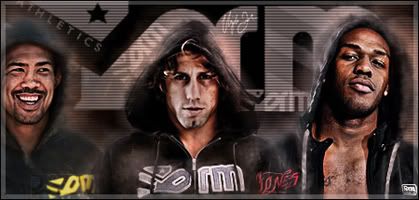 "Im probably better off down there on my knees anyway" -Dick Diaz
Join Date: Jun 2009
Posts: 20,759
I am down as usual!
It's on baby, get my name in there. I'm excited, I'm pumped, LET'S BREAK THE CHAINS!
Join Date: Oct 2009
Location: UK... Where the sun never shines.
Posts: 11,551
yep, sign me up buddy
All done! PM me your entries when you're finished! Voting will be anonymous. Entries need to be in before, or on, the 22nd (Saturday). Voting thread will be up 23rd and will last 3 days.

You can continue to sign up until Saturday if you haven't already done so.

Good luck all!
---

"There are three things all wise men fear: the sea in storm, a night with no moon, and the anger of a gentle man."
You're not terribly important to me

Join Date: Jul 2010
Location: Sell me this pen
Posts: 15,440
you gods have to teach me to photoshop one day
---
Jim Norton
Nick Dipaolo
Dave Attell
Dave Chappelle
Bill Burr
Joey Diaz
Colin Quinn
Bob Kelly
Rich Vos
Patrice O'Neal
Louis CK
Currently Active Users Viewing This Thread: 1

(0 members and 1 guests)
Posting Rules

You may post new threads

You may post replies

You may not post attachments

You may not edit your posts

---

HTML code is Off

---