Favorite Submission: Standing guillotine/flying triangle

Best Submission: Rear Naked Choke

Worst Submission: Knee Bar
---
If a law is unjust, a man is not only right to disobey it, he is obligated to do so. ~ Thomas Jefferson
Sig by D.P.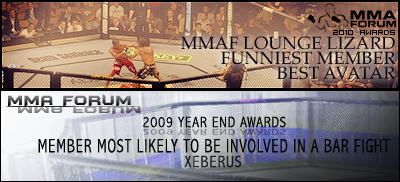 Call Me King

Join Date: Jun 2010
Location: OlyWa
Posts: 419
Favorite: Gogoplata (I get these alot because I am super unorthadox in jiu-jitsu)
Best: Most all chokes (Head & Arm chokes especially)
Worst: Achilles Lock (People's legs are really strong
)
MMA Fanatic
Join Date: Apr 2010
Location: Leighton, AL
Posts: 36
just started bjj. but, here they are

1. triangle
2. kimura from side
3. leg submissions
Favorite submission:
Omaplata

Best submission:
Armlock from mount

Worst submission:
Anaconda Choke - seen it used hundreds of times still don't do it.
Quote:

Worst submission:
Anaconda Choke - seen it used hundreds of times still don't do it.
LOL Now I don't feel so bad. Anaconda, darce and peruvian..They're so simple to drill with a coach present but I always screw them up live..
Favorite:
Arm bar

Best:
Heel hooks and chokes

Worst:
knee bar
---
Isshinryu Karate 2nd degree Black belt.
Neko-Ryu Goshin Jitsu 2nd degree Black belt.
Jujitsu 2nd degree Black Belt.
Isshin-Jujitsu 2nd degree Black belt.
Bantamweight
Join Date: Feb 2010
Posts: 915
Lol, I train anaconda's too and can't get them in sparring! I personally think it's because I'm not super strong in my upper body. Triangle choke is my fave by far, followed by rear naked and kimura.
Call Me King

Join Date: Jun 2010
Location: OlyWa
Posts: 419
I really wanna pull of a Peruvian necktie! I keep on losing because I give up submissions to get people's backs and go for it.
---
Repping
Joseph Benavidez - Jose Aldo - Joe Lauzon - Demetrious Johnson - Mark Munoz
-R.I.P. World Extreme Cagefighting-
Lightweight Gladiator
Amatuer
Join Date: Jan 2010
Posts: 169
favorite would be triangle, the platas, hahah.

my best is probably armbar from guard

my worst is probably kneebars
Favorite: Anaconda -- it's SO satisfying on the rare occasions that I pull it off?

Best: Triangle -- because of my short, stubby legs, I've had to get into the habit of angling and underhooking the leg. As it turns out, that's a great habit since it saves you from slams and allows you to do the Ryan Hall triangle finish.

Worst: D'arce/Brabo -- I want to be able to do these SO bad, but I just can't seem to get it right.

Oh, as for the guillotine, it's absolutely not true that just anyone can do it/it takes no skill. As someone else said, it's not just about yanking backwards...

Though I'm sure there are more, there are two technical ways of doing the guillotine that I'm aware of. One is to try to curl with the choking arm, rather than to pull with it. You try to bring your fist to your shoulder and that elbow to the hip.



I couldn't find the one where Kesting explained the part I'm talking about, but notice how he always curls himself laterally, as if he's trying to touch his elbow to his hip?

The second technical/efficient way that I've learned (from Josh Grispi's gym, actually) is to pull their head a bit off to the side as opposed to letting it be against your body. Your forearm will be parallel to your shoulder line, as opposed to diagonal. From there, you just extend your hips.

With each of these, it's important to keep your body curled forwards and your chin on his shoulder.

The guillotine is not a caveman technique, and anyone who approaches it as such won't be able to land it on anyone half-decent.
---
Highly opinionated but out of touch with the current MMA scene.
Support my FB athlete page!
Watch my pro highlight reel
Currently Active Users Viewing This Thread: 1

(0 members and 1 guests)
Posting Rules

You may post new threads

You may post replies

You may not post attachments

You may not edit your posts

---

HTML code is Off

---