Ive pulled off a fair few Gogplata's. I find it fairly easy to do the Gogoplata.

My other favorite was i swept and went for an armbar, I ended up on my back but still have the arm. I rolled him to get the armbar but he flipped then i did some miracle transition to a Kimura while he rolled and i have no clue how i did it but it make me feel great.
I have done a shoulder lock from side control using my legs quite a few times. I also try to utilize rubber guard every once in a while, but I just can't do it. It isn't a flexibility problem, they just always seem to easily pass my guard when I try it.

Other than that, I don't usually go for flashy submissions unless I'm sure I can pull it off.
The Feast on 6" wheat bread. With pickles,mayo,honey mustard, and white cheese.
---
My prediction went to Sh!t...
My best submission I've ever gotten...

From mounted in MMA competition (or BJJ, but it works best in MMA), pulling a leg up to put a reverse body triangle on my opponent and finishing with an ankle lock or a heel hook. I've used this a few times in training, but only landed it once in MMA competition.
---
Sig by Toxic

Barnett - Toquinho -Werdum - "Nurmie"
Z. Gurgel - Morango - Rocha - Tiequan
Not sure if this counts as a submission but.. A few fight ago, (against L. Wade in my sig if you remember) I was fighting another karate guy. I have about 6" height, 8" of reach and 60lbs on the guy, its one of those fights I shouldnt count because he didnt really have a chance but i do anyways because im a bitch. Anyhow this guy runs from me for about 3minutes, I slowly chase him down without burning energy. He comes in throws a few jabs and then a hook and I counter with my own jabs and land a clean hook to the body. He drops his hands for a split second and I knock him on his ass with a straight right. I jump on him in side-mount, he taps before I can KO.

Submission via strikes?
---
If a law is unjust, a man is not only right to disobey it, he is obligated to do so. ~ Thomas Jefferson
Sig by D.P.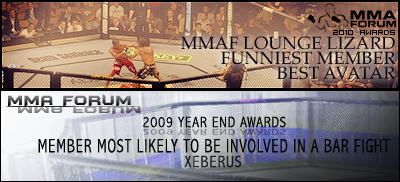 was in arm bar , rolled diagonally and did heel hook , was kinda weird
Pulled off a go go on my Judo sensai. Was the best feeling ever lol. I rarely catch him and he was not expecting it at all. He catches me on a regular basis tho so I couldn't brag for too long.
at submission wrestling class one day got a nice variation of an armbar
threw up my hips and caught his right arm he countered and pulled out his arm and i caught his left arm instead
it was one of the top guys at my gym and my coach threw me in so i could feel how strong and talented he was and i just got lucky with this one i guess
Quote:
its one of those fights I shouldnt count because he didnt really have a chance but i do anyways because im a bitch.

Submission via strikes?
hahahahaha
submission via strikes?
hey ill take it
OK this wasn't in an MMA tournament, but I'll say it anyways.

My dad was second in Egypt in Judo a few decades ago (no lie), and I've trained in Sambo and I'm an extremely strong wrestler. So you can imagine I have very strong TD's and TDD.

Anyways, me and my friend who is a blue belt in BJJ decided to roll around, and I actually tripped so my friend took advantage and shot in and got me on my back, which I believe was the first time I was ever put on my back without counting being swept. But I realized when he got me to the floor my shin was under his neck so I sprung into action with a gogo.

I wish I taped that.
---
Forum Bets: 2-0
__________________________
Currently Active Users Viewing This Thread: 1

(0 members and 1 guests)
Posting Rules

You may post new threads

You may post replies

You may not post attachments

You may not edit your posts

---

HTML code is Off

---