MMA Fanatic
Join Date: Jan 2009
Posts: 2
Most Efficient Way to Get out of a Simple Headlock Without Causing a Scene
---
A constant problem I have is that I don't like street fights in general regardless of how good a fighter I am or ever will be. They are stupid, it is always better to avoid the fight, and they can be sorted out in other ways. It is important, however, to stand up for yourself of course.

Let me give you an example of a situation that might come up:

Say you are at a bar with some friends a little drunk. A bigger guy starts talking smack for no reason and begins to push you around and act aggressive. You don't want to fight even though you probably would win in the end yet you don't wanna seem like a ***** and completely back down.

So you start to talk back to him and push him away. He then gets more aggressive and puts you in a basic headlock. What is the most efficient way to diffuse this situation? Obviously one can straight out fight him but that isn't the point. I am talking about how do you get out of the hold if it is tight and he is strong and then put him in a position where he will back down?
Dont get put in one.
---
I heartily accept the motto, "That government is best which governs least"; and I should like to see it acted up to more rapidly and systematically.
Quote:
Dont get put in one.
Exactly. If a guy pushes you, he just broke down the touching barrier. He starts to come toward you again, when he gets within punching range im going right hook, left hook groin kick.
Ill avoid fights at all cost, but you touch me ill collect your ******* teeth.
I'd say if you get in a head lock, by some freak accident in nature, go for the groin, eyes, throat or grab some skin and start twisting that shit like your trying to rip it off. When they let go I want you to put your head hand to his temple until he hits the ground.
---
If a law is unjust, a man is not only right to disobey it, he is obligated to do so. ~ Thomas Jefferson
Sig by D.P.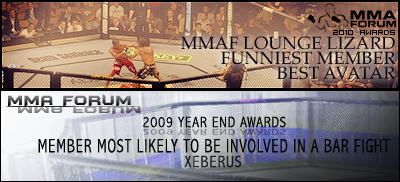 Go for the balls or suplex him.
---
Quote:
Go for the balls or suplex him.
I would cry with laughter if I saw a suplex in a bar.
---
I heartily accept the motto, "That government is best which governs least"; and I should like to see it acted up to more rapidly and systematically.
---
"every second your not training, he is..... and he is doing it, just to kick your ass"
-Brace his opposite (inside) knee with your outside hand (depends on which side he's headlocking you also you will most likely need to bend over to do this)

-use your other hand to hold around his back along his waist

-Step in between his legs with your outside leg, as if you are trying to look towards him (and you still will be bracing his knee).

-Simultaneously sit to your butt and pull with your hand behind his back/push with the hand bracing his knee

-He will roll to the ground and fall, you will end up in mount (in the video this guy has side control, if you do the move you will end up with one leg over his body). he will still have the headlock but all you need to do is frame up on his neck, get his arm, then armbar. Like So:


That's the very pretty way of using BJJ to defend the headlock. I can't find a video of the move but it looks really cool and it works. The guy will look very bad...
Start making out with the dude's arm, guranteed to work.
---

Lightweight

Join Date: Oct 2006
Location: Vancouver BC
Posts: 1,981
If he has you in a front head lock?

Then you must be leaning forward already right?

There is a simple way of making him let go... or else look foolish... without fighting too...

whatever you do, dont react like most do... by trying to pull your head out, you look like a dog stuck with its head in a can..

You gotta go the other way...

1-take a knee, stepping forward... doesnt matter which one... basically you need to get your center of gravity beneath his.
2-now straighten your back, so you are not leaning...
3-then using your legs, stand up.

he's gotta let go or else he will go for a ride.

if you want to add humiliation, dont allow him to let go ...while you do (1), grab both of his legs behind the knee and lock your arms up.

then take him for a WWE propellar ride around
MMA Fanatic
Join Date: Feb 2009
Posts: 6
Diagonal uppercuts into his kidneys if its a clinch, elbows into the stomache from the rear, or stomp on his foot, and when he releases, its good bye mr sunshine.
Currently Active Users Viewing This Thread: 1

(0 members and 1 guests)
Posting Rules

You may post new threads

You may post replies

You may not post attachments

You may not edit your posts

---

HTML code is Off

---