Rolling with the smelly
---
I was wondering how other people react to rolling with someone that might not have the best hygiene. Ive never been quite sure about the proper way to handle this particularly unhappy situation and the place that i work out at isnt to formal or at least doesnt seem to have a lot of written rules on these type of things. My approach so far has been to avoid engaging these characters. How do others handle this?
MMA Fanatic
Join Date: May 2009
Location: Tennessee
Posts: 43
If you just can't help but to train with them, plug your nose up and if they ask why you are say you're learning to conserve your breath and get better cardio
lol
---
"I fear not the man who has practiced 10,000 kicks once, but I fear the man who has practiced one kick 10,000 times."

-Bruce Lee
It's very unpleasant but that is just one of those things you are going to have to get used to when competing in such a close-range sport like BJJ. I generally tend to be polite enough not to mention anything but if it is really bad then just tell them to wash their kimono.
---
Quote:
Poop your pants and level the playing field.
hahah. there is that, or when you advance to full mount pin him and produce some deodorant and cologne.
---
http://elitemmagym.com/
<check this out. i go here, awsome staff. also if your in southern california come bye for a free class
ahhhhhh I hate rolling with disgusting pigs. I was so happy going from smelly gi Judo my whole life to no gi Bjj. The only advice I could give from personal experience, is to show up as early in the morning as possible before all the hulking brazillians get stinky
Bantamweight
Join Date: Jun 2008
Location: katy tx
Posts: 774
Oh man I hate that shit esp when they smell like diareaha its weird idk how the hell they end up sdmelling lik it but one time i refused to pummel with this dude because he just smelt horrible
Curitiba Food and Liquor

Join Date: Dec 2006
Location: NY
Posts: 16,176
Most of my grappling partners have been women so we smell pretty. A few dudes have been kind of rank, but nowhere near as rank as a guy that spars at the same time as me, perfectly nice but sweats like a pig and reeks to high heaven. I wish this guy would bring an extra f*cking shirt or something.
---

Sig Credit to Toxic

I've gotten used to it. We have to wear judogi and by default it never smells nice.
---
"He who defeats himself is the mightiest warrior" - Confucius(I think)
Actually I haven't experienced this. I did the BJJ thing a try for about 9 weeks then just stopped going. I'm never going to compete in mma and it just felt kind of pointless and not very fun to me. I just stick to kickboxing now xD but g/l to you, cause it sounds nasty
Quote:
Poop your pants and level the playing field.
i spit ginger ale all over my desk when i read this xD
---
If a law is unjust, a man is not only right to disobey it, he is obligated to do so. ~ Thomas Jefferson
Sig by D.P.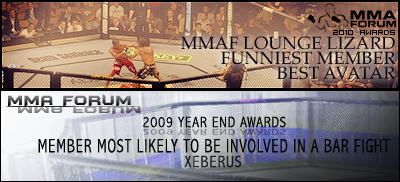 Currently Active Users Viewing This Thread: 1

(0 members and 1 guests)
Posting Rules

You may post new threads

You may post replies

You may not post attachments

You may not edit your posts

---

HTML code is Off

---