LOL. Haven't been caught in on in awhile. It usually goes along the lines of me saying "nice catch" rapidly followed by rapid tapping. (I like my elbows bending the right direction!!)
Lol wow, it hurt the 1st time I got cought and every time after. When I roll with most blue belts and higher they would secure the arm-bar and let me know they got it, if I try to escape or resist then they would torqe down and I would have to tap. (we have good training partners)

When I roll with fellow white belts we usualy go all out, if we secure an arm-bar we torqe down until one of us taps.
---
Toxic
New York needs MMA!
Bantamweight
Join Date: Feb 2010
Posts: 915
Join Date: Oct 2009
Location: Ohio
Posts: 2,719
For me it feels more uncomfortable than painful. When its torqued back, if you react and panic, it feels more painful than if you sort of detach yourself and think : "Okay, I'm in an armbar. Lets get out of it." Then just pop the leg and roll over.

Its one of the easiest subs to get out of IMO, but its also one of the scariest to be in. I suspect its more likely people tap from fear of danger than agony. I know I've never tapped until I was certain I couldn't get out of it, regardless of pain.
---
Sig courtesy of that photo-matic magician limba
Quote:
I went out the way that I fight. I went out on my shield. Thatís it. Done. --Chuck Liddell
Quote:
My goal is to end my opponent --Carlos Condit
straighten your arm to its limit like you're trying to stick your hand out. Then tense and try to force it a tad further, thats how it feels. When I tried out bjj the teacher arm barred me a couple of times. It wasnt extremely painful, but it was rather uncomfortable and it felt like my shit was going to break.
If I ever competed Id tap extremely quick if caught in such a submission, hence why i dont compete in mma.
---
If a law is unjust, a man is not only right to disobey it, he is obligated to do so. ~ Thomas Jefferson
Sig by D.P.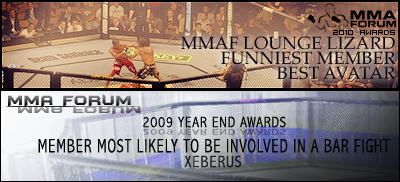 Currently Active Users Viewing This Thread: 1

(0 members and 1 guests)
Posting Rules

You may post new threads

You may post replies

You may not post attachments

You may not edit your posts

---

HTML code is Off

---