Quote:
1. The weird part is more than likely going to be having your ass handed to you for the first few months. Stick with it and don't be so paranoid.
Oh hell no. I shall not be owned xD.. ok i might be but we'll see. Yea I purchased a GI and a white belt. I also need a cup as a lot of people stated and I took their trial course. I plan on joining and rolling when I get back from all the bullshit on the 14th.
Quote:
1.
And on a side note I've never kissed a guy. What the hell xeberus...lol.

lol okay, I was drunkish and we were playing a game with some girls and that kiss got me lesbian love in a shower so shit happens
(no i didnt get laid, but it was a great show)
I've been in boxing/kick-boxing for years and years xD its just they are like 2 feet or so at least away from me and with this stuff hes on top of me right next to my junk and my legs are wrapped around him :P
wukkadb! Yes I watch mma, I have for a long time. But its different for me in that situation, ive been in a lot of bjj positions before and.. they were in the bedroom so it makes me feel weird, and I felt some anxiety just watching. But ill give it a try and see what happens :P
---
If a law is unjust, a man is not only right to disobey it, he is obligated to do so. ~ Thomas Jefferson
Sig by D.P.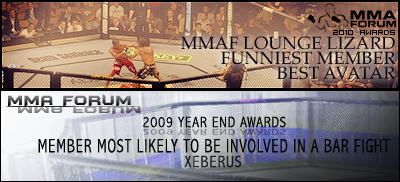 Okay...at least the GAY KISS led to you getting back on track again.


(cough)Xeberus kissed a guy(cough) lol
MMA Fanatic
Join Date: Feb 2009
Posts: 2
Xeberus, how did it go?

I have to reiterate what one of the other posters said about not approaching girls to roll right off the bat. Most women that I know tend to avoid the newer guys until they settle in to the environment a little. I've been training about 3.5 years now, and I'm finally to the point where I feel like I can keep a brand new guy from inadvertently hurting me. It usually happens when new guy is frustrated or embarrassed because a girl is 'winning', so new guy does something drastic, like slamming girl onto the mats, or grabbing a random limb and twisting it around.

When you do start to roll with women, just think of them as a smaller, more bendy dude. There's no shame in losing to someone smaller than you, male or female.

(Okay, off of the soapbox now.)
Quote:
1. What do you guys tend to do at your gyms?
Generally warm-up, working techniques and then sparring. On your first day, they'll probably let you sit out sparring (which is good, because you get your ass kicked the firs time you roll).
Quote:
2. Can dudes grapple with girls?
Yes, but, again, be prepared to get you ass kicked, and don't be bothered by it.
My first time training in an adult setting my training partner was a Pan Am runner up who was about two months away from getting her blue belt. She wiped the floor with me. She's still one of my best training partners.
Quote:
3. Do you get sweat on a lot while on the ground?
Yes. Just be a man and suck it up. If you roll with fat, bald guys (who, in my experience, are always the sweatiest) your going to get sweat on.
Quote:
4. Is there a gayness factor? Not trying to be insulting/offensive but are there some typical criteria to follow when im on my back and a dudes on top of me?
I have no idea what you mean by "gayness factor," but I'm going to just say no. Gang **** should not be a concern on the mat. Focus on not getting your arms broken.
Quote:
5. Is it weird to start, or will I become acquainted with guys being in these positions with me?
It sounds like it will be for you, since you're struggling to get past the concept of grappling, but you get used to it.
---
Sig by Toxic

Barnett - Toquinho -Werdum - "Nurmie"
Z. Gurgel - Morango - Rocha - Tiequan
Quote:
If you roll with fat, bald guys (who, in my experience, are always the sweatiest) your going to get sweat on.
Bahahahaha! GOLD
It's only gay if you're in north-south position.
I'd freakin' love to roll with an experienced girl.
---
NYBA Champ @ 170!
BEST EVA!
[QUOTE=IronMan;826182][FONT="Times New Roman"] If you roll with fat, bald guys (who, in my experience, are always the sweatiest) your going to get sweat on.

True words. I am a bigger guy so whenever I roll the instructors usually put me against "them". *shiver*
On the plus side these guys are usually pretty cool hahah
---
*_*_*_*_*_UFC FANTASY TEAM*_*_*_*_*
Wanderlei Silva
Evan Tanner
Kenny Florian
Alan Belcher
Alessio Sakara
Megaweight

Join Date: Oct 2007
Posts: 5,909
Im starting JiuJitsu this wednesday, have some questions.
---
Thread restored
Bantamweight
Join Date: Dec 2006
Posts: 642
Currently Active Users Viewing This Thread: 1

(0 members and 1 guests)
Posting Rules

You may post new threads

You may post replies

You may not post attachments

You may not edit your posts

---

HTML code is Off

---