MMA Fanatic
Join Date: Aug 2010
Posts: 13
Bigger, fatter, slower opponent
---
I've never trained in any martial arts other than kenpo when I was a kid. All I know about fighting is a few BJJ techniques a friend (very talented) taught me and from what I've seen on tv (fairly decent amount of fights).

I'm about 5'9 165 lb and im fighting a kid maybe a little shorter, about 55-70 lb heavier, and way slower. Obviously if he tries to fight me on his feet i'll pick him apart (i've pictured myself superman punching him about 100 times today). My only concern is if he tries to shoot and puts all his weight on me.

Do I bring my knee up and knock his head off his shoulders? Should I look to slip my arm under and put him to sleep? If he manages to get a single, how can I break free or maybe take away his weight advantage and get him on his back? Any advice is greatly appreciated.
i am also 5'9" and 165lbs.

if this guy is that fat and slow just keep the range and stay away from his fat ass. he has to get his hands on you to take you down.
---
If a law is unjust, a man is not only right to disobey it, he is obligated to do so. ~ Thomas Jefferson
Sig by D.P.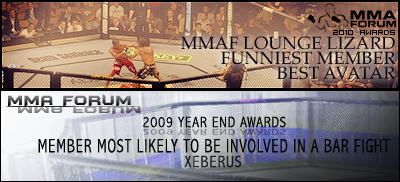 Amatuer
Join Date: Mar 2010
Posts: 106
Why is it you're fighting this kid? Have you tried to sort this out already and you're just now down to having to throw hands with the kid, or did you go straight to violence to solve your problem?
MMA Fanatic
Join Date: Aug 2010
Posts: 13
I knew someone would say that. I'm not a violent person and I definitely don't go looking for or starting fights. We've hated each other for weeks and someone needs to shut the kid up. xeberus thanks for the advice....i think im just gonna dance around him and try to snipe him with jabs, see if he'll bite on a couple knee/kick fakes, and just soar over his guard and remove his jaw from his face.
MMA Fanatic
Join Date: Aug 2010
Posts: 99
I learned something yesterday that comes in handy.

If he comes in for a single leg... ( say he dives on your left leg ) Turn into him and put your left arm around his head, throw your leg over and get a rear mount. This leaves his left shoudler and arm trapped by your leg. Hold his other arm and when he tries to break it free, let it go and take the RNC. Or pound him to death since you have two arms to his one. Hopefully I described it well enough for you to understand... its hard to show something w/o pictures

edit - this beats just dropping into a guard position and going for a guillotine.
Leg Kicks, Leg kicks, and more Leg kicks man. Once the fat man is slowed down even further, start throwing combinations. If hes not down by now he'll surely be frustrated and start to use up the rest of his energy. Counter his slow ass and finish him with some nice ground and pound. Good Luck
MMA Fanatic
Join Date: Aug 2010
Posts: 13
thanks for the help guys. just about showtime. i'll post a vid if there is one.
Amatuer
Join Date: Mar 2010
Posts: 106
I figured you probably had good reason, but I just had to make sure. I wouldn't be ok with myself if I gave words of wisdom to a bully.

You pretty much already have your game plan. But here's a word of advice - if you're fighting this kid in a real fight, and it's not some wanna-be MMA match type thing, then treat it like a real fight. If he actually "shoots in" and tries to take you down, don't play with a guilotine or neck crank or any of that. Stuff the takedown best you can, but have an arm free, and blast the shit out of the top and upper back of his head with your elbow. You stay clear of the middle or lower part of the back of the head, and the back of the neck, because that shit can be crippling (literally). But just kind of sprawl and use one arm to hold him/hold off the takedown, and just rapid fire that free arm's elbow to his noggin. Unless this kid's scrappy as all get out, I would imagine he'll lose inspiration real quick.

-North

Edit!: Good luck, and be safe.
MMA Fanatic
Join Date: Aug 2010
Posts: 13
i appreciate all the advice, but i have some disappointing news. i showed up at the place and time he told me to "be there *****." after hours of shadowboxing, running, pushups etc to get ready i show up and find out he's not a tough guy anymore. i was planning on wailing on him until he quit (dont know if i mentioned this is a kid i've had to put up with at work). after spending a good half hour trying to get him to come outside (wouldnt look me in the eyes) he walks away and says i quit. i did what i set out to do but i got the fighter version of blue balls. so disappointing yet kinda satisfying knowing showing up was all it took.
Amatuer
Join Date: Mar 2010
Posts: 106
Hahahah. Well, congratulations on your win then.

And yeah, fighter blue balls kind of sucks. Happens sometime when I show up to work out with my buddy and I'm all jazzed up and ready to do it, then he says he doesn't feel like sparring. =(

-North
Currently Active Users Viewing This Thread: 1

(0 members and 1 guests)
Posting Rules

You may post new threads

You may post replies

You may not post attachments

You may not edit your posts

---

HTML code is Off

---