MMA Fanatic
Join Date: Aug 2007
Posts: 79
How do you treat new students?
---
Someone asked me how they should approach new students when they first come to the gym and start training. So I made this video with my opinion.
How do you treat new students when they come in?
Thanks for watching,
Jason Scully
http://www.jasonscully.com
Typically I love to work with new students the first time they roll.

I do about the same thing everytime, I eat some spicy curry and eggs before the class. I immediately pull guard put them in a triangle and while im holding them there just force them into my stuff and fart like crazy. It helps build character and mental toughness.

The last new guy threw up all over the mat.
---
If a law is unjust, a man is not only right to disobey it, he is obligated to do so. ~ Thomas Jefferson
Sig by D.P.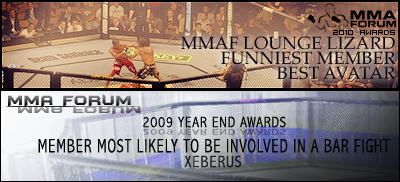 JSculs, great post and, as always, I appreciate it.
I was very fortunate to start BJJ in a very small and very professional academy, which I still consider my home in BJJ. Rocha BJJ, despite my time in and out of the gym there, was a great place to grow in training, and I think there are a few reasons for that.
Training partners bring it down to the level of the new person, and then slowly rachet them up so that they are training at a competition level pace. They understand that you definitely can't start rolling hard, but they also understand that babying a training partner is not helpful, and often very frustrating.
Working basics with something for advanced guys. The focus always has to be on the fundamental techniques in a white-belt situation, so while it's important to offer some food for thought for more advanced white belts (guys who have been around 6-8+ months), the focus is on the fundamentals.
Don't make it all about competition. The training period is a time to train, not to beat the hell out of each other. I have visited a lot of gyms where it's clear that the guys just want to be the big dog on th mat, and that is responsible for a lot of injuries. I strongle encourage instructors to be careful.
Have senior students take junior students, especially younger guys looking to compete, under their wing. I was very fortunate, as a teenager, to work with some of the best practitioners around where I was growing up, and they are all like big brothers to me. Though they may wish that I was training jiu-jitsu more seriously, they are still happy to roll with me and share their wisdom on the mat. It makes me more excited to go train, and it keeps the environment more friendly for new people, who can see the quasi-familial relationship.
I have to be honest, I'm not sure how an instructor can actually make these things a reality in their gym. I think that, for Rocha BJJ, having an instructor who really understands people (despite being a very quiet guy, who can come off as very distant to a lot of the new students) and what they need to become better, was a huge deal.
There are guys who are world class competitors and there are guys who are world class instructors. Sometimes there's a lot of overlap (there is in the case of Eduardo, who is a world class instructor) because part of getting to the upper echelon is being exposed to those great instructors, and the ability to teach can be learned, to some degree.
However, the ability to read people and the coach them is really a tough balance. I see a lot of guys struggling with it, despite being awesome instructors, and there are clearly guys who have it figured out. I think that, as a student, it is difficult to identify who those great instructors are, right away, because sometimes they can be pretty rough guys, but I've found that the training environments that they create are usually very easy to spot.
---
Sig by Toxic

Barnett - Toquinho -Werdum - "Nurmie"
Z. Gurgel - Morango - Rocha - Tiequan
Currently Active Users Viewing This Thread: 1

(0 members and 1 guests)
Posting Rules

You may post new threads

You may post replies

You may not post attachments

You may not edit your posts

---

HTML code is Off

---