Greetings from Germany!
---
Hi everyone,
i have only recently gotten into MMA (9 months or something like that) and still have a lot of catching up to do. I still don't get every aspect of MMA I think, but I am reading a lot and try to watch every event I come across. Thats why I also finally registered, because I have been leeching of the Download section for a few weeks now.
I am really excited that the UFC will come to Germany soon and I am anxiously waiting for the moment I can buy tickets.
I don't fight myself, but am looking to get into it (that will probably never happen though
)
I am currently watching all the fights of GSP and will probably watch Fedors or Penns fights next. I don't really have a favorite fighter, but I like Nick Diaz, because I read some funny shit that he said and I like Shane Carwin (not sure what to think of recent findings though).
I hate Anderson Silva, because I wanted to get friends to watch MMA and we watched the main event of Dubai and I guess you can imagine how many of those 4 people that watched it with me tuned in to MMA again.
If you have any questions don't hesitate to ask. I am looking forward to contributing to the discussion.
Join Date: Jun 2009
Posts: 20,856
Welcome to the forum! If you want to recover from that incident, I would show them some other Anderson Silva fights. For example, if you showed them Silva vs. Leben or Silva vs. Griffin, I think they would see that Silva doesn't normally act like that.
If you have any questions or concerns, feel free to contact the staff!
---
Thanks for the welcome...I think that MMA ship has sailed for them. In general its hard to convince germans that this is a sport, because there are cultural differences in the perception of violence I believe.
I am still trying to convert the boxing fans though
Willkommen im Forum. hoffe, Sie genieBen Sie Ihre Zeit hier.
---
If a law is unjust, a man is not only right to disobey it, he is obligated to do so. ~ Thomas Jefferson
Sig by D.P.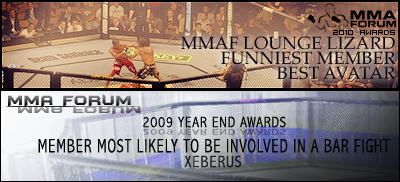 Nick Diaz is an excellent pic for a favorite fighter...
Him and Jason Miller.
---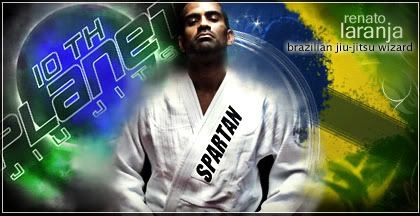 "You have a big word for a guy who don't have a gi right now." - Renato Laranja
Welcome to the forum, happy to have you.
Quote:
Nick Diaz is an excellent pic for a favorite fighter...
Him and Jason Miller.
Not sure yet if you are mocking me or complimenting on an excellent MMA-Noob choice, but I will go with mocking since I am a noob
Quote:
Welcome to the forum, happy to have you.
Thanks for the welcome! And RIP for your favorite show...if you ever need Comedy suggestions...I have seen them all
Ouch, baby, very ouch.

I hate that it ended, although everything passed season 8 sucked.

Welcome again, and enjoy your stay, my good man.
Welcome to our brand of paradise mate
Stay cool and relevant and you will always be welcome ;D
Can't wait to read more of your posts
---
Currently Active Users Viewing This Thread: 1

(0 members and 1 guests)
Posting Rules

You may post new threads

You may post replies

You may not post attachments

You may not edit your posts

---

HTML code is Off

---