So i'm new to mma and looking to do training..
---
First off, i'm new to the forum so i'd like to say hello to everyone.
I've been watching mma for a while now and recently i've been thinking about doing some training so i'd like to ask for advice, any help is appreciated.
I'll give you a quick background on me:
I'm 6'4'', 12 stone (168lbs), 24 years old. My only real experience in martial arts is around a years training in Krav Maga.
I have been smoking cigarettes for 9 years unfortunately and currently i'm a heavy smoker.
in the last few months I have been doing exercises called complexes and last monday I attended a Muay Thai class with a friend.
Two of my friends are attending different martial arts atm and i'm trying to decide what would be the best thing for me to go for. I'm uncertain and would appreciate input.
The choices are as follows: Muay Thai, BJJ, Judo, Submission Wrestling or Capoeira.
Would ye recommend trying to do all of these or would certain ones in paticular be worth focusing on?
Currently my diet would be pretty average not overly healthy and I think I might be eating too little.
A typical day for me is some fruit, the odd sandwich and probably a frozen pizza for dinner and herbal tea and a lot of cigarettes throughout the day.
Basically what type of food do ye recommend and do ye recommend trying to maintain my weight or trying to gain?
Just so ye know, if I can get going properly with this I am willing to change my lifestyle to improve my fitness and fighting technique.
Thanks for reading and once again all input is appreciated. Be as critical as you like I don't mind as long as it's constructive criticism.
Welcome to the forum, happy to have you here.
If you want advice/want to discuss training/diet, head on over to the training section of the forum, located here:
http://www.mmaforum.com/mma-fighting-techniques/
If you have any questions, feel free to ask the staff.
Also, thread moved to introductions and greets.
Thanks for the Welcome M.C, sorry if i posted in the wrong part of the forum.

I'll check that out now.
No probs at all bud, enjoy the forum.
Join Date: Jun 2009
Posts: 20,858
Welcome to the forum! I hope you have a good time around here. I am sure that you will. There is a lot of people here that can help you with training as MC said.
If you have any questions or concerns, feel free to contact the staff at anytime!
Welcome!
---
Curitiba Food and Liquor

Join Date: Dec 2006
Location: NY
Posts: 16,176
Welcome to the forum, and best of luck in your training.
---

Sig Credit to Toxic

if you can only pick one... pick muay thai... if you can pick two pick MT and submission wrestling... if there add bjj. imo
---
If a law is unjust, a man is not only right to disobey it, he is obligated to do so. ~ Thomas Jefferson
Sig by D.P.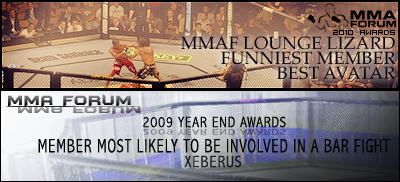 Join Date: Oct 2009
Location: UK... Where the sun never shines.
Posts: 11,553
Welcome to the Forum Bill and good luck with your training buddy
Ohhh another krav maga lover.
Like I'm sure people have already told you, BJJ is really important. You should also go with muay thai and wrestling.
Currently Active Users Viewing This Thread: 1

(0 members and 1 guests)
Posting Rules

You may post new threads

You may post replies

You may not post attachments

You may not edit your posts

---

HTML code is Off

---