Passed over by Strikeforce, Ninja signs with Dream
---
http://fiveouncesofpain.com/2009/03/...ns-with-dream/
Quote:
After getting passed over by Strikeforce during its acquisition of 42 fighter contracts from ProElite, a new published report indicates that middleweight Murilo "Ninja" Rua is set to return to Japan after signing with DREAM.

Rua, the older brother of UFC light heavyweight Mauricio "Shogun" Rua, is scheduled to compete at DREAM.8 on April 5 in Saitama, Japan, according to Graciemag.com. The former PRIDE superstar last competed on Oct. 4 during EliteXC and CBS' Saturday Night Fights, where he lost a second round TKO to Benji Radach.

An opponent has yet to be determined for Rua's DREAM debut but he is quoted as saying that his opposition will be of Korean descent. The elder Rua appears prepared to take a fight on short notice as he is currently in Brazil helping his brother train for his upcoming fight with Chuck Liddell during next month at UFC 97

Rua, 16-9, also stated that he has been training with top UFC middleweight contender Demian Maia while also going on record to say he believes his brother will defeat Liddell. According to "Ninja," his brother is in great shape and has regained a lot of quickness and other attributes needed to make him a contender for the UFC light heavyweight title.

The first-ever EliteXC middleweight champion has gone up against some of the best fighters in the world during his career. Notable opponents have included Ricardo Arona, Akihiro Gono, Quinton "Rampage" Jackson, Dan Henderson, Paulo Fihlo, Denis Kang and Robbie Lawler.
Even though he fights like an idiot sometimes, he's still entertaining to watch.
---
He's definitely still entertaining to watch. Imo, it was a mistake for Strikeforce to pass on him, I'm sure some fans would have followed.
---

I wouldn't mind seeing Ninja fight Melvin Manhoef
---
[
Quote:
I wouldn't mind seeing Ninja fight Melvin Manhoef
Brutal KO 1st round?
---
If a law is unjust, a man is not only right to disobey it, he is obligated to do so. ~ Thomas Jefferson
Sig by D.P.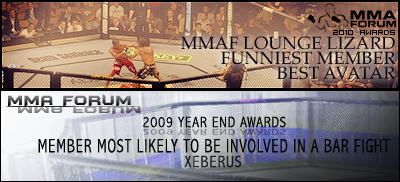 Quote:
Brutal KO 1st round?
I think Melvin would be the one guy Ninja would wise up about and just take down. If he got this fight to the ground he would definitely sub Melvin out. Ninja's ground game is underrated its just unfortunate he loves to get punched in the face so much.
I love Ninja though. Hes the only Chute Box guy I ever really dug back in the Pride days.
---
Ninja is so inconsistant it is painful.

At times he has performances that are genious. And than he goes out and makes huge mistakes.

I'll always watch his fights. But I wouldn't put any credits on him.
---
_RIVALS TOP 10

ANDERSON "THE SPIDER" SILVA
JAKE SHIELDS
NICK DIAZ
EDDIE ALVAREZ
JUNIOR "CIGANO" DOS SANTOS
GILBERT MELENDEZ
MAMED "THE CANNIBAL" KHALIDOV
HECTOR "SHANGO" LOMBARD
CAIN VELASQUEZ
GEGARD "THE DREAM CATCHER" MOUSASI

Curitiba Food and Liquor

Join Date: Dec 2006
Location: NY
Posts: 16,176
His nickname is ninja and sometimes pudgy ninja. This alone puts me in "sign me up" ville.

I wouldn't bet either but I'd sure as hell watch.
---

Sig Credit to Toxic

good signing for dream
cant wait to see him fight
---
Always a good signing for excitment, he would have a much better record if he didn't have random spaz attacks during fights.

He needs to be a lot more tidy, and stop inviting his opponents to punch him in the face.
---
Chute Boxe Cabra!
Maybe that wasn't such a good move for him afterall
---
Currently Active Users Viewing This Thread: 1

(0 members and 1 guests)
Posting Rules

You may post new threads

You may post replies

You may not post attachments

You may not edit your posts

---

HTML code is Off

---