Quote:
Weren't they going to start the Lightheavyweight Grand Prix?
Yep, they have Melvin Manhoef vs. Tatsuya Mizuno to start off the grand prix.
Melvin vs. Tatsuya Mizuno
---
I thought Manhoef was a middleweight!
---
The Emoticon Guy
Awesome
---
Yeah but the question of whether this grand prix is going to be a four man or eight man tournament is still in question!
---
The Emoticon Guy
Quote:
I thought Manhoef was a middleweight!
He weighs 190 lbs.
190 lbs
---
And he's going to be fighting guys who cut from 220lbs plus!
---
The Emoticon Guy
Mousasi's DREAM 15 grand prix opponent announced:
Quote:
Gegard Mousasi (28-3-1 MMA, 6-0 DREAM) and Jake O'Brien (13-3 MMA, 0-0 DREAM) have verbally agreed to meet at DREAM.15 in the promotion's scaled-down light-heavyweight grand prix.
MMAjunkie.com (
www.mmajunkie.com
) confirmed the fight Monday morning from sources close to the event, who said that while contracts have not been signed, the bout is expected to be finalized shortly.
DREAM.15 takes place July 10 at the Saitama Super Arena in Saitama, Japan, and features the opening round of the four-man tournament.
The bout is Mousasi's first since a disappointing showing at April's "Strikeforce: Nashville" event, in which he relinquished his belt to Muhammed "King Mo" Lawal, who outwrestled him for five rounds en route to a unanimous-decision victory.
In 2008, the Dutch-Armenian fighter bested four fighters to win DREAM's middleweight grand prix, though he later vacated the belt when he decided to jump to light heavyweight. He defeated Mark Hunt in the opening round of the Japanese promotion's open-weight "Super Hulk" tournament before making the move to Strikeforce.
The 24-year-old Mousasi is currently training in Holland with Team Golden Glory and is expected to meet this week with M-1 Global executive Vadim Finkelstein to discuss the possibility of a European marketing deal.
O'Brien, meanwhile, is three months removed from a unanimous-decision victory over Toni Valtonen at Fight Festival 27 in Finland, which was his second consecutive victory since a submission loss to Jon Jones at UFC 100 brought his release from the promotion.
Once a heavyweight, O'Brien racked up six consecutive victories before he made his UFC debut. He opened his UFC career with three additional wins, including an upset of veteran Heath Herring at UFC Fight Night 6 in August 2006.
The sometime bouncer trains out of Integrated Fighting Academy in Indianapolis along with UFC veterans Chris Lytle and Matt Mitrione.
The winner of O'Brien vs. Mousasi meets the winner of Melvin Manhoef and Tatsuya Mizuno. DREAM officials then will crown the tourney champion the organization's first-ever light-heavyweight title-holder.
Link
---
Quote:
Mousasi's DREAM 15 grand prix opponent announced:
Link
Did King Mo drop out? and if so Gegard wins the Prix again because Jake O'Brien is not gonna stop him and then Manhoef next who he already beat.
Whoever Overeem fights should be interesting,i hope its Josh Barnett.
Well, King Mo's fighting at the Strikeforce show in Texas a month later. 4 fighters is a little small for a grand prix, but money's on Mousasi for the belt like you said.
---
Let's not jump to conclusions fellas... O'brien did wrestle at Purdue, and Mousasi didn't exactly show any form of TDD recently.

And yeah, O'brien sure as sh*t isn't athlete cut from the cloth of King Mo, but still... At least this might show if Mousasi has worked on his wrestling perhaps.
---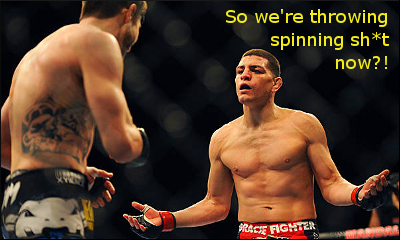 Currently Active Users Viewing This Thread: 1

(0 members and 1 guests)
Posting Rules

You may post new threads

You may post replies

You may not post attachments

You may not edit your posts

---

HTML code is Off

---