Banned
Join Date: Oct 2009
Posts: 7,811
Quote:

"From Asia, we will take the world," Tanikawa said.''

----------------------------------------------------------

looks like DREAM is gonna stick around for a while! great news!
This is awesome!
I really hope they can built up a second PRIDE or something.
If Japanese MMA would die.. then MMA would die with it!
Lightweight
Join Date: Dec 2008
Posts: 1,651
Quote:
This is awesome!
I really hope they can built up a second PRIDE or something.
If Japanese MMA would die.. then MMA would die with it!
agreed! man this is exciting, 230 million!...thats a lot more than what UFC started out with haha with this type of cash DREAM will have a great chance to become the real new pride and become a real competitor to the UFC maybe they could just take strikeforce's place but keep the ring, whatever, i dont know
but i really want dream to continue, i wanna be watching DREAM 100 live
Basically FEG just got a Chinese bailout and is hoping to use it to block the UFC's foreign progress!
---
The Emoticon Guy
Pics by Dan herbertson
---
Somdet, Tsuchiya, Okazaki Retain Titles at The Way of Shooto 4
Quote:
Defending champion Rambaa Somdet was unable to stop the trips and shots of Hiroyuki Abe in their bout, and through the first round found himself being taken down repeatedly although, he was able to stand to land the occasional strike during Abe's attempts to advance position or submit.

After the champion fended off an armbar from mount and made it back into Abe's guard, Somdet landed a punch that didn't seem to faze the challenger but it did unfortunately cause his eye to swell completely shut. With Abe unable to see at all out of one of his eyes, doctors were left with no choice but to stop the bout, much to Abe's dismay. If the round were to end at that point, Abe would have most definitely been ahead on the cards.

Through Somdet's broken Japanese it was difficult to know if he wanted a rematch or if he wanted a new challenger but he did say, "I want to fight again! Let me fight again!" post fight.

2008 Shooto Rookie Tournament MVP Issei Tamura was handed his first loss by defending Pacific Rim 143-pound champion Taiki Tsuchiya and until this bout, Tamura's wrestling based game had looked unbeatable as all of his opponents had found themselves stuck on their backs, unable to mount any offense against the Krazy Bee product. For his shot at Tsuchiya's title though, Tamura forgot his background and instead opted to trade with the striker and predictably came up short.

Through three rounds, Tsuchiya hopped up and down Kazuo Misaki style to throw Tamura's rhythm off and to disguise his cutting low kicks. Although Tamura was able to land the odd powerful one-two combination to win the odd point with the judges, he wasn't able to consistently find the target but Tsuchiya had no problem doing so with his low kicks. Tamura offered no defense to the kicks and in the final round the champion did not even attempt to hide the fact that he was attacking the legs. As Tamura got slower, the kicks came in more frequently and so Tsuchiya was able to take the majority decision to retain his title.

Although Taiki Tsuchiya walked away with his title, Issei Tamura had more than enough skill to capture the belt and was looking like one of the strongest young prospects in Shooto but his lack of takedown attempts and then lack of ability to change his (horrible) game plan cost him this fight.

In the evening's first title fight, Koetsu Okazaki was also successful in defense of his 132 lb Pacific-Rim strap against Wajutsu Keishukai Naked Man grappler Tetsu "Hadairo" Suzuki.

In the first two rounds, the champion found himself defending aggressive leg locks from all directions from the "Skin-Colored" grappler and came close to being submitted at one point with a calf-slicer although the attempt didn't earn a "catch" from the referee.

Suzuki swung with a hook so wildly to open the third round that he spun 180-degrees and ended up giving his back to the champion. For the entire last round, Okazaki was firmly glued to Suzuki's back with a body triangle and although he was unable to finish any of his choke attempts, easily won the judges favor.

Suzuki's leg lock efforts in the first two rounds did not sway any of the judges and Okazaki retained his belt with a unanimous decision.

Kenichiro Togashi's superior boxing opened up a large cut on the bridge of the nose Jani Lax that bled badly before the doctor had finally seen enough in the third round after multiple checks. Lax was bleeding heavily and blood covered his face and ran though his mouth but would have been able to continue had doctors not seen the bone through the gaping wound. The cut came early in the first round and following that a simple strategy of "jab the cut" proved effective although Togashi actually caught some shots in the nose himself which also prompted a doctor check for the bleeding.

Tenkei "Fujimiya" Oda continued his return to form after barely surviving a barrage of heavy strikes from the Finnish Matteus Lahdesmaki. Oda was badly shaken in the first round from knees and punches but rallied to get a knockdown and then mount where he rained in punches to get the thrilling first round TKO.

Mach Dojo product Kunio Nakajima managed to get a takedown early against Daisuke Hoshino and was able to land some solid punches from half guard. But then, from the bottom, Hoshino rocked the jaw of Nakajima with a punch and put him out cold while on top. Hoshino rolled his unconscious foe off himself, landed up some especially brutal but unneeded punches and secured the highly unusual TKO victory.

Shooto - The Way of Shooto 4: Like a Tiger, Like a Dragon
July 19, 2010, Korakuen Hall, Tokyo, Japan

Shooto World 115 lb Championship Title Fight
Rambaa Somdet def. Hiroyuki Abe by TKO (Doctor Stoppage), Round 1, 4:31

Shooto Pacific-Rim 143 lb Championship Title Fight
Taiki Tsuchiya def. Issei Tamura by Decision (Majority)

Shooto Pacific-Rim 132 lb Championship Title Fight
Koetsu Okazaki def. Tetsu Suzuki by Decision (Unanimous)

Kenichiro Togashi def. Jani Lax by TKO (Doctor Stoppage), Round 3, 1:30
Tenkei Oda def. Matteus Lahdesmaki by Submission (Punches), Round 1, 4:08
Shin Kochiwa def. Koji Matsumoto by Decision (Unanimous)
Daisuke Hoshino def. Kunio Nakajima by TKO (Punches), Round 1, 3:02
Hiroshige Tanaka def. Takayoshi Ono by Decision (Majority)
Akira Okada vs. Munehiro Kin - Draw
Tadaaki Yamamoto def. Jun Nabeshima by Submission (Rear-Naked Choke), Round 2, 3:20
Somdet, Tsuchiya, Okazaki Retain Titles at The Way of Shooto 4 -- MMA Fighting
How was the guy in the elf suit not suffocating?
---
The Emoticon Guy
Akihiro Gono vs. Jadamba Narantungalag announced (SRC) - team Asashoryu...
-----
-----
---
Last edited by DrunkInsomniac; 07-21-2010 at

09:34 AM

.
Just because a guy is a Mongolian doesn't mean the guy is with team Asashoryu!
---
The Emoticon Guy
Quote:
DREAM.15 will take place on September 25th in Nagoya, Japan. The arena is Nippon Gaishi Hall (attendance: ~10000). The event is planned to start at 3 PM (Opening at 2 PM).
- From N.O.B
I guess that is going to be a long event!
---
The Emoticon Guy
Quote:
G4 TV has added a show that should be of great interest to our readers. This Friday night, July 23, at 8:00pm EST, the network will air Muay Thai fights from Champion of Champions 2 in Jamaica.

This event was held last summer and featured top level Muay Thai stars from around the world. The 1 hour program will include 3 fights from that event: Nathan "Carnage" Corbett v. Tyrone Spong, Paul Slowinski v. Patrice Quarteron, and Clifton Brown v. Kaoklai Kaennorsing. All are solid fights, and in particular, if you haven't seen Spong v. Carnage, that is one to check out.

While not possessing the same reach as a network like Spike, G4 still can be found in a significant market. With HDNet being the only place for US fans to see kickboxing, this news comes as a very welcome surprise. Any chance to see Muay Thai like this is great, and the fact that it is a strong card with top ranked fighters only helps.

With the short lead time and departure from G4's normal video-game centric programming, I am not expecting this to do particularly strong numbers, but hopefully it will catch some eyes and turn into more than just a one time thing. It will also be interesting to see exactly how they handle the presentation. Will it focus more on the tradition of Muay Thai (as the Champion of Champions event itself did) or will they present a more fast-paced, heavily edited program?

Be sure to check it out - Champion of Champions 2 on G4, Friday night at 8:00 pm EST.
G4 TV To Air Muay Thai Program This Friday - Head Kick Legend
I watched this event when it broadcast, and overall thought it had some good fights. But, I must say, I laughed at the event. They had a walk way for fashion, an enormous sticker in the middle of the ring that caused people to slip all over, and there was a controversial call towards the end of the show that left me scratching my head. So, I thought the show was a mess to say the least.
Still, I will be tuning in to watch. Hopefully they edit out all that bullshit and just give us the fights.
-----
Daiki Kameda vs. Rosendo Vega, 10 rounds, junior bantamweights; Koki Kameda vs. Cecilio Santos, 10 rounds, junior bantamweights
-----
-----
Jewels 9:
Misaki Takimoto vs. Lisa Newton
Yukino Oishi vs. Emi "NFC"
Shizuka Sugiyama vs. Esui (Mongolian Pro-wrestler trained by Mariko Yoshida )
Harumi vs. Megumi Murata
Yukiko Seki vs. Miyoko
Amiba vs. Misaki Ozawa
2010 Jewels Lightweight (115-Pound) Queen Grand Prix
Seo Hee Ham vs. Mai Ichii
Saori Ishioka vs. Sakura Nomura
Mika Nagano vs. Celine Haga
Ayaka Hamazaki vs. Lee Han-Sol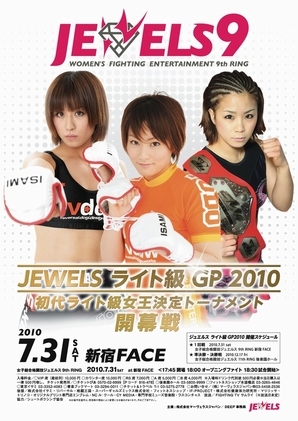 ----
Hioki vs. Jeff Lawson in August - Gyro
Currently Active Users Viewing This Thread: 1

(0 members and 1 guests)
Posting Rules

You may post new threads

You may post replies

You may not post attachments

You may not edit your posts

---

HTML code is Off

---