Title
---
Quote:
Originally Posted by
DrunkInsomniac
View Post
Additional K-1 MAX July 5th Fights Announced:
Shohei Asahara vs Toshiki Taniyama
"Kyoken" Yuji Takeuchi vs Koya Urabe
Kazuhisa Watanabe vs Kazuyuki Miyata
- Should be a great event, I'm really looking forward to it. The k-1 Max shows always live up to hype.
The Champ is here: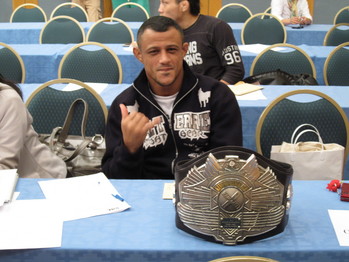 What is that belt for?
---
The Emoticon Guy
Katsuya Inoue Bests Katsuhiko Nagata at Cage Force:
Quote:
Olympic Silver Medalist Katsuhiko Nagata has expressed a desire to return to the larger stages of MMA but it looks like his lack of tools and paper-thin skin may betray him.

In his unanimous decision loss to former two time interim Welterweight King of Pancrase Katsuya Inoue at Cage Force 17 in Differ Ariake, he was again cut open and out struck after controlling but not winning the majority of the fight.

Full results and a breakdown of the fights below.

Nagata controlled the first two rounds but failed to win them. In both rounds Nagata crushed Inoue against the cage in the clinch but there he was unable to do anything other than ineffective knees to the thigh. A pattern of clinch-hold-break with a few stalemates on the mat resulted in a warning for action to both fighters but still Nagata was not able to cause any damage.

By the third round, Inoue realized that he was in no real danger of being hurt by Nagata and came out clearly trying to finish, battering Nagata with punches while completely lowering his guard. Within moments of Inoue starting to land on Nagata, cuts started to open up on the wrestler's face around the eyes and cheeks, causing heavy bleeding.

After two rounds of no action and the third round going completely in Katsuya Inoue's favor, he took the unanimous decision. Heavy bleeding is starting to become a regular fixture in Nagata's fights, most notably in his TKO loss via a cut to Vitor Riberio at DREAM.8 after getting hit with a single knee.

A step up in competition may have left Koji Ando's record in tatters initially but it looks like he is finally used to this new level. His opponent, Hiroki Nagaoka had 31 more fights under his belt but that experience wasn't enough to enable Nagaoka to break out of a losing game plan half way through the fight.

Both fighters fought southpaw but that was where the similarities ended. It was a boxer vs. slugger match, with Nagaoka sending winging lefts at Ando which where easily evaded and answered with crisp, straight counter punches. Ando established his jab immediately and used it to control the first round. Unwilling to take the fight to the mat in the second and third rounds, Nagaoka was unable to find an answer on the feet other than "punch harder". His attempts to bring Ando into a brawl were fruitless and by the end of the match Nagaoka was bleeding heavily from his mouth after three rounds of constant jabs, hooks and straight punches which were landing at an alarmingly high rate.

All three judges had no difficulty in awarding Ando the much needed win.

Satoshi Nishino looked like he might have a chance to break his four fight losing streak after a solid first round against "Runki". With the standup about even, Nishino forced a takedown off the cage and held on to his opponent and while not able to land any effective ground and pound secured the round. on the judges cards.

His luck round out in the second though when a second takedown attempt was reversed after Nishinio started to lose the exchanges on the feet. With Runki now in the top position he put on an elbow and ground and pound clinic the likes of which is rarely seen in Japan. The elbows from guard, half-guard and side control completely sapped Nishino of the will to fight and from midway through the second round he was a defeated fighter.

The actual defeat didnt come until two seconds before the final bell when the referee decided that he had seen enough.

Runki improved to 5-1 with his only loss coming to the much more experienced Wataru Takahashi.

Naoto Miyazaki's karate styled front kicks to the body gave Asato Hashimoto no choice other than to take the fight to the ground. On the mat though, Hashimoto found no more success, under threat multiple times with arm in guillotines but was still able to nullify most of Miyazaki's attacks.

The fight was still up for grabs in the third round until Hashimoto tired and got caught in an rear-naked choke that would have been the end of him if he weren't saved by the bell. One judge saw it a draw but Miyazaki still managed to get the favor of the other two officials to come away with the majority decision.

The difference between Masahito Hisataka and "Ryo AKB" was clear from the onset as the southpaw, Ryo looped his overhands lefts that were easily evaded and countered with straight rights from Hishitaka. After realizing that he was fighting a losing battle on the feet, Ryo's attempts to then take the fight to the canvas were sprawled on and so Hisataka was easily able to secure the unanmous decision after three rounds

In the opening fight "Shota" came out like a bull from the gates and looked to have Kosuke Terashima in trouble with his striking and ground and pound until Shota managed to get himself caught in a triangle choke at 2:35 of the first round.

Cage Force 17 - June 19th at Differ Ariake, Tokyo, Japan

Katsuya Inoue def. Katsuhiko Nagata by Unanimous Decision
Koji Ando def. Hiroki Nagaoka by Unanimous Decision
"Runki" def. Satoshi Nishino by TKO (Referee Stoppage), Round 3, 2:58
Naoto Miyazaki def. Asato Hashimoto by Majority Decision
Masahito Hisataka def. "Ryo AKB" by Unanimous Decision
Kosuke Terashima def. "Shota" by Submission (Triangle Choke), Round 1, 2:35
Katsuya Inoue Bests Katsuhiko Nagata at Cage Force -- MMA Fighting
[/QUOTE]
-----
Yasuko Tamada Captures Flyweight Title, Rin Nakai moves to 7-0 at Valkyrie
Quote:
Yasuko Tamada was only able to secure one win in her first seven appearances in the ring. Since then, the Megumi Fujii trained flyweight has picked up ten victories without suffering defeat and tonight picked up the Valkyrie Flyweight Title with a win over Naoko Omuro at Valkyrie 6 in Differ Ariake in Tokyo.

Also one the card, Rin Nakai remained undefeated in seven outings and cemented her place among the top 135 pound women in the world with a solid decision win over 36 fight veteran Megumi Yabushita.

Full results and a breakdown of the fights below. Yasuko Tamada dominated Naoko Omuro in their rematch to be crowned the first Valkyrie Flyweight (100 lb) Champion. Through three rounds, Tamada secured double legs, trips and body lock takedowns and on the mat controlled the fight positionally, landing strikes along the way along with coming close to finishing multiple times with armbars, head-arm chokes and rear naked chokes. Omuro made it through to the closing bell but easily lost a unanimous judges decision.

It was Tamada's most impressive performance to date and she moves to 12-4-3 and is now 10-0-1 since November 2006.

Rin Nakai moved to 7-0 with her unanimous decision win over a much more experienced Megumi Yabushita. The first round was dictated by Nakai's overhand right which she landed at will but Yabushita's chin was up to the task. As Yabushita relaised that it was a bad idea to stand and trade with Nakai, she attempted to bring the fight to the mat in the second and third rounds but Nakai was also dominant there, controlling and punching from side control. Some unorthodox submission attempts and a pinwheel kick from Yabushita was not enough to make this competitive and Nakai was handed the unanimous decision.

With Nakai's strength, ground technique and athleticism she has the potential to be a legitamte contender on an international level but her striking, aside from her right, lacks polish at this point in time.

Ayame Miura moved to 2-0 and was impressive in her unanimous decision win over Mutsumi Kasai, hounding her opponent from the opening bell with takedowns and ground and pound. Despite a rally from Kasai in the second round, Ayame came home strong in the final round, coming close to getting the referee stoppage with ground and pound before the closing bell sounded.

Megumi Morioka was outclassed by Naho "Sugi Rock" Sugiyama, Moioka clearly having trouble finding her range throughout the fight and missing by a matter of feet with most of her strikes. In the second round a failed takedown attempt by Morioka was easily reversed by Sugiroke leading to her getting back mount and pounding for the referee stoppage at 2:20.

Valkyrie 6 - June 19th at Differ Ariake, Tokyo, Japan

Valkyrie Flyweight Championship
Yasuko Tamada def. Naoko Omuro by Unanimous Decision

Rin Nakai def. Megumi Yabushita by Unanimous Decision
Ayame Miura def. Mutsumi Kasai by Unanimous Decision
Naho "Sugi Rock" Sugiyama def. Megumi Morioka by TKO (Referee Stoppage), Round 2, 2:20

Novice Rules:
"Butterfly Knife" Yuka def. Kimie "Sakura" Okada by Unanimous Decision
---
Last edited by DrunkInsomniac; 06-20-2010 at

05:49 PM

.
Cage Force
---
What were the results?
---
The Emoticon Guy
---
Last edited by DrunkInsomniac; 06-21-2010 at

03:49 AM

.
Jewels 8 Fights
---
Could they come up with a better name for a Women's MMA promotion besides Jewels?
---
The Emoticon Guy
Jewels 8
---
Do they have champions for this promotion?
---
The Emoticon Guy
Sengoku 13
---
How did that go?
---
The Emoticon Guy
Shigeyuki Uchiyama's Ear Successfully Reattached:
Quote:
After a large part of his ear was ripped off in a Pancrase bout with Masaya Takita almost three weeks ago, Shigeyuki Uchiyama underwent multiple surgeries utilizing veins from his thigh to reattach his ear and has now been released from the hospital.

Uchiyama was finally released on Wednesday, but he was originally set for release back on June 15th. Complications arose after the first surgery due to the heavily cauliflowered nature of Uchiyama's ear and further surgery was needed. Doctors will be checking the ear regularly over the next 20 days but they have declared the surgery a success and Uchiyama is already back in the gym.

Pancrase officials are conducting an investigation into how the ear was torn off, but no results have been released yet. The accident occurred when both fighters fell through the ropes during a takedown attempt. As Takita's hands seemed to be nowhere near Uchiyama's head, it can be presumed at this stage that the ropes severed the ear.

Blood could be seen on the top rope directly above where Uchiyama's ear lay on the canvas but inspection of the ropes revealed nothing dangerous. The horizontal ropes were covered in soft plastic tubing and seemed safe, but the vertical supporting ropes were two bits of thinner rope. It is conceivable that Uchiyama's ear may have got caught up there but no blood could be seen on those ropes and the accident occurred about two feet from vertical supports.

Prior to the accident, Uchiyama was keeping his MMA career a secret from his employer.
http://www.mmafighting.com/2010/06/2...ly-reattached/
Currently Active Users Viewing This Thread: 1

(0 members and 1 guests)
Posting Rules

You may post new threads

You may post replies

You may not post attachments

You may not edit your posts

---

HTML code is Off

---