I figured since there isn't much activity in this sub-forum, and there's a lot of info that doesn't deserve its own thread, we could use a general thread for info and pictures.
There is a rule that prohibits posting three times in a row, so if you are on your third straight post just go back and add a break/date to your last post.
So, here we go
Some websites to help you keep up with the sport across sea:
http://www.japan-mma.com/
http://nightmareofbattle.com/
http://d.hatena.ne.jp/gryphonjapan/
News from japan usually gets translated and posted here within 24 hours.
You can also go directly to the Japanese/Korean sites, but its a pain, and google translator usually makes a mess of the text. But sometimes if your can put it together like a puzzle you can get the news a few hours before its posted on American blogs.
Here are some general ones:
http://sportsnavi.yahoo.co.jp/fight/
http://fightislands.jp/
http://www.dreamofficial.com/
http://www.src-official.com/pc/
http://www.kakutoh.com/pc/blog/hashimotokinya/
Blogs:
http://skillmma.blogspot.com/2009/10...blog-list.html
Twitters:
http://skillmma.blogspot.com/2009/09...tter-list.html
Venue info:
http://skillmma.blogspot.com/2010/01...enue-list.html
Gym list:
http://skillmma.blogspot.com/2010/01...-gym-list.html
Sunday, May 23, 2010
Jewels results today, don't expect any video for a long time, or maybe never.
Main-Event:
7. 52kg:
Saori Ishioka
Def. Mai Ichii by Armbar Round 2 2:41
6. Open:
Hiroko Yamanaka
Def. Atsuko Emoto by Decision 3-0
5. SB-Rule 54kg:
Ai Takahashi
Def. Yukino Oishi by Decision 3-0
4. 52kg:
Celine Haga
Def. Mika Nagano by Decision 3-0
3. 52kg:
Miyo Yoshida Def.
Yuko Kagoshima by KO Round 1 3:30
2. SB-Rule 63kg:
Cho Benkei
Def. Kou Ozeki by TKO Round 2 1:36
1. 57kg:
Yuko "Amiba" Oya
Def. HARUMI by Armbar Round 1 3:45
Some pics from the event here:
http://makina670.seesaa.net/
- dude has some really nice pictures from the event
One of my favorite photographers/journalist Daniel Herbertson just wrote this about the event:
Quote:
TOKYO, Japan -- Saori Ishioka picked up her second win since surcumbing to pound for pound great Megumi Fujii with a second-round armbar victory over pro wrestler Mai Ichii at Jewels 8th Ring in Shin-Kiba, Tokyo. Despite having Fujii in her corner, Ichii was outclassed by two time All-Japan Karate champ, finding herself constantly on the defense. The first round looked like a grappling drill, Ishioka locking up armbar after armbar from guard but unable to finish. The arm was finally able to be extended in the second round after Ishioka managed to get to mount.

Hiroko Yamanaka moved to 9-1 with her victory over Atsuko "Bullfight Sora" Emoto. Yamanaka was simply too big and strong for Emoto, bullying her into the corners with flurries of punches and knees from the clinch. Emoto's attempts at a flying armbar and a rolling toe-hold were fruitless, and she dropped the unanimous decision. An emotional Emoto had her retirement ceremony post fight.

Full results after the break.

Yamanaka is clearly being built up by Jewels as a possible opponent for Strikeforce featherweight champion Cristiane "Cyborg" Santos, and while her game has certainly improved since she moved to training full time under Kuniyoshi Hironaka, she still lacks the technical proficiency to offer any real threat.

Joachim Hansen trained Celine Haga had a rough start to her MMA career, winless in her first four outings. After some time training at Kazuyuki Miyata's Brave gym however and mentally repositioning herself, she was a completely different fighter and dominated Rough Stone GP winner, Mika Nagano in a huge upset.

Over the course of two rounds, Haga worked her jab to keep Nagano at bay and despite getting taken down on occasion, was able to work her way to Nagano's back or sweep to a superior position where she landed some powerful liver shots.

"Sometimes your own worst enemy is yourself," Joachim Hansen commented on Haga's performance. "She told herself two weeks ago that she was going to win. She just had confidence this time."

Mach Dojo's Miyo Yoshida was impressive in her win over Yuko Kagoshima. Picking up her first win, Yoshida walked straight through Kagoshima, landing punches at will and getting one down before the KO came at 3:30 in the first round.

The luckless Harumi moved to 0-14, not able to find that ever elusive win after she fell victim to an easy armbar from Yuko "Amiba" Oya in the first round. Hisae Watanabe's corenering was of no help, Harumi attemping a guillotine while mounted, giving Oya easy access to the arm.

Jewels - Eighth Ring Results
MMA Rules:
Saori Ishioka def. Mai Ichii by Submission (Armbar) - Round 2, 2:41
Hiroko Yamanaka def. Atsuko Emoto by Unanimous Decision
Celine Haga def. Mika Nagano by Unanimous Decision
Miyo Yoshida def. Yuko Kagoshima by KO (Punches) - Round 1, 3:30
Yuko Oya def. Harumi by Submission (Armbar) - Round 1, 3:45

Shootboxing Rules:
Ai Takahashi def. Yukino Oishi by Unanimous Decision
Mayumi "Cho-Benkei" Aoki def. Kou Ozeki by TKO (Referee Stoppage) - Round 2
http://www.mmafighting.com/2010/05/2...ous-at-jewels/
----
Some other news
Katsuhiko Nagata vs. Katsuya Inoue was announced for a cage force event yesterday.
Japan-mma has posted a shooto card
Quote:
Main-Event:
10. Feather: So Tazawa 8-5-4 vs. 6-3-0 Teriyuki Matsumoto

9. Light: Komei Okada 6-10-2 vs. 8-8-1 Masaki Yanagisawa
8. Feather: Yuta Nezu 8-4-1 vs. 2-0-0 Keita Kono
7. Welter: Hisaki "Kotobukimaru" Hiraishi 7-4-2 vs. 2-4-5 Shinobu Miura
6. Fly: Takehiro "Tiger" Ishii 6-7-2 vs. 3-1-1 Yusuke "Tenkaze" Sato

Rookie Tournament:
5. Light: Koji Nakamura 4-4-1 vs. 3-3-2 Satoshi Inaba
4. Welter: Shotoku Suzuki 1-0-0 vs. 1-0-0 Yoshikazu "Kotetsu" Fujishi

Non-Tournament:
3. Fly: Takafumi Ato 0-1-0 vs. 0-3-0 Takahiro Kobori
2. Bantam: Yuya Kaneuchi 0-4-2 vs. 1-2-0 Keiji Koizumi
1. Bantam: Hiroaki Ijima 3-2-1 vs. 1-0-1 Kosuke "Rambo" Suzuki
I read this stuff by the way, just don't know enough to comment usually.


so thank you for posting in this section
Quote:
I read this stuff by the way, just don't know enough to comment usually.


so thank you for posting in this section
lol, I feel lonely in this section sometimes.
Honestly, Ive read your post and see you know about mma and love the sport. That's really all you need to comment on J-mma.
Interview Translated by Flyinpig over at sherdog:
Quote:
Wicky has been sparring with Shooto LW champ Lion Takeshi, who will be defending his belt against Hatsu Hioki on 5/30.

Wicky has also been training in the US with Matt Hume since last October.


Lion on Wicky's fight vs Tokoro:

Tokoro took down former Shooto champ in Pequeno (Alexandre Franca Nogueira) so I'm hoping that Wicky can represent Shooto and beat Tokoro. Hopefully we both win by KO so that we can enjoy some drinks afterwards.

Wicky on his preparation:

Everything is going well. I'm a bit tired, but I don't have any injuries so it's all good.

Wicky on training overseas:

I was in the States getting pummeled by some 90kg black dudes, and before I knew it, I've put on some mass. I gained about 3kg in the States and when I got back to Japan, I was at 77kg. So I had to lose 14kg. I worked my ass off in the beginning so I'm around 68kg right now. 5kg more to go.

Wicky on training in the US:

My takedown defense has improved and I'm better at getting back up . So I think if Tokoro takes me down, I'll be able to get back up.

Wicky on Tokoro:

When I was still an amateur, about a half year after I got into MMA, Tokoro came to train at our gym. We worked on some ground game. He wasn't very strong, but was good at leg locks. He's always used good movement. He can also be unorthodox and tricky. So I think that may be his strength. But I have a few moves just for him. It may be that I only throw hooks as usual, but I have something planned. Striking? Yeah, I only use strikes.

Wicky on the cage:

The three 5-minute rounds is a bigger deal to me. My muscles are more geared towards explosiveness rather than stamina, so the longer rounds are tough on me. I'd like to have 2-minute rounds (laughter). I like short fights. I'm sure my opponent wants to make it a long fight though.

Wicky on his drawing:

DREAM brings in a bunch of pestering guys like Bibiano and Joe Warren. The drawing depicts me fighting, some fans enjoying and others watching intently.

Wicky on his comment of "KID shouldn't be a star anymore" (on promo video #2):

I made that comment a year ago (laughter). At the end of the day, KID ended up losing, and I wasn't able to become a star. But I've been putting in the effort in the last year and there's still a chance for me to become a star.

Wicky's attitude going into fighting the popular Tokoro:

I have everything to gain. He has everything to lose.
I'm a huge fan of Tokoro, hes provided me some of my favorite mma fights of all time. Dude puts it on the line in every fight.
Wicky... well, I'm always on the fence with him. I do find him to be a interesting fighter, and that makes me want to see him fight even more.
This fight will be good. Tokoro takes this fight though, at least in my opinion.
No news yet, but here are some pics:
-Funaki, greatest leg-locker in history
-Dj Taiki in Thailand
-Peter graham lookin' like a wigger
-Aoki getting caned
----
In other news, just downloaded the Minowa career pack (11 g's), if anyone wants a link to the download just pm me or something.
----
Deep - ClubDeep results:
1
Masato Kataoka
Takuya Inoue TKO (Punches) 1 0:15
2
Hiroyuki Kobayashi
Tatsuya Tsuchida Submission (Rear-Naked Choke) 1 1:15
3
Shota Shimeya
Yu Yu Submission (Armbar) 1 4:38
4
Noboru Onishi
Yoichi Ozawa TKO (Punches) 1 3:05
5
Shota Utsunomiya
Muneyuki Sato Decision (Unanimous) 2 5:00
6
Juri Ohara
Hidenobu Koike TKO (Punches) 1 3:15
7
Tatsumitsu Wada
Tatsuhito Satsuma Decision (Unanimous) 2 5:00
8
Yutaka Ueda
Mitsuru Yamaguchi Submission (Straight Armbar) 1 0:25
9
Tomohiko Hori
Akira Kibe TKO (Punches) 2 4:23
10 Hiroki Sato Shuji Morikawa Draw 2 5:00
-----
Mach Interview, translated by flyinpig:
Mach on his weight:
I'm trying to cut as much weight as I can. When I was training in the US, I didn't think about cutting weight. Everyone there is big and strong, so I thought that dropping weight would get me killed. If you cut weight, of course you end up being smaller, right? The training sessions were murder, so my mind was set on not getting killed, and didn't think about cutting weight. I've started my weight cutting since I've returned to Japan. In the morning, I weigh 80kg. After working out, I think I'm about 1kg less. (weight limit is 76kg)

Mach on training in the US:
I wake up, I eat, I sleep. Then I wake up, I eat, I sleep.. That basically sums it up. The training sessions would take everything out of me, so I needed to sleep and didn't really want to do anything or go anywhere. I have some friends there, but we never met up so I feel bad.
Fights are cool, but the training is intense. The two months there was really hardcore. It's like I should have been given a green card (laughter).
Mach on training partners:
The heaviest guy there? About 140kg. Josh (Barnett) also came by to train too. Bob (Sapp) used to come by the gym in the olden days, but it feels like you're always going up against Bob there anyway.
Mach on fighting in the cage:
It doesn't matter to me anymore. It's all good. It's all the same anyway. I believe that if I perform like I know I can, I will get the results I want - even if it's in the opponent's arena. I did fight in the UFC about 10 years ago, but it's different now anyways. I want to end the fight quickly and go have some good food.
Mach on Aoki's loss to Melendez:
Every man is on his own. MMA is a one-on-one sport, and I'm doing MMA because I like the one-on-one competition. I'm not concerned with what others are doing especially when he's in a different weight class.

Mach on his previous comment that he may retire if he lost his next fight:
When you're in MMA, it becomes a big part of your life. A lot of things go through your head when you get to my age. I've always thought that if you can't perform to the best of your abilities, you're no longer qualified. They say that your heart rate slows down as you get older. That also means that the rest of your body slows down too. If I'm putting in 100%, 120% effort into it, but only can perform at 80%, I don't want fans to see me fight like that. I did say that this may be my last fight, but I will need time to think about it.
Mach on Nick Diaz:
He's one of the top fighters too. If you're not up there, you shouldn't be fighting. This is tough because I've always felt I was in that class. People may think differently, but I don't want to fight if I'm not at the top of my game.
Mach on his strategy against Diaz:
Strategy? I have none! It's always the same for me, but if I try to come in with a plan, I can't be myself in the ring. It makes no sense to go out and have a fight that's a boring stalemate, right?
----
The guy people have been saying all week will step into the ring with Minowa:
Looks to be a big guy, should be a tough fight.
http://www.youtube.com/watch?v=7p1XBCe96L0
http://www.youtube.com/watch?v=C7EC3...eature=related
http://www.youtube.com/watch?v=lcVILq9Ix_U
Him fighting a great talent/a promotional video
I'd say Minowa is safe for this fight. I still can't believe he beat Soko.
That is an awesome interview! very down to earth and truthful guy. Interesting to hear his personal opinions on cutting weight.
Very excited to watch the Diaz fight
Quote:
I'd say Minowa is safe for this fight. I still can't believe he beat Soko.
That is an awesome interview! very down to earth and truthful guy. Interesting to hear his personal opinions on cutting weight.
Very excited to watch the Diaz fight
Man, I hope you are right. The dude us really big though, and actually has some pop. Hopefully Minowa can bring it to the ground quickly.
- Expect the fight to be announced sometime this week.
You got any predictions on the Diaz fight?
Hopefully its good!
Tuesday, May 25


S-Girls 2010 Tournament press conference:
Also, Takeshi Ishikawa vs. Taylor "NINJA" McCorriston (USA / FCFF Featherweight Champion) announced
Rest of card:
Hiroki Shishido vs. Virgil Kalakoda
Hiroaki Suzuki vs. Tenkei Fujimiya
Kenji Kanai vs Satoru Suzuki
Rena vs. Mika
Hisae Watanabe vs. Yamada Makoto Koto
For the June 6 Shootboxing card
----
DREAM 14 CARTOON:
----
Celina standing next to Hansen after winning at Jewel's 8:
----
The names for the Sengoku Asian GP (Bantamweight) were announced today, N.O.B reported it here:
http://nightmareofbattle.com/?p=2315
The names:
Takuya Eizumi
Wataru Takahashi
Wataru Inatsu
Kyu Jin Choi
The final name is unknown
----
Card coming up:

"Lion" Takeshi Inoue vs. Hatsu Hioki (No. 8 FW)
Yasuhiro Urushitani (No. 5 FLW) vs. Ryuichi Miki (No. 6 FLW)
Willamy Freire vs. Yusuke Endo
Rumina Sato vs. Ryota Matsune
Kotetsu Boku vs. Yoshihiro Koyama
Akitoshi Tamura vs. Masakatsu Ueda (No. 10 BW)
Eduardo Dantas vs. Hiromasa Ogikubo
Shintaro Ishiwatari vs. Wataru Miki
Lion is one of my favorites.
Wednesday, May 26
Jewels 9th Ring - Lightweight GP
:
Was announced yesterday, Japan-mma finally put up the fights on his website:
The participants announced so far are:
-Saori Ishioka 9-4-0
-Mika Nagano 6-3-0
-Seo Hee Ham 4-3-0
----
And, Pancrase fights:
Middleweight King of Pancrase title fight:
Yuki Konto 52-23-7 vs. 15-17-5 Yuji Hisamatsu

Bantamweight King of Pancrase title fight:
Manabu Inoue 9-5-1 vs. 9-2-0 Seiya Kawahara
Flyweight King of Pancrase title fight:
Kiyotaka Shimizu 5-3-1 vs. 8-1-0 Isao Hirose
I really, really believe Yuki Kondo is one of the most underrated fighters.
----
Random Pic:
Fight order for Dream 14:
8. WW: Nick Diaz vs. Hayato "Mach" Sakurai
7. 88kg: Kazushi Sakuraba vs. Ralek Gracie
6. FW: Hiroyuki Takaya vs. Joachim Hansen
5. FW: Norifumi "KID" Yamamoto vs. Kiko Lopez
4. FW: Hideo Tokoro vs. Akiyo "Wicky" Nishiura
3. FW: Kazuyuki Miyata vs. Takafumi Otsuka
2. FW: Yoshiro Maeda vs. Kenji Osawa
1. OW: Minowaman vs. Imani Lee
Imani Lee was finally confirmed.
----

Thursday, May 26
Flyinpig translated interviews:
Imani Lee:
I'm totally ready. I'm looking forward getting in the ring and fighting.
This will be your first time fighting in DREAM. What's your impression of DREAM?
I've known that DREAM is a big promotion since the days I fought K-1 in America. One of my training partners, The Predator, has fought in Japan so I've always wanted to fight here too. My contract with the WWE just expired when I got the offer from DREAM. So I look forward to starting a new career. I'm excited to fight Minowaman. I heard that he is a popular fighter in Japan, so I'm honored to fight him.
Have you ever fought in a cage?
Yeah I have. I fought about a month ago. Unfortunately, I made a mistake and lost. But I'm ready this time.
Do you prefer to fight in the ring or cage?
The ring for sure. I'm still learning how to fight in a cage. But I'm ready.
How long were you signed on with the WWE?
From 2008 until the beginning of this year. A few of my matches were aired on TV.
What was your ring name?
"Pretty Boy" Nelson Roy.
What was your signature move in the WWE?
Powerslam.
Do you think you can use the powerslam in MMA?
If I get a chance, I'll try it. If I get the powerslam in, I'm sure the fight will be over right then and there (laughter).
What's your signature move in MMA?
My standup game.
What's your gameplan against Minowaman?
I just got the offer for this fight 3 weeks ago. I had other fights scheduled, so I was prepared to fight. I got some video of Minowaman's fights and have been studying him. My leglock defense is real good. I'm looking to win by strikes.
Here is his Pre-fight:
http://www.youtube.com/watch?v=38Tiu...dw&feature=sub
Minowa:

Your opponent was announced today. What's going through your head right now?
I'm happy to report to everyone that everything is set for me to go fight.
Have you seen Imani Lee fight?
Yes. I watched two MMA fights and one K-1 fight. He's around 135kg but has good footwork and quick punches and kicks. He moves well.
What do you think about fighting in a cage this time?
This will be my fourth time fighting in a cage so I think I'll start remembering what it's like once the fight starts. Even though I've been in a cage, it's my first time in a 6-sided cage. I look forward to getting a grip of the new sensation.
Did you know that he wrestled in the WWE?
I've heard that he's done football, boxing, kickboxing, pro wrestling, and MMA. It sounds like he's a good athlete.
How do you envision finishing him?
I see a few ways. But I'd rather not answer that.
What's the theme for this fight?

Minowaman Chapter 17 "Natural Stance". This time it's in a 6-sided cage. My opponent is big but also has good footwork, so it's something different this time. So my plan is to not forget my style, how I do things. So that's why I'm going with Natural Stance.
How do you feel about your fight being the first match of the night?
I'll fight anywhere on the card, but if the event organizers feel that I should fight the opening match, then I don't mind fighting the first fight. I'll have to set the mood for the rest of the night.
The man known as the "cage demon" Rusher Kimura (pro wrestler) passed away the other day. Being a pro wrestler yourself, how do you feel about stepping into the cage in the same week that Rusher Kimura passed away?

He's the originator of the cage. I've never seen video of him, but when I was a kid I saw some photos. He was absolutely the cage demon, so I want to become a demon and step into the cage.
Pre-fight interview:
http://www.youtube.com/watch?v=pTtlh...Wg&feature=sub
Yoshiro Maeda
What's going through your head two days before the fight?
I can't wait to fight. I have this nervousness, a good nervousness, waiting for fight day.
This will be your second time fighting in the white cage. Your thoughts?
It's pretty big. I won last time, so I think that the cage is better than the ring for me (laughter).
What's your impression of Osawa?
He's good at everything. He's an well-rounded fighter.
What will be the keys to victory in this fight?
I think distance. Osawa is good at using distance too, so it's going to come down to who can control the distance.
Have you watched video of Osawa's fights?
I've seen about three of his fights. He uses a lot of different kicks and his timing is very good. This fight will be different from my other fights. I think it's going to be a battle of timing.
How well do you think you control distance?
When I'm raging, no, I'm not good at it. But when I keep a cool head, I have confidence (laughter).
What does this fight mean to you?
I think this fight is a must-win for me. I plan on winning decisively.
What parts of your fight game have you improved since last time?
I need to be careful of getting caught up in the moment (laughter). In most of my losses, things are going my way at first. Then I get impatient and rush things. So this time I'll take my time. I'm sure there will be many chances, so I'll look to capitalize on one of them. Stylistically, I think this fight could either end up being really entertaining, or it could be a strange fight.
What's up next for you after this fight?
If I get by this challenge, I hope to fight the winner of one of the other fights.
Nick Diaz:
It's been about two years since you last fought in DREAM. What's going through your mind?

It doesn't seem like it's been two years. I'm disappointed that we're fighting in a cage this time. PRIDE and DREAM have always used the ring. I was excited to fight in Japan, in the ring. I'm used to the cage, so it's alright I guess.
What's your impression of Mach Sakurai?
I've wanted to fight him for the longest time. I wanted to fight someone good in Japan, so Mach is a good choice. There were some times before when we were supposed to fight, but something happened at the last minute, or I wasn't able to come to Japan, and the fight just never happened. So I'm happy that this fight's come together this time.
Do you think that fighting in a cage this time works to your advantage?
Well I have a cage at my house and at my gym. So I'm ready. I have an advantage in a cage for sure. But that doesn't mean that the result will be any different just because it's in a cage.
Since Aoki lost to Melendez, there has been an ongoing debate on whether DREAM should adopt the cage or stick with the ring. What do you think?
I think it's a mistake for DREAM to use the cage. It should stick with the ring and it's own rules. I wish they wouldn't look at what other countries are doing and follow them. Actually, I think the other countries should do what Japan is doing. A lot of the technical stuff you want to do is limited in a cage. If you use a cage, it becomes a sport, and not really MMA. If you want to see who the best MMA fighter is, the fight has to happen in a ring, not a cage. For the last hundred years or more, people have been fighting in a ring, not a cage. I don't understand why you would ignore history and use a cage. I think the DREAM guys are just following American MMA this time and using a cage, but I hope DREAM keeps doing what it had been doing and use it's own rules.
Do you feel that you are here representing the US and Strikeforce?
The media might look at it that way, but whatever. I represent my team and family.
What aspects of your fighting are you working to improve?
I'm working on everything. But I spend a lot of time on my wrestling. I train with Gilbert Melendez and Jake Shields over in Sacramento and San Francisco and I think my power and speed have gotten better. But it's just not wrestling I've been doing. You gotta work on many things.
What do you want to prove to the fans in Japan?
I want to show them that I'm one of the best fighters in the world. I'm different from other guys. I got the best coaches for grappling, throws, jiu jitsu, boxing, everything. I can do everything. I'm a real fighter. I want to show them I'm the best.
Do you think you can beat GSP?
Yeah I do.
Mach has made comments that he may retire, depending on the outcome of this fight.
I got nothing to say if he's going to retire if he doesn't have a good fight.
Pre-Fight videos:
Diaz:
http://www.youtube.com/watch?v=eod6M...layer_embedded
http://www.youtube.com/watch?v=u1hCC...layer_embedded
http://www.youtube.com/watch?v=7YCZB...layer_embedded
Hansen:
http://www.youtube.com/watch?v=Me6tc...r0&feature=sub
Celine Haga Interview
From our freinds over at Japan-mma:
http://www.japan-mma.com/2010/05/cel...interview.html
-First of, can you tell us a little bit about yourself?
55kg of energy in motion, starting to get close to a purple belt in life experience now, love the feeling of being free and independent of others. I am cursed, or blessed? With an intensity that makes me give
101% to reach the goals I set.
-How long have you been doing martial arts, and how did you get into
MMA? How did you end up with fights in Japan?
I have been doing martial arts for 3 years now – MMA for a total of 1.5 years. Started MMA because if felt like the ultimate challenge both physically and mentally.
I had no experience earlier, just trained 1 year track and field and a year of strength (that I was forced to because I was so weak my doctor told me I needed to add some muscle).
I won a bit of money playing poker and decided to invest in a Japan trip (the money lasted 2 months). During my stay I got to know Megumi and the rest of AACC. I also fought my first fight (semi-pro) in an
underground event called "Smokers".
-How did you feel during the fight with Mika? What was your tactics
before the fight, and did it go to plan?
The tactics were just to aim and hit her. I knew she was southpaw and good at takedowns, so I wanted to keep to basic boxing. One or two punches and move, to avoid takedowns. If it went to the ground the plan was to work for the best possible position. The plan was to give it everything, fight smart, not stress and have fun.
I knew this was probably the last chance Jewels wanted to give me, they were cool and asked who I wanted to fight, if I could choose. I picked Nagano. I knew I had to win against a good opponent this time
for it to matter.
The plan worked, not a 100%, but good enough.
-You had 4 losses before this fight, what had you learnt in the
previous fights that helped you in this one? Did you change something
in your preparation?

I always overestimated my opponents, and underestimated myself and it showed in my performances. I might have been a bit too eager when I went to Japan to have my first pro fight after just 1 year of grappling and 3 months of MMA training. HAHA And tapping breeds tapping, that breeds low confidence
and depressions.
But I continued to prioritize training above everything else. I chose not to give up, continue to train hard but forgot the most important aspect of the sport… The mental aspect.
Before this fight I worked harder, focused more on conditioning and self esteem. I was focusing on what I knew and tried to improve that, I got help from Miyata's coach Sean, some wrestling tips from Miyata, loads of
good training at AACC and not least from Roxanne and Kunioku.
A person I respect a lot told me that I have the technique and strength, but I lack self confidence and wasn't fighting with my heart. And the last two things are more important than the former.
-I saw Joachim Hansen in your corner, did he give you some good advice?

I actually had Mohsen (Team Hansen) and Sean Frew in my corner during the fight.
Didn't want any special advice this time, I just wanted positive energy and support. Joachim has given me loads of good advice over the last 3 years that are like tattooed in my brain forever.
I have had many sparring partners and coaches, but it is first and foremost his style and advice that will be the fundamentals in my game.
-I know you have been training a bit in Japan, how it is to train
there compared to home in Norway? What are the biggest differences?

In Norway I only train with boys that are 15-20kg heavier. Joachim and the others at Team Hellboy have used a lot of time to help me. Sparring with them has made me stronger and given me better balance, and more tolerant to pain. hahaha
In Japan I train with girls. The biggest differences are that girls are a lot more flexible and agile/quick, that increases the stress factor a lot of times.
There are more training opportunities for me in Japan, since there are a lot of girls my size doing MMA/grapping.
-There is not a lot of non-Japanese fighting in Jewels on a regular
basis, you have had 4 fights there. How is it being the only
non-Japanese, do you get extra attention/support?

I think I mix well?? Don't look typically Norwegian… hehe
I feel like Japan is my second home! Have lots of good friends here and enjoy it a lot.
I don't receive more attention than the other fighters here. To fight in Japan is pretty special, the biggest have been jetlag, communication (very few speak English) and the culture. But when you settle in, it's the martial arts' Shangri-la in my opinion.
The support I have received is first and foremost from my friends here and from Team Hellboy (that have always supported me) I am so lucky and grateful for having such good teammates.
-What can we expect from you in the future? If you could choose, who
would be your next opponent?
I am going to continue training, and as always never give up!
This is the point of no return for me, I have finally won the battle inside, and I am ready to give my next opponent hell. My next opponent is anyone, hopefully at 52kg. I am ready!
----
Little Tiger:
DREAM 14 weigh-ins

Miyata's crotch
Diaz arrives late, strips off jeans
Saku draws laughs
Wicky
Tokoro
Kid
Maeda
Some more:
Imani lee on the double
Dream weigh-in results:
8. WW: Nick Diaz 76.0kg vs. Hayato "Mach" Sakurai 76.5kg
7. 88kg: Kazushi Sakuraba 87.4kg vs. Ralek Gracie 86.5kg
6. FW: Hiroyuki Takaya 65.0kg vs. Joachim Hansen 65.0kg
5. FW: Norifumi "KID" Yamamoto 59.8kg vs. Kiko Lopez 62kg
4. FW: Hideo Tokoro 62.8kg vs. Akiyo "Wicky" Nishiura 63.0kg
3. FW: Kazuyuki Miyata 64.4kg vs. Takafumi Otsuka 64.2kg
2. FW: Yoshiro Maeda 60.7kg vs. Kenji Osawa 61.0kg
1. OW: Minowaman 88kg vs. Imani Lee 150kg
----
Daniel reports why Kiko lopez was mysteriously absent last night
Quote:
Team Quest's Federico "Kiko" Lopez, who is set to face Norifumi "KID" Yamamoto at Dream.14, missed weight Friday at the East 21 Hotel in Toyocho, Tokyo. Lopez came in 2kg (4.4 pounds) over the contracted 60kg limit but will be given time to make the weight this afternoon. All other fighters were on weight.

While it was not publicly announced earlier, of the five "featherweight" bouts on the card, only one is actually being fought at Dream's 63kg limit. The rest must be considered catchweight bouts and are being contested from 60 to 65kg. No reason was given for the weight changes.

Strikeforce welterweight Champion Nick Diaz was late for the weigh-ins after a miscommunication regarding the start time and some problems his team encountered with the Tokyo Subway system. Diaz weighed-in about 20 minutes late without incident.
----
-----

Another Daniel herbertson interview on mach:
Daniel Herbertson:
Welcome back to Japan. How was the flight back?
Hayato Sakurai: The service was disgusting. I got hit by a stewardess. I don't know why but I wasn't treated like a normal customer. I don't know the reason. Do I look weird? Is that why I got hit?
A stewardess hit you?
Actually I got hit by some guy and I got ignored by a stewardess on the flight. I left my bag on a seat and went to the bathroom but someone took my bag. I asked where it was and for security reasons, they took my bag away. They asked me to show them my passport and I don't know why but as they gave my bag back they hit me for no reason. That was the first time I've been hit on a flight.
How was your training camp with Matt Hume in the States? I hope it was more positive.
Everybody was kind of like a dinosaur. It was kind of difficult for me to train with huge guys if I lost too much weight. I was trying not to get killed by the dinosaurs so I decided to lose the weight when I came back to Japan.
You have to train hard there otherwise you will get killed. I think I'm becoming stupid because my brain has been damaged. I forget things a lot and I cant remember things any more.
When this fight was announced you said you were going to retire if you lose. Is it there something special about this fight for you or is it just time?
O. L. D.
... What's that?
Old! (laughs) Really though, it's so many things. I don't want to become stupid from being punched too much.
Are you really concerned about it? You have mentioned that a couple times now.
Now, I'm OK in conversations like this but in the future, I don't know if I'll be able to hold conversations any more.
I have always thought about retirement but it's not everything to me. At this age though, I need to think. I've been punching opponents since I was 17. If I can't show my best then I probably need to quit. I've been thinking that for a long time. It's just a decision that I need to make. My cardio is getting worse as I get older and so is my athletic ability. I try my best in training, 100 percent or even 120 percent. but if I can't show 100 percent in the fight then I need to think about retiring. I said that if am going to retire if I lose but I'll probably need to think about it later.
If you win this fight with Diaz and don't retire...
I can win you know!
No, I'm not saying you can't win. If you decide to continue fighting, what would you like to achieve or do you have any goals left in your career?
There is so much I want to do. There are so many things that I can achieve when I'm fighting and so many things I can achieve when I'm retired.

So in your fighting career, what do you want to achieve?

A lot of things.
Will you be staying at welterweight or will you be going back down to lightweight again?
That's a totally different subject!
But you have a lot of history with lightweight fighters. Is there unfinished business there for you?
You're funny! But yeah, I want to do that. If I continue my career I'll go back down in weight. I was defeated by Gomi... but actually he isn't that good any more is he?

Where do you get your motivation to continue fighting?
I don't want to get beaten up by my opponent. I have to try to beat them up before they beat me up.
If you don't fight though, you won't get beaten up. What is your motivation for taking a fight in the first place?
I've never thought about that... (laughs)

Well why did you start fighting when you were young?
I felt like rebelling against society.

What didn't you like? What were you rebelling against?
Well what do you think, could I be a businessman?
Perhaps not...
I just don't like the way things are. I just like to fight, that's it. I just love fighting. I wanted to kick somebody, punch somebody or choke somebody.
When did that start? In school?
I was beaten up by some of the seniors at school so I wanted to do it too. When I did it though it was a huge problem for some reason. Me and Michi (Michihiro Omigawa) went to the same school and he got suspended.
You were friends in school?
Yeah, and Kazuyuki Miyata too. He was in the same grade in the next class but he never came to school because he was at pa*****o (a Japanese form of gambling) all the time. He was in the wrestling club and he would only ever come to school after classes to train wrestling. I never saw him in classes actually.
But anyway, at that age I think I just wanted to explode.
What was it about that school (Tsuchiura Nihon University Secondary School) that made so many top fighters?
Practice was very, very strict. My teachers would beat me to death. The freshman were all beat up by the seniors. There are so many famous fighters from there now. Like (1988 Wrestling Gold Medallist) Takashi Kobayashi.

Where you training with those guys then?
No, I started at Kiguchi Dojo. I didn't know them through fighting then really. Omigawa rented a room near the school and me and Miyata used to hang out there.
You three have all gone your separate ways now. You never train together?
When one of us are in need, we will help the other out.
Just before you went to the UFC you were in a car accident. What was that like?
It was horrible. I had two herniated disks and a broken arm. I was in incredible pain.
What was recovery like? Do you think that it affected your career.
It was really very bad but it was easier to recover when I was younger. Now that I am older the injuries take a lot longer to heal.
Looking back on your career, do you have any favorite fights?
I like them all. They were all fun.
Even the losses? How about the fight with Akihiro Gono on New Year's Eve. What was that like?
I don't like the losses. I deserved that.
Why?
Strategy wise he was superior. We couldn't disclose everything, but I was injured. Although, I think he was injured too. I was exhausted going into that fight. My conditioning wasn't there.
Part 2

What was the injury? Was that the cause of your conditioning problems?
Yeah, once I got injured I couldn't recover because I had to keep training for the fight. I just had no time to rest.
So we shouldn't take that fight as an indication of your current abilities then? That performance isn't the reason you are considering retiring?

I was defeated by Gono and I was defeated in the previous fight as well so my motivation was really low. Why are you so concerned with me retiring?
You said that you were going to retire if you lose, I want to know how serious you were with that comment. You are one of the legends of Japanese MMA so I think it is important.
I can continue to be a legend after I finish fighting too. I want to create a new generation of fighters, but I can't do that while I am fighting. I'd need to focus myself 100 percent on it. I am one of the people who made MMA big, but I have started to lose recently so I am losing my motivation
I really haven't decided if I will continue but my performance in this fight will definitely be an indicator for me.
If I can't be there, in great condition in the fight and I can't show my best, then I would rather show nothing at all. I've been at my peak for a long long time so I know my body. I don't want to be ordinary. If I become ordinary, then I don't want to fight.
What are your plans after you finish fighting then? If you are thinking about retirement you are obviously thinking about what you want to do after you finish fighting.
(In English) Anything, I'll be fine. Something fun! Everyday dancing, singing, alcohol!
Do you want to stay within the MMA community?
Yeah. You know in the past, there was no MMA community in Ibaraki. There is Kawajiri now, but when I started my career there was nothing. But I've become huge in this business so I would like to create something here to help grow the sport and develop up and coming MMA fighters.
Is there a problem with Japanese MMA that you think you need to help with?

Of course! Why is Aoki the only good, young fighter in Japan right now? Aoki is the only young fighter who has distinguished himself and the rest are all old guys. Look in America, there are so many young guys. In Japan, it's just Aoki. How many more years can the old fighters carry Japan?
I'm already old and most of the guys are in their 30's already. There is no one in their 20's who is good.
Aside from Aoki, no one impresses you?
There's no one! Who do you think is good?

How about Katsunori Kikuno or Takafumi Otsuka?
Kikuno? How old is he?
28.
Hmm... That's it though! Before, it was the other way around. All the the good fighters used to be young. Now they are all old and no one has replaced them.
There has to be some program or campaign to create new fighters like The Ultimate Fighter for the UFC. There is nothing to develop fighters. The Ultimate Fighter is really a copy of an older Japanese boxing TV show, and we need that again in Japan for MMA otherwise the level difference between Japan and the rest of the world will become even worse. Japan is going to become weaker and weaker.
You are going to try to start something like that?
I do what I can. I have two gyms. I'm hoping to help fighters make it big. Each person has to work within their own abilities. While I am fighting I am restricted with what I can do but it is not just me, everybody has to help develop this sport. I've had a lot of fights
You know, Randy Couture is older than me but I've had a lot more fights. Everyone says Randy Couture is a great fighter there is no way he could reach the amount of fights that I've had. I have a lot of experience.
You seem frustrated by Japanese MMA.
Of course I am! It's hard for me to speak out loud about this but of course I am! What is with these guys who come from other sports and get so much money to fight. Three times as much money as any MMA fighter! If the MMA community has money like that to spend, they should be spending it on young fighters. Too many young MMA fighters cannot spend the time they need to on training because they need to work to support themselves and that takes too much time away from the gym.
If MMA has so much money for those people from other sports they have to spend it on the younger fighters.
For example, you know that girl Ai Fukuhara? The table tennis player? She is really big in the table tennis world. It would be like her going into tennis and getting three times as much money as Maria Sharapova. But then as soon as she gets that money she quits tennis and goes back to table tennis. You know what I mean?
That's what's happening recently. MMA isn't a part time job for other martial artists.
Are you talking about Judo? Like Satoshi Ishii?

Yes. Ishii, I mean what's that!? Even if he is a gold medalist, why do MMA organizations need to spend so much money just on one fighter? Even if he is good or bad, there are so many more young fighters with real passion and talent. We need to grow all fighters from scratch. Ishii isn't at a professional level but his pay is higher than anyone's.
So you think there should be lower pay for the stars of the sport and that the money should be spread more evenly?
No, the problem that I see is that judo and MMA are totally different sports. For example of GSP came to Japan to fight, then of course it is ok to spend that kind of money. But judo is a completely different sport, why are we investing so much money in a different discipline. This is the current situation of Japanese MMA. We will probably have table tennis players in MMA soon!
They get 10 times more money than anyone else and then disappear.
So you don't believe that we can find fighters in other martial arts?

If they are really trying their best to succeed in MMA, then it's OK but I don't see that with Ishii. If all those guys from other martial arts are looking at MMA like it is something that anyone can do, then it really degrades MMA.
How about Hidehiko Yoshida? He was a crossover athlete from judo.
He did his best and had some great fights but Yoshida is leaving MMA and going back to judo now. It is really a shame. We might as well start spending billions and bring in TV stars and actors to fight that even you could beat up.
But doesn't the sport need sponsors and promotion? For that, it needs names and it needs to get people interested. You don't think it's important?
But why are they spending that much money on these other people. That's why Japanese MMA is at this level now. Why can't those famous names be real MMA fighters?
It's a waste of time. It's stupid, I can never hope to get as much money as those people who come in from the outside. If you have that much money, then you have to spread it around to help people make a living in this sport.
Some prof. weigh-in photos:
----
Fights are on tonight at 3am est.
I will be here.
attention whore
Join Date: Oct 2006
Location: Branson, Missouri
Posts: 14,445
Holy crap, Wicky looks JACKED! Excited to see him & Tokoro fight. I expect crazy stand-up from Wicky, and crazy ground shit from Hideo. Best of both worlds, yo.

Also, lol @ Kid having salt & pepper hair and a shriveled up face in that cartoon.
---
Quote:
Holy crap, Wicky looks JACKED! Excited to see him & Tokoro fight. I expect crazy stand-up from Wicky, and crazy ground shit from Hideo. Best of both worlds, yo.

Also, lol @ Kid having salt & pepper hair and a shriveled up face in that cartoon.
I have to root for lil' Volk. War Tokoro.
Those cartoons are always funny.
You got picks bruh?
ZST swat 6/6
Welterweight single match: Watanabe Sadayuki (Ribasarujimu) vs Hiroshi Takahashi (Keio Blue Sky)
Welterweight: Ogura Masato (ZFC Oi)
vs 小林 裕(U-FILE CAMP 登戸) Kobayashi Hiroshi (U-FILE CAMP Noborito)
ライト級シングルマッチ <br> 川名 雄生(しんわトータルコンバット)
Lightweight single match
Kawana (Totarukonbatto mythology) vs
佐々木 誠 (心温塾) Makoto Sasaki (Keio warm heart.)
Lightweight single match rule: 浩Hutatsumori Takashi (Kashiwa Palaestra)
vs 中村 一人 (パラエストラ草加) Kazuto Nakamura (Soka Palaestra)
フェザー級シングルマッチ 阿部 剛卓(パラエストラ松戸)
Featherweight single match <br> Takashi Takashi Abe (Matsudo Palaestra)
vs 林田 一城 (MSD護心道) Hayashida Kazuki (MSD way heart protection.)
フェザー級シングルマッチ <br> 服部 紀彦(ZFC 大井町)
Featherweight single match: Hattori Norihiko (ZFC Oi) vs
内田 龍介 (グランドスラムKREW) Utita Riyuusuke (Grand Slam KREW)
フェザー級シングルマッチ※GT-Fルール <br> 金子 陽一(ZFC 大井町) ※
featherweight single match rule: Kaneko Youiti (ZFC Oi) vs
竹内 正武 (U-FILE CAMP 調布) Takeuti Masatake (U-FILE CAMP Chofu)
フェザー級シングルマッチ※GT-Fルール <br> 青木 礼(ZFC 大井町) ※
featherweight single match rule: thank Aoki (ZFC Oi)
vs 平井 一民 (アカデミアAz) Hirai Kazutami (Academia Az)
バンタム級シングルマッチ <br> 竹中 慎(P's LAB 東京)
Bantamweight single match <br> Takenaka Makoto (P's LAB Tokyo) vs
飯塚 文貴 (リバーサルジム横浜グランドスラム) Iizuka Takahumi (Yokohama Grand Slam Ribasarujimu)
Three singles matches bantamweight: Ching Hisamoto (mixed martial arts meet military family.)
vs 小森 祐史 (パラエストラ吉祥寺) Komori Yuuzi (Kichijoji Palaestra)
----
Daniel Herbertson Saku interview:

Have you seen any footage of Ralek?
I only watched it once but I intend on watching it more.
What kind of impression do you have towards him?
Sorry, I was watching the footage while I was getting a massage so I didn't really give deep thought to it, but I saw him fighting Shibata and I thought he was a big fighter. His height is about 10 cm taller and his weight, there is a big difference too. Although the agreement is for 88kg, because the weigh-in is one day in advance his weight will go back up and that is something that I need to think about.
What is the point of your match with him?
The point ... well I won't really know until the fight starts.

Is the thing that you are concerned about the most the physical difference?
Well technique wise too but physical difference is something that I am concerned about. I just had an interview earlier and I answered about that if there is a three-kilogram difference then that requires a lot of power and endurance and then I'll lose stamina. It's something that I'm concerned about so I need think about a how to tackle this and to figure out what to do. It's something I need to think about during the fight as well.
He came here right? Isn't he big?
How much do you weight?
85ish...
So you won't be cutting weight?
No, but I try eating a lot and maybe I'll gain one kilogram or so. But I need to weigh myself tomorrow and see what happens. I think my current condition and my weigh-in day condition would be different. Normally I weight around 85. At the most maybe 87 and I can go as light as 84 or even under sometimes.
How about your opponent being young. Is that a concern?

Not so much.
Last year in October was your last fight. How is your condition since then.
It's normal, I haven't had any big injuries since then. I had minor things but no major injuries so it's normal.
Your opponent is from the Gracie family. How do you feel about this?
I don't really feel anything in particular.
I have a question actually if you don't mind. Are Apple computers good because I see two right in front of me. Is that because they are good?
Well, I think so. I use Apple too.
Who uses Apple? Whoa! About half of you! That really makes me debate whether I should buy Apple or Windows. Who uses Windows? How about the analog handwriting people? Who doesn't use any PC and hand-writes their memos? Nobody ...
OK, thank you very much for that input.
----
Fighters for outsiders 6/20 card:
Neo¤¯¤Þ¥Ú¡¼¥¸:6/20¡¡THE OUTSIDER Âè12Àï¤ÎÇ»¤æ¤¤Áª¼ê¤Î¾Ò²ð¡£ - livedoor Blog¡Ê¥Ö¥í¥°¡Ë
Takeo Shiina

- Wrestler(?)
Yanagita Maki

- Judo/Kickboxing
Tani Hiroyuki

- Judo
-Good ground fighter
Hirokawa Takeshi
- Kickboxer
Koguti Shintarou
- Drunken master, 5 years
- Karate
Shinsuke Kobayashi Tsutomu
Quote:
Martial Arts History
数日 Few days
HIBIKI

Quote:
South Japan Brazilian Jiu-Jitsu purple belt Palaestra Copa judo 10 years
2009青メジオ・アブソ 優勝グラップリング・オープントーナメント鹿児島80kg 優勝 Grappling Open Tournament champion Blue Medio Kagoshima Absolute championship 2009 80kg
Iida Takeo

- Judo
- Kickboxing
Takuya
- Karate
Mamiya Akira

- Street-Fighting(?)
Dream 14:
http://www.justin.tv/emmatv98
Mach interview translated by flyinpig
-----
Can you give us your thoughts on the fight?
Well, since I fought Aoki, it seems that luck hasn't been on my side. It's terrible. I know that when things aren't your way, nothing seems to go your way. I guess that's how it goes.
-----
You got caught in an armbar along the fence. Can you take us through what happened there?

My usual way to get out of it is to spin out of it. But I couldn't because I got caught up in the fence. The difficulty of the gage really became apparent. The gage is...(sigh)...yeah I underestimated it. I shouldn't have fought him on his turf (the cage). This ain't the UFC.
-----
It looked like a fight you could have won. Did you feel that you could have won?
No matter how you look at it, I was getting in punches and kicks...punches actually. I was able to pressure him enough to a point where he couldn't get his usual punches off. But the difficulties of a fight came out there and that's how it goes. That's where I needed to win it. I somewhat underestimated it. The gage and the ring are totally different. (sigh) The gage is...I am used to fighting in the ring. I haven't fought in the gage since the Matt Hughes fight. He (Diaz) is a different type of fighter compared to Matt Hughes and it was difficult. But he may have been to armbar me even if it wasn't in the gage. Just like New Year's Eve. Was it New Year's Eve? Losing without taking one hit to the face is frustrating. (sigh) I'm not physically tired, but mentally tired.
-----
After the fight, you went over to the referee. Were you protesting something?

No, I wasn't protesting anything. I was apologizing (laughter). Saying sorry. The momentum and flow were going my way and I messed up. He was the closest Japanese person to me.
-----
Would you want to fight in the cage again?
The gage? Never again. (laughter) It's boring. I don't want to try new challenges at this point. The ring is more exciting. You can move around more. For me. You're walled in the gage, so it makes it difficult to move around like you can in a cage. Not only in my fight, but you also saw in the other fights how it becomes a stalemate alongside the fence. That's a waste of time. It becomes another way to fight I guess and that would be something new and..(sigh)...I'm really not good anymore.
-----
Before the fight, you mentioned retirement. Can we say that you have retired from fighting in the cage, but will continue to fight in the ring?

Hahaha! No one knows what the future holds. I think I just have bad luck right now. Well I say luck, but you could say it's my ability. I thought that was a fight I could've won today, but then it turns out like that. I'm upset at myself. I not sure I can beat anyone anymore.
----
Shooto weigh-ins:
[/B]
Lion x Hioki
Rim Virami chicane x Endou Yuusuke
----
http://www.youtube.com/watch?v=b_sAe...layer_embedded
http://www.youtube.com/watch?v=qFgOW...layer_embedded
Shooto Results:

Lightweight World Title Fight:
8.
Hatsu Hioki
Def. "Lion" Takeshi Inoue by Decision 2-1
Welterweight World Title Fight:
7.
Willamy "Chiquerim" Freire
Def. Yusuke Endo by Decision 2-1

Bantamweight World Title Fight:
6.
Yasuhiro Urushitani
Def. Ryuichi Miki by Decision 3-0
5. 62kg:
Rumina Sato
Def. Ryota Matsune by KO Round 2 0:21
4. Feather:
Masakatsu Ueda
Def. Akitoshi Tamura by Decision 3-0
3. Feather:
Eduardo "Dudu" Dantas
Def. Hiromasa Ogikubo by Rear-Naked choke Round 3 1:21
2. Welter:
Kotetsu Boku
Def. Yoshihiro Koyama by Decision 3-0
1. Light:
Shintaro Ishiwatari
Def. Wataru Miki by Decision 2-0
Some pics:
Ryota Matsune
Willamy "Chiquerim" Freire
Hioki
Takeshi "Lion" Inoue
Hatsu Hioki vs Takeshi "Lion Takeshi" Inoue
From Shiroobi
Daniel Herbertson report from Shooto:
TOKYO, Japan -- Despite DREAM's strong featherweight showings this weekend, the best action in that division was to be found in Shooto at JCB Hall. In one of the best fights of the year, Hatsu Hioki captured "Lion" Takeshi Inoue's 143lb Shooto World Title after three rounds of back and forth striking action.
Nagoya's Hatsu Hioki is arguably one of the most talented ground fighters in all of mixed martial arts but has often been the victim of terrible game planning, ignoring his ground acumen and instead electing to stand and trade instead. A dangerous striker like the defending 143lb world champion "Lion" Takeshi looked like a dangerous matchup for Hioki as Lion's power can easily put an end to anybody's night.
Lion came at Hioki right from the opening bell, rushing in with punches and attempting to end Hioki's night early. Hioki stayed in the pocket though and slipped Lion's looping fists to land counters which rocked the defending champion. Lion recovered quickly and traded punches and kicks in the center of the ring but found himself having problems getting past Hioki's parries and range.
In the second, Lion started to find his mark with the jab, drawing blood from Hioki's nose and reddening his eyes. Hioki's combinations with his hands, lengthy kicks and knees from the clinch kept Lion busy but it was Hioki's jab that had the champion truly on the back foot.
Finally in the third round, Hioki attempted with earnest to take the fight to the mat but lacked the power in his shot after two solid rounds of standup action. Abandoning his attempt to bring the fight into his own domain, Hioki tried to re-establish his jab but Lion found his mark with this right and backed up the challenger. In the final minutes, desperation filled the arena with a divided crowd sensing that the title may be up for grabs depending on what happens from here. Standing in the center of the ring, both fighters stood toe-to-toe throwing combination after combination to the face and body, attempting to bring each other down. At the end of the bout, Lion's nose and mouth finally started to show signs of the war, but with his performance in the final round it was not clear who the judges were going to side with.
The judges were split, one for the champion and two for the challenger, fulfilling Hioki's career goal of capturing a Shooto World Title and indicating that perhaps his standup game has finally caught up to his talent on the canvas.
Willamy "Chiquerim" Freire took exactly five minutes to dispatch Yusuke Endo in their first outing but the rematch was much closer. Defending his Shooto 154lb title, Freire and Endo both had trouble establishing their dominance in the first round, struggling to get through each other's defense. After being docked a point for a low blow in the second, Freire dropped Endo with a right causing Endo to fall to the canvas and turtle to avoid a barrage of blows. Endo was in trouble of being stopped but was ultimately saved by the bell and due to the point deduction, drew the round.
The third was to be the deciding round and Endo gave up a dominant position early after missing with a single and instead getting taken down himself. Freire maintained his control on top and hammered away at the challenger's head for the rest of the bout and easily winning the round.
Despite the strong finish, one judge didn't it see that way and Friere was awarded a split decision to retain the belt. Post fight, Freire returned his title informing the audience that he has signed an exclusive promotion with a major promotion, stopping him from being able to defend his Shooto 154lb title.
Ryuichi Miki held a 0-1-1 record against Yasuhiro Urushitani and going into this 123lb title fight hoped to even the score with the counter striker. It was not to be though, over the course of three rounds Urushitani was able to consistently land the better punches and counter Miki whenever he would over commit in desperation. It was a comfortable win for the new champion who took the strap which was vacant after Shinichi "BJ" Kojima returned the title in March, but a long time in the making. Due to his passive-aggressive countering style, Urushitani has racked up an astonishing six draws which has halted his progression in the division and led to some difficult matchmaking situations for promoters.
"The Shooto Junkie" Ryota Matsune had been retired since 2006 due to recurring knee injuries but his return to action was spoiled in brutal fashion by Joe Silva favorite Rumina Sato. Through the first round Matsune was attempting to shake out the cobwebs of inactivity, working his boxing but unable to keep to get into his rhythm due to the threat of Sato's knees from inside. Early in the second stanza, a knee from Sato found the mark and laid out Matsune and Sato dived in with punches to bring about the referee stoppage at only 21 seconds of the second round.
Masakatsu Ueda returned to form after a shockingly losing his 132lb title to Shuichiro Katsumura in March. Ueda showed off his new found striking ability in his decision win against former 143lb champ and WEC veteran Akitoshi Tamura.
Eduardo Dantas confirmed his status as a top prospect at 132lb with a third round submission over Hiromasa Ogikubo. Dantas was looking dangerous to then champion, Masakatus Ueda in his last venture to Japan in July 2009 but his inability to play to Shooto's rules cost him points and ultimately the decision. Dantas was in danger of suffering the same fate against Ogikubo, grabbing the ropes, hitting the back of the head and landing a low blow which had the referee close to calling the fight a DQ. He managed to play fair long enough to survive and a secure a rear naked choke in the third round however. The 21 year old is sure to have a bright future if he can tame his aggressive game to work within the confines of the rules.
Matches for July 16th's "Way of Shooto 4" were announced, Shooto 115lb World Champion Rambaa "M-16" Somdet will make his first title defense against Hiroyuki Abe, Taiki Tsuchiya will face one of Japan's top prospects in Issei Tamura and Kenichiro Togashi will also be on the card.
----
Kikuno Married: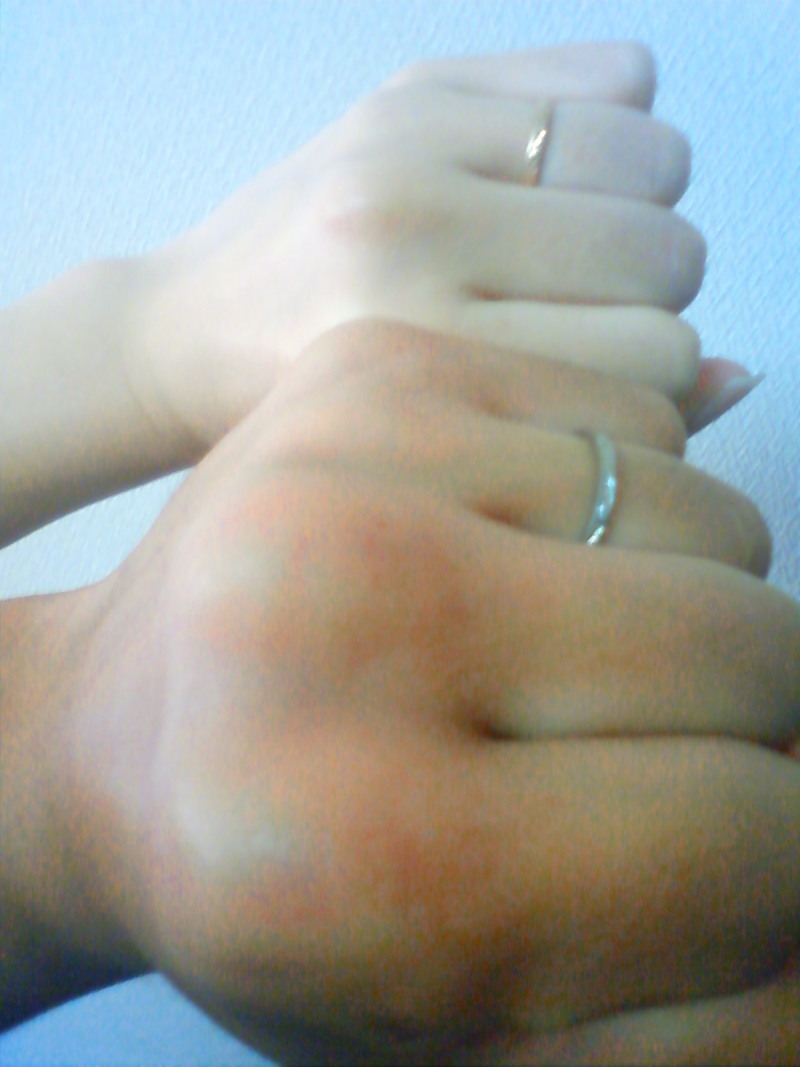 You can now download the Lion fight:
http://www.mediafire.com/?qnerjmjqytn#1
http://www.mediafire.com/?hdqjzwtitjn#2
I was going to download them, but I'm sure someone will upload them onto youtube.
----
DEEP 48 impact:
DEEP 48 IMPACT
Date: July 3rd, 2010
Place: Differ Ariake in Tokyo, Japan
Jung Hwan Cha vs. Shigetoshi Iwase
Tatsunao Nagakura vs. Tomoya Kato
Yoshiki Harada vs. Masato Kobayashi
Hiroshi "Iron" Nakamura vs. Tomohiko Hori
Kazuhisa Tazawa vs. Makoto Something
Yuki Ito vs. Yasuhiro Kawasaki
Sadao Kondo vs. Kosuke (Kosuto) Umeda
Yusuke Kawaguchi vs. TBA
Eiji Ishikawa vs. TBA
- all from
N.O.B
----

Kawajiri x Aoki Promo:
[yt]RBl3zN_TiN0&feature=player_embedded[/yt]
http://www.youtube.com/watch?v=RBl3z...layer_embedded
----
K-1 Max announcement on June 3rd - From N.O.B
:
Expect a live press conference and all that usual jazz. I cannot wait.

Japan-mma is reporting the Deep 48 Impact card:
Announced:
Shigetoshi Iwase 9-12-3 vs. Jung Hwan Cha
Seigo Mizuguchi 7-6-0 vs. 5-1-1 Kazuhisa Tazawa
Tomohiko Hori 11-8-5 vs. 9-4-5 Hiroshi "Iron" Nakamura
Tatsunao Nagakura 5-1-0 vs. 8-2-0 Tomoya Kato
Yuki Ito 8-5-9 vs. 5-1-1 Yasuhiro Kawasaki
Sadao Kondo 5-0-1 vs. 8-8-3 Kosuto Umeda
Yoshiki Harada 3-0-0 vs. 4-1-0 Masato Kobayashi
Participants:
Yusuke Kawaguchi 11-2-0
Eiji Ishikawa 19-16-2
Satoru Kitaoka public practice for next fight:
Ishii bout declared no-contest:
Quote:
The X-1 promotors have overturned the Satoshi Ishii DQ loss to Myles Tynanes to a no contest due to a referee miss. When Ishii dropped Myles at the end of the first round the gong wasn't noticed and the referee acted too slow (he didn't step in-between immediately following the gong sounding).

When Ishii heard this he didn't really care much. In his mind he won the fight. He showed growth in his stand-up game and that has increased his self-confidence. The fact that he KO'd his opponent is bigger than the result being overturned.

Ishii's next fight will most likely be at one of the first two shows (July 10th and 18th) of new MMA promotion Impact FC in Australia. Fighters such as Paulo Filho and Josh Barnett are scheduled to compete at those events.

The plan after that is a possible fight at SRC14 which takes place on August 22nd at the Ryogoku Kokugikan in Tokyo, Japan. According to SRC director Mukai, Ishii's participation at SRC14 depends on if they can find a suitable opponent for him in time. It has to be someone who has some degree of familiarity with the Japanese fans or else his Japan return might come at a later event.
- From N.O.B
----
The last Shooto event has some fights uploaded:
http://nightmareofbattle.com/?p=2601
----
6/5 Pancrase Passion Tour 5 - Results:
Main-Event: Welterweight King of Pancrase title fight:
16. Kengo Ura Def. Keiichiro Yamamiya by MUST decision 2-1 (all judges score it 30-30)
15. Light:
Satoru Kitaoka
Def. Jorge "Jorjao" Rodrigues by Decision 3-0
14. Light:
Eriya Matsuda
Def. Yoshifumi Dogaki by TKO Round 1 3:34
13. Feather:
Masaya "J-Taro" Takita
Def. Shigeyuki Uchiyama by TKO Round 2 2:57
The doctor stopped the fight after, it sounds like part of Uchiyama's ear fell off!
12. Fly:
Ryosuke Tanuma Def.
Takuya Eizumi by Decision 3-0
11. Bantam:
Takumi Murata Def.
Ryota Sasaki by Decision 3-0
10. Light-Heavy:
Yuhei Fukuda
Def. Jason "Mutant" Symak by Armbar Round 1 4:44
9. Fly:
Yuichiro Yajima Def.
Narongchai by Armlock Round 1 2:15
Neo-Blood Tournament Semi-Finals:
8. Light:
Katsunori Takahashi Def.
Junichi Ota by KO Round 1 1:39
7. Light:
Jyuntaro Ami Def.
Keigo Hirayama by Decision
6. Feather:
Motoshi Miyaji Def.
Kensaku Nakamura by Triangle choke Round 2 0:42
5. Feahter:
Masakazu Takafuji Def.
Hiroshi Tomita by TKO Round 2 0:13
4. Bantam:
Yuki Uejima Def.
Shoko Sato by Decision
3. Bantam:
Motonobu Tezuka Def.
Yuta Numakura by Decision
2. Fly:
Yoshihiro Matsunaga Def.
Go Yamanaka by Decision
1. Fly:
Hiroyuki "Katsuo" Nakajima Def
. Daichi Kitakata by Decision
- From Japan-mma
----
DEEP results:
Match Winner Loser Method Round Time
1 Sho Nonaka Naoyuki Kato Draw 2 5:00
2 Yusuke Kagiyama Doo Ho Choi Decision (Split) 2 5:00
3 Koji Nakamura Taro Kusano Draw 2 5:00
4 Ryosuke Komori Nobuhiro Yoshitake Submission (Heel Hook) 1 0:24
5 Yusaku Nakamura Yuichiro Shirai KO (Punch) 1 2:55
6 Yasuaki Kishimoto Un Sik Song Decision (Unanimous) 2 5:00
7 Young Choi Katsuyori Shibata Decision (Unanimous) 3 5:00
8 Seichi Ikemoto Naoki Matsushita Decision (Majority) 3 5:00
----
ZST results:
Match Winner Loser Method Round Time
1 Hiroshi Takahashi DEF Sadayuki Watanabe KO (Punch) 1 1:05
2 Fumitaka Izuka DEF Shin Takenaka Draw 2 5:00
3 Ryusuke Uchida DEF Norihiko Hattori TKO (Doctor Stoppage) 2 3:23
4 Yusei Kawana DEF Makoto Sasaki Draw 2 5:00
5 Keizo Hisamoto DEF Yuji Komori Draw 2 5:00
6 Yoshitaka Abe DEF Kazuki Hayashida Submission (Kimura) 2 3:46
----
John Cena in Japan tour:
----
M-1 SELECTION ASIA FINAL 2010
----
6.6 SB GirlsS-cup 2009 champion RENA & Valkyrie feather weight champion Vhajime & Hisae Watanabe

:
Shinya-Kawa Training video for Dream 15:
[yt]VWg270HCB-o&feature=player_embedded#![/yt]
Shootboxing results:
Hiroki Shishido
def. Virgil Kalakoda, KO rd. 3
Satoru Suzuki
def. Kenji Kanai , DEC
Tatsuya Kusakabe
def. Fushimi Kazuyuki, KO rd. 3 to win the Young Caesars tournament
Hiroaki Suzuki
def. Tenkei Fujimiya, Split DEC
RENA
def. MIKA, DEC
V Hajime
def. Ikue Tanimura, DEC
Hisae Watanabe
def. Sumie Yamada, DEC
Takeshi Ishikawa
def. Taylor McCorriston, DEC
Takeshi Shimada
def. Sakimura Xiaodong, DEC

Shigeyuki Uchiyama's Ear Torn Off in Pancrase:
Pancrase 2010 passion tour 7/4/2010:
Sengoku 13: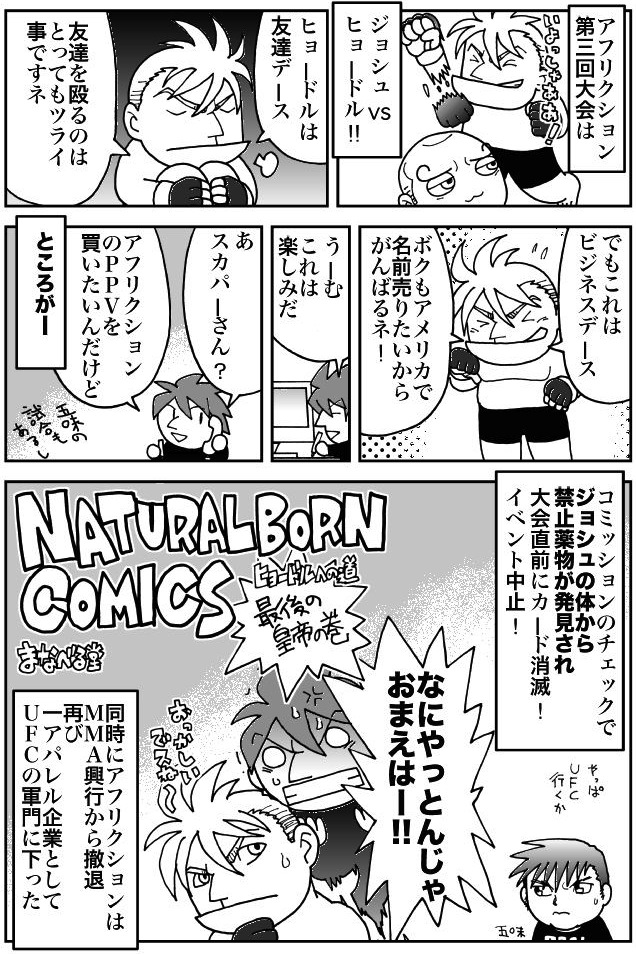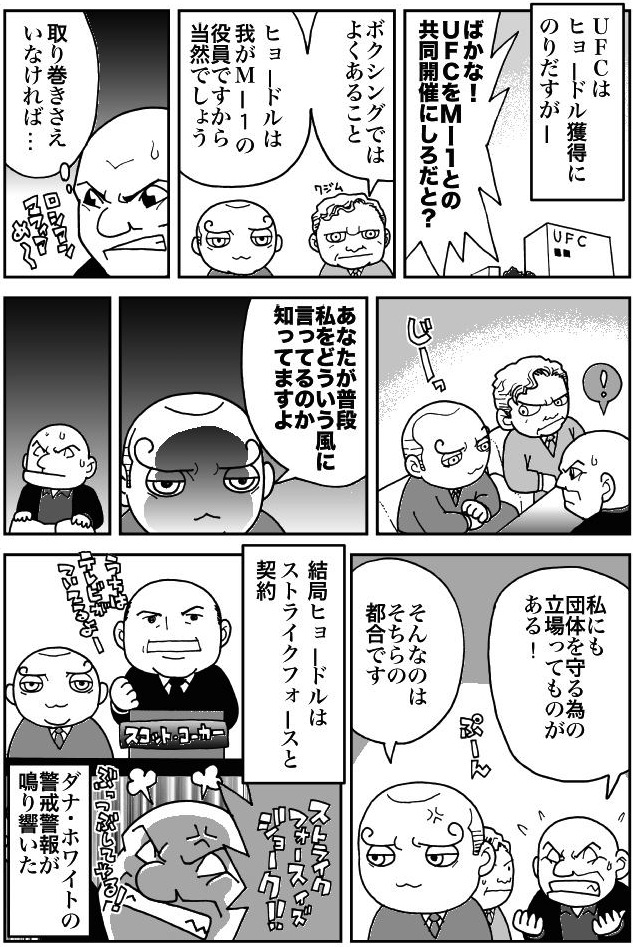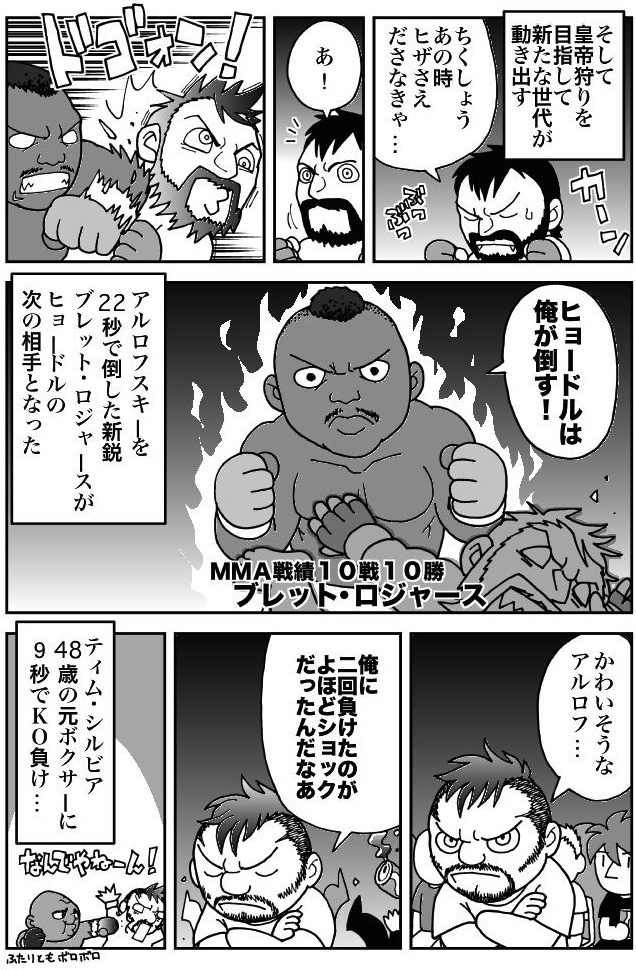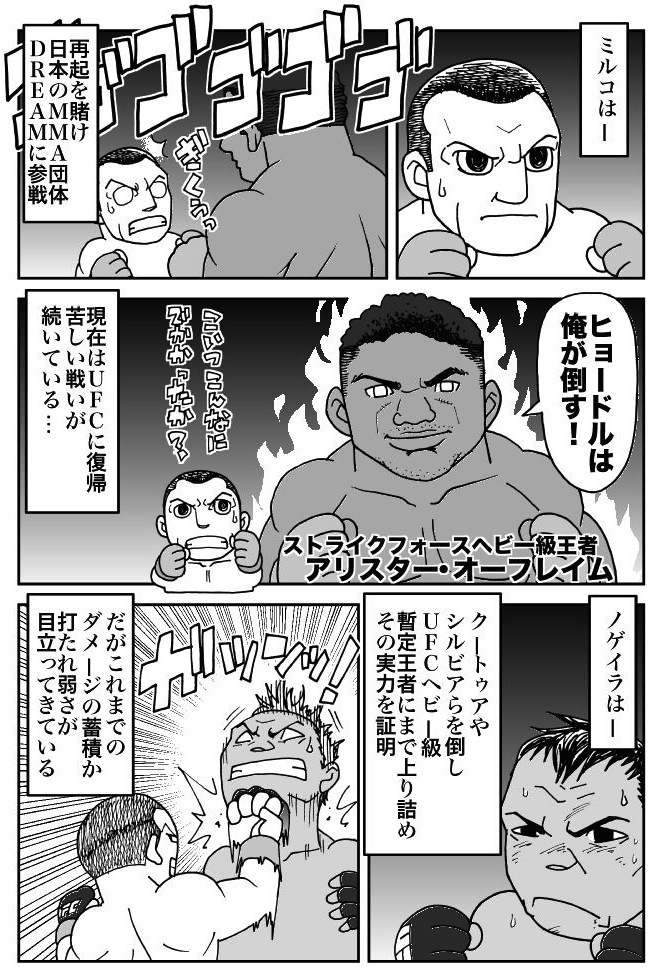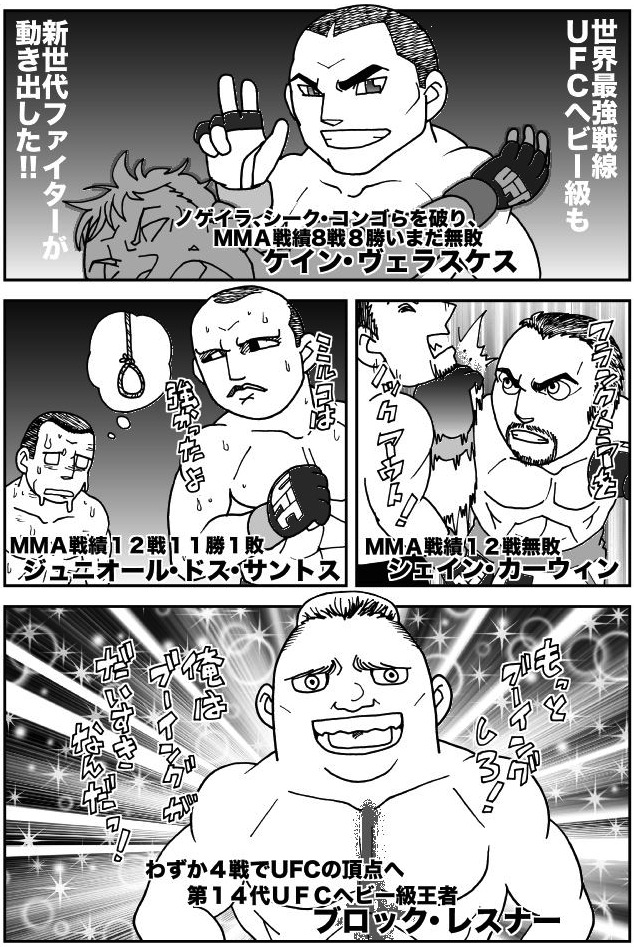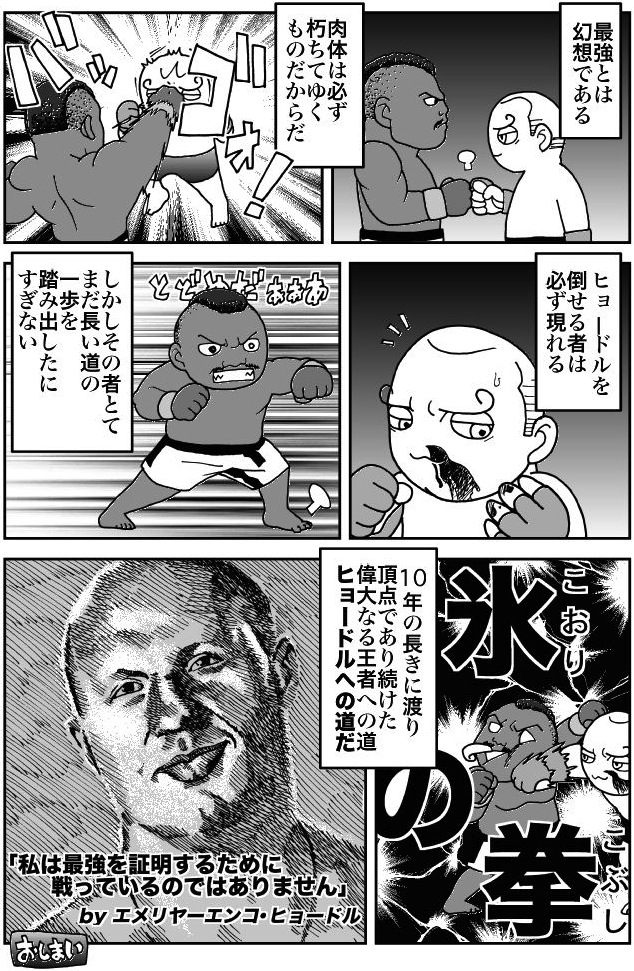 Graphic Novel
---
This comic books mentions Fedor!
---
The Emoticon Guy
hahhaahhaha! that is great!
Characters
---
Brett Rogers and Overeem are in there to!
---
The Emoticon Guy
Currently Active Users Viewing This Thread: 1

(0 members and 1 guests)
Posting Rules

You may post new threads

You may post replies

You may not post attachments

You may not edit your posts

---

HTML code is Off

---